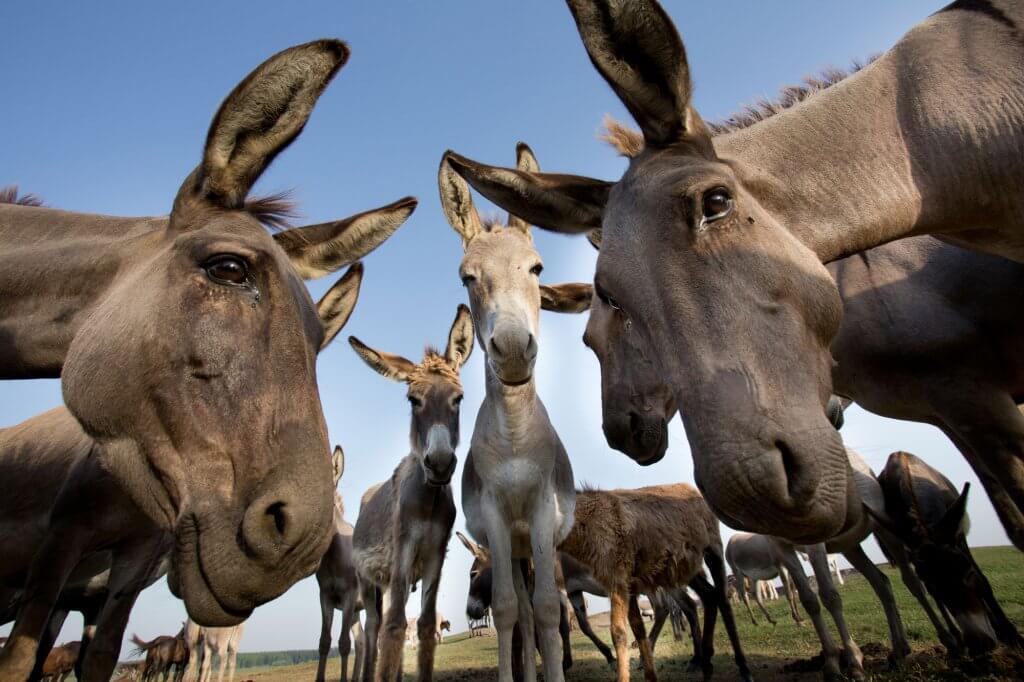 A traditionally held belief is that horses and donkeys cannot safely live together, but is it true?
Author: Katie Roebuck for the FEI
The main reason often given is that donkeys are tolerant to lungworm, (Dictyocaulus arnfieldi) a specific donkey parasite, and rarely show any significant, clinical signs. Horses, however, usually express clear symptoms of coughing and rapid breathing.
Thanks to scientific developments and improved knowledge, these days horses and donkeys can co-habit in the same paddock…
Getting a donkey from an official charity or a reliable source should mean it's already been tested for lungworm and treated accordingly.
If not, your vet or SQP will be able to advise and put the donkeys on a worming programme to suit. This preventative measure means lungworm should never be a cause for concern.
Claire Shand, director of marketing and communications at Westgate Laboratories, is confident donkeys, horses and ponies can live together safely providing we are alert to the potential of lungworm. Although incidences of this parasite are relatively low, cross infection to horses can occur, particularly where they graze together.
Biosecurity regarding re-homing donkeys should be as rigorous as possible. There's no excuse; many worm companies these days offer faecal testing
Claire said: "To guard against lungworm, we would advise testing any new donkeys or mules before they are introduced to the herd by having a faecal sedimentation test as well as a faecal worm egg count conducted with a reputable laboratory.
"This will check the animal's parasite burden and ensure any potential pasture contamination can be prevented by giving an appropriate treatment. An annual lungworm test should then be built into a parasite control programme on an ongoing basis.
"Where lungworm is suspected then a faecal sedimentation test can again be used to confirm this in the laboratory. As donkeys are much the preferred host it is rare for an infection in horses to result in the development of egg producing adults.
"Because of this it is often better to test the donkeys or mules thought to be the host of infection, rather than the horse that is showing symptoms."
Making sure the donkeys are in full health applies to more than just their guts, but also their hearts. Donkeys are always are kept in pairs, they form strong bonds and if that bond is broken, it's seriously detrimental to their well-being.
Donkeys need treating for lice and they don't like the rain as their coats aren't waterproof. They need shelter and hard standing so they don't develop seedy toe.
Seedy toe is caused by stones or foreign objects getting stuck in the hoof wall, donkeys are best suited to dry conditions and any loose objects can be problematic for their feet.
Which is just as well; lungworm is more prevalent on wet grazing land and the larvae can live in the ground for a considerable length of time, so good pasture management such as poo picking is beneficial.
However your neighbours will soon know if you've got them. Their bray is noisy.
Don't ever get donkeys if you want a natural, picturesque lawn mower, sheep are more suited to that role. Donkeys put on weight easily and need minimal grass. They shouldn't have hay, as it's too calorific, it's recommended to feed barley straw only.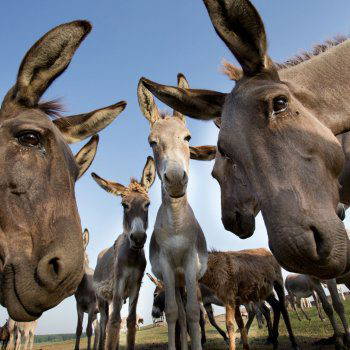 With the correct management system, a donkey or two could fit into yours and your horse's lives. These creatures with their sad, gentle faces, huge ears and thick coats are a joy to observe and can be a wonderful distraction!