Hello again!
Instead of writing this in -3° I am instead writing while it pours with rain outside! The glorious weather of winter… At least time is zooming by so it will be spring in no time. It will be!! Despite the wonderful weather (please add appropriate sarcasm), life must continue and the horses must be worked. Apart from the occasional 'interesting' ride – at one point I think we had stronger gale force winds than I have ever experienced before – they have been going well and progressing nicely. It's all character building as they say, for the riders and the horses!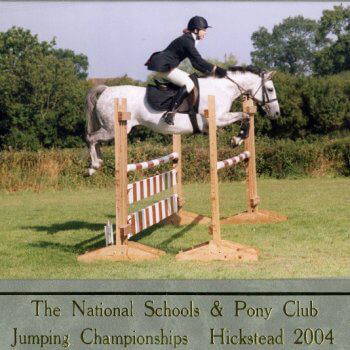 November started with a really difficult day as I got some very sad news; my childhood pony Bobbie went to heaven. I cannot possibly explain how much she meant to me, I got her when she was 6 years old and I was a teenager who had only been riding a year. She was tricky and super sensitive but so talented and I loved every bone of her. We had some interesting days, like when she bucked me through an actual arena fence and I woke up on the other side!! But never for a second was she anything but my entire world and it broke my heart when I outgrew her and had to sell her, I cried for days. She is 100% responsible for the rider I am today and why I do what I do, I owe so much to her. She had the best owners after me, who I am still friends with and in contact with, and I'm so pleased she had the life she deserved and lived well into her 20s – only retiring earlier this year! So lucky to have had her, RIP Bobbie.
Some happier news now. My super cool black beauty Ruin! We went dressaging at Hartpury for two advanced mediums. I had entered the Freestyle with the aim of qualifying for the Winter Regionals after missing out by 0.85% last time, then when I saw they had a straight Advanced Medium too I rang to see if I could squeeze into that too and complete our straight qualification as well…the night before! Nothing like being organised Holly. As I admitted in my last blog I was a little disappointed with the result of our Freestyle last month but it really fuelled me to do better this time. I liked the floorplan I used last time but it didn't score particularly well with the degree of difficulty mark or choreography mark so I decided to switch it up! I made it much more difficult and deliberately used movements listed to increase that score. My first draft was a bit too ambitious and Ruin let me know very quickly that he wasn't quite ready for that! So I made a few adjustments and was really pleased with the result.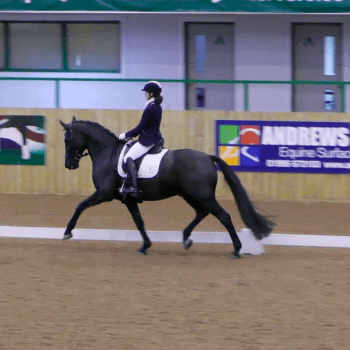 It was Ruin's first time at Hartpury but he was such a dude – unfazed about everything and tried so hard. He was a little overawed in the first test, AM98, and that bit of tension meant he wasn't able to show his best big trots and the flying changes didn't go quite to plan. A little example – at the very start you enter in canter and halt at X. Easy yes? Well Ruin entered in canter and then did FOUR flying changes by the time we got to our halt at X!! So not our best scoring test but really pleased with him and we still managed 65% and finished our qualification, which was the aim.
A decent break before the Freestyle so Ruin had a nap and munch. I won't lie I was a little worried he would have zero energy for another tack up and test, he's not the most lively at the best of times! But I was so pleasantly surprised as you really wouldn't have known he'd already been ridden once. My main aim for the test was to meet my music 'cues', have Ruin relaxed enough to do some big trot and to show off our flying changes properly. Mission accomplished! He was so much more relaxed. He tried so hard to do his big trot and all his flying changes were lovely, plus we nailed the music. Really chuffed so it was a bonus to find we'd won with just under 70%! This means we completed both our qualifications in only two outings. Really chuffed with Ruin and how he coped, he just gets better and better and it's so nice to ride a horse and a test where I can just ride rather than navigating around a wild spooky fire-breathing dragon, which frankly is my norm!
We were back at Hartpury the following week; this time not on horseback but to watch a demo – Caroline Moore and Ros Canter demonstrating their training methods on some lovely young horses. I love to do these things and always keep an eye out for demos and talks. In fact I went to a talk with Centaur Biomechanics guru Russell Guire on tack and its influence on the horse and training. Both fascinating days where I learned lots and brought home multiple ideas. A few other demo dates booked already so several things to look forward to!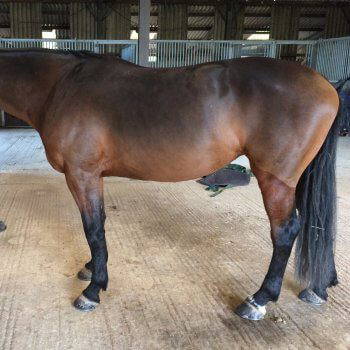 The rest of the horses are going well. We do a weekly jumping day at the yard where we build a course of jumps then Jamie and I ride several of the horses over it. We all help each other and it's good fun, even the dressage horses have a play – even if only cross poles! They all really enjoy it. Some of the crew are already on their second clip…I dread to think how many I will have done by the Spring – I think the weather is to blame and the horses have no idea what's happening. I gave G her first clip and was rather taken aback…she's normally a lovely rich reddy-brown which is so attractive. I've not yet had her for a winter so didn't know what her clipped coat would look like, presumably like most bays?! Well no, it seems G has a colour fading problem…removing her fluff has revealed quite the ombré effect! What can I say, I like to have a range of weird colours on my yard from my transparent chestnut to my multicoloured bay.
I cannot believe we are December and nearing the end of 2018! Overall it has been a great and successful month with December hopefully going the same way…I have entered Ruin's first Advanced which is so exciting! I can't wait to get my tailcoat on and qualify him for PSG. He has to do large canter pirouettes as well as 5- and 4- tempi changes so we have a big challenge ahead of us but sometimes you have to throw yourselves in and see what happens! Whether we sink or swim it will be a lot of fun and I cannot wait. I look forward to telling you all about it next time. Keep warm and dry folk!