Hello again! We are now properly in to 2020, which is scary. January has been quiet for us, intentionally, because it's normally a struggle weather-wise and getting motivated after Christmas. We've still had a couple of outings but much fewer than usual for us!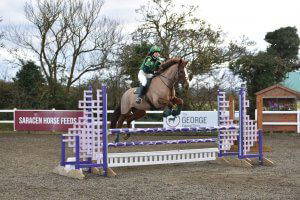 Fozzy has had a couple of competitions as we continue our jumping focus ahead of the Event season. We've been to two eventer challenges, which are perfect as you have the show jump course and then the simulated cross country course. Our first one was within the first few days of January where we went to do the 90cm and 1m. We had an unlucky 4 faults in the 90cm, but because there were only a handful of clears and we were so close to the optimum time we managed 9th out of 35! It didn't feel like our best round though so I watched the video back and we were definitely too collected, so I pumped up the canter for the 1m and it was a lot better. We rolled two poles (including the same as in the 90cm which he can have only swished with his tail!!) but was a really lovely round so we were really pleased! We were back again a few days ago and this time we went straight in to the 1m, and didn't do the 90cm as warm up. Definitely makes for an easier day with less hanging around between classes! Fozzy was a dude and we did our best round at this height to date – it felt great. Tapped one but there was only one clear round so we came 3rd! Fozzy can feel a bit green when he goes in to the ring but he felt much more relaxed so we are seriously chuffed.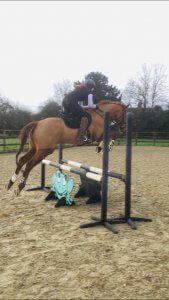 Our other eventer (well that's the plan!), Friday, has really progressed this month it's staggering! It just feels like she's really maturing and has so much confidence now. It's taken a lot of time (I backed her 18 months ago!) and it's not always 'smooth' but all the patience and hard work is paying off. She is quite frequently a bit of a witch to ride, but fortunately great for the jumping part!! She is so feisty sometimes it's a very good job she's cute!! Ultimately Friday's problem is me, the rider – I basically cramp her style (obviously)…all she wants to do is go as fast as possible and jump jump jump again again again…. Being told there is a way and style to do these things does not go down well! And when I say does not go down well…is met with complete FURY. She spends most of the time being furious with me, because I don't allow her to act like a run away hooligan. She is a young thoroughbred chestnut mare though so what do I expect right?! I'm confident she will be worth it though.
Ruin has had a quiet month outing-wise because we've given him a mini break from competing after such a busy 2019. Only a couple of months though and he'll be back out in February. We did go for a lesson with my trainer Gareth (Hughes), which was great! Ruin's biggest weakness is the canter pirouette, but a new exercise Gareth gave us really made a difference. As Ruin gets his head around them they are getting better, and they will be really nice when he's got them sussed, but in the meantime we get through them with blood, sweat and tears…mostly from me as Ruin lives in his own little World of indifference!! Once you reach PSG and Inter 1 you usually spend a year or two at the level while you consolidate the Grand Prix work…well it's a good job because it's going to take a couple of years to just get all the small tour (PSG and Inter 1) work as good as it will be! Ruin shows the potential to do a really smart test at this level so I feel very motivated to bring it out of him and show what he can do. In the meantime we've been doing lots of variety with him, as usual, and he's enjoyed lots of jumping. Being so established on the flat makes jumping him a dream as he is so balanced and adjustable. However he reminds me every time why he isn't an eventer, as he alternates between demonstrating the most perfect bascule and enormous scope to fly over like a puissance horse, to then not bothering to pick his feet up at all and practically going through the jump! Never a dull day with Ruin!!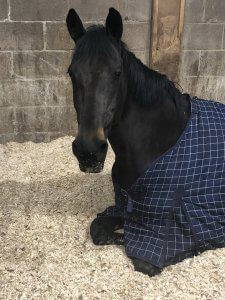 A bit of different news now! We have a new addition to the yard and we are very happy to introduce you to International Para dressage rider Di Green and her lovely mare Lexi. Di is campaigning for Tokyo Paralympics and beyond, so it's a very exciting time for the team! They have settled in really well and fit right in. I will keep you posted with what we get up to with Lexi and how things progress, but for more information be sure to check out Di on social media – DG Para Dressage – for all their up to date news and to follow their journey.
Now we are entering February I won't pretend to be sad – January has been long and tough! I know it often is but it never feels easier. Starting February, and knowing it's a short month, means we are getting closer to Spring with better weather, lots of dressaging and the eventing season! We have lots planned this month for several of the horses so lots to look forward to and keep motivated for, even while riding in gales and downpours…bring it on!
www.facebook.com/hmnsporthorses instagram: @hollyhorsenorris