Keep calm – and consider a career in care
Multi-award-winning care home provider Care UK is encouraging experienced hospitality, hotel and catering professionals whose career has been affected by the COVID-19 outbreak to consider a temporary or permanent move into the care sector.  As an Equestrian many of you will also hold down part-time jobs in the hospitality sector in order to help cover the costs of your horses, so we also open this offer to you and hope you will apply in your droves to help us to help you keep your haynets full.
A great many people are feeling disorientated and nervous about what the future holds for them professionally, as the hospitality sector closes down and jobs disappear. But there is no need to despair. One of the UK's fastest growing care organisations has both temporary and permanent roles available to help it deliver trained professionals into its growing portfolio of top-rated care homes.
Care UK Residential Care Services HR Director Leah Queripel said: "I know, for many, life is difficult at the moment, but there is good news. Our recruitment teams can work quickly to match skills to a wide range of roles including care assistants, kitchen hands, head chefs, receptionists and housekeepers.
"We offer a wide range of benefits, including locally competitive wages, and roles that give the enormous satisfaction of enabling our 7,000 residents to live fulfilling lives.
"Most importantly, our award-winning training and induction programme ensures everyone starting in our homes feels confident and supported from day one. Added to this you will have the peace of mind of knowing you'll be part of an organisation that genuinely cares about older people. Sixteen of our homes hold the highest rating awarded by the Care Quality Commission – Outstanding."
Across the country, Care UK homes have catering and hospitality colleagues who joined the team before the COVID-19 pandemic, and who are delighted that they are not only contributing to the wellbeing of residents but are also seeing their own skills and careers develop.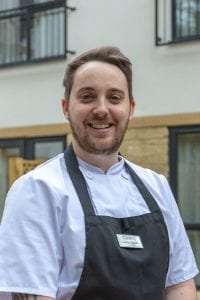 Andrew Bedwell, head chef at Millers Grange care home, in Witney, had an extraordinary career in catering before joining Care UK, having worked in a Michelin-starred restaurant and a bona fide palace.
He explained: "At 14 I jumped at the chance of three weeks' work experience at the world famous Le Manoir Aux Quat'Saisons – I was hooked."
He went on to train and gain experience in different venues before taking the opportunity to move front of house, running catering at Blenheim Palace, where visitor numbers were up to 10,000 a day. He then went on to be a general manager with the Restaurant Group, which runs popular brands including Frankie & Benny's, Wagamama and Chiquito, before running restaurants and cafes in 13 large garden centres from London to Birmingham.
He said: "When I first visited the home I was blown away: Millers Grange has an exceptional, large kitchen. If I were to compare this to Blenheim Palace, and its wonderful kitchen, it certainly rivals it for size and completely exceeds it on being stocked full of everything a chef could ask for."
But it is not just the kitchen that makes Andrew happy with his decision to move into care home catering. He said: "I really enjoy having the luxury of knowing and understanding what residents want. Along with my three colleagues, I spend time eating with the residents to ensure we know what they really think and what they really enjoy. And it works: you can't argue with empty plates or the feeling of success knowing you are contributing to the wellbeing of older people."
It's not just chefs Care UK is looking for. The provider already has housekeepers, hosts, lifestyle leads and carers who previously worked in bars, hotels, restaurants as well as the travel and tourism sectors, working in its 125 homes.  Dozens of people working in these fields until the arrival of the Coronavirus have already been recruited and are going through their induction training before starting work in a care home.
In total, Care UK has over 500 job opportunities this week – anyone interested in applying for one of these can start their career search by putting their nearest town into the advanced search button on this page https://careers.careuk.com/