Hi everyone! Lofty here again…and I'm very excited because it's almost Christmas!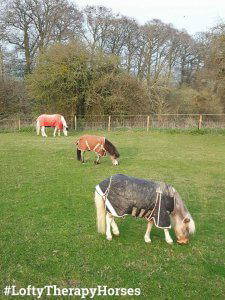 It's been so wet over the past few weeks that myself and the rest of the therapy gang have spent quite a bit of time in our stables. We obviously like to go out to play together…and we certainly love to eat the grass (but 'Groom' says we never seem to actually stop eating when we're out…that's why she has to be careful to keep a close eye on us…and our waistlines!)
We do have a lovely field shelter we can use…but we tend to only use it in the summer…for shade…and to get away from the pesky flies (we certainly don't have that problem at the moment!)…it's difficult to remember those long hot summer days at this time of year!
We don't really mind being in our stables (and we normally do spend a part of each day in anyway…so that 'Groom' can check us over, groom us, and give us anything we need…as well as it giving us the chance to have some down time from eating all that grass!)
Our stables are quite cosy, we each have an equine 'neighbour/friend' so we keep each other company, which is lovely…and our stables overlook the fields…so we have a nice view and we can watch the sheep and chickens too…whilst happily munching on our hay!
When we're in our stables for longer periods of time, due to waterlogged paddocks and constant driving wind and rain, like we're having at the moment, we get brought breakfast, lunch, tea and supper…so it's a bit like being in a hotel (just without a swimming pool and sun loungers! Mind you…the paddocks are looking a little bit like swimming pools at the moment!)
This year we've been very kindly sponsored by several wonderful companies, one of them being 'Honeychop', who make high fibre horse feeds. I, and the rest of the therapy gang, were lucky enough to have been provided with a year's worth of their 'Lite & Healthy' oat straw and timothy grass (with linseed, cinnamon, marigold flowers and a mix of herbs) which we've really enjoyed…and it has been perfect for us 'good doers' as it's low calorie and molasses free.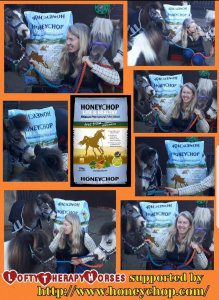 We had some very exciting news this week…an early Christmas present…Honeychop are going to be sponsoring us again throughout 2020…which is absolutely fantastic news!
We really couldn't do what we do without our sponsors, such as Honeychop, Sorbeo Horse Bedding, Protexin, Teddy Mountain UK, Annie's Equine Laundry and Denise Powell…our Equine Podiatrist…all helping to keep us comfy and in tip top shape…as well as generous donations we receive from supporters. It really is a case of 'helping us to help others' – thank you ALL so much! 💖
On Friday I did my last visit for the year…to see the patients and staff at Yeovil District Hospital…so I'm now on 'holiday'…and for me it really is 'feeling a lot like Christmas'!
'Groom' made sure I was looking very festive for my visit…with bells, tinsel, lights, lots of sparkle, a smart red rug…not to mention snowmen, Santas, an angel, Christmas trees, a reindeer, elves and Christmas stockings!
As it was also 'Save the Children Christmas Jumper Day…'Groom' and 'Gofer' donned their Christmassy jumpers and a Santa hat too!
Everyone really enjoyed my visit…patients and staff alike! It was a lovely surprise for them to see a brightly coloured little horse walking in to their Ward to wish them a Happy Christmas! I brought lots of smiles and joy…the perfect message for this time of year.
I received lots of strokes, kisses and cuddles…and had lots of photos (and selfies) taken…with patients and staff.
Which reminds me of a very special trip I made (the Christmas before last)…when I got filmed by the BBC on a visit to Blandford Community Hospital…and then I got invited along to the BBC South Today Studios in Southampton to meet Sally Taylor MBE and the team! It was very exciting!
On arrival I got to go up in the lift to wander around the News Room… meeting everyone! Then it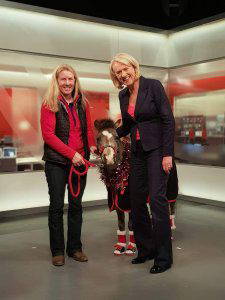 was back to the Studio for a practise run before I actually got to be on TV! I was treated like…and felt like…a superstar!
'Groom' and 'Gofer' were both thrilled with how well I'd behaved, and how I'd taken all the unusual sights and sounds of the studio and cameras, etc all in my stride…I'd done them proud (as always) – I always do try my best.
If you'd like to see my Christmas visit and my spot on TV…here's the link:-
https://www.facebook.com/teddymountainuk/videos/1922923204402986?s=1738789604&v=e&sfns=mo
I, and all at Lofty Therapy Horses, would like to wish you a very Happy Christmas…and a wonderful New Year!
See you in 2020!
Lofty x
Key: 'Groom' – April
'Gofer' – Steve
Otherwise known as 'the management'!