RDA National Championships 2019
Friday
Showjumping (70cm)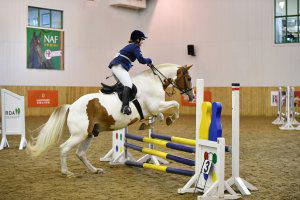 I was on Boysie who, unusually for him, was feeling very sprightly, which really tests my balance. With one arm in a sling, I can't rely on using the horse's neck for balance, and my legs aren't really strong enough either. I just have to work the core like mad, wear an ice vest (which helps keep the nerves to my limbs working a bit better) and hope for the best!
Apart from one heart-stopping moment when Boysie decided to inspect the second fence carefully before cat-leaping over it he went nicely and we jumped clear. We're judged on style not speed, with standard penalties for knockdowns, refusals, etc. This year I scored the 3rd highest score but came 4th on collectives. Given that we have so little time to practise dressage or jumping (especially jumping!) I always feel that going home with anything is a bonus so I was very happy with my green rosette!
After that I headed straight to my next engagements with the BBC Countryfile team and HRH Princess Anne – I'm sure they felt very honoured to meet me! I was greatly relieved that Countryfile gave me only the briefest of moments and didn't include the interviews with me looking a bit like a sweaty troll with terrible hat hair…
Saturday
Vaulting (individual), vaulting (team), dressage
Saturday was packed with volunteering and competing. First up was my individual vaulting on the lovely Bear, lunged by Sam Davison. I'd vaulted on Bear once before (2018 Champs), but this year we'd also be cantering. We had a brief warm up, in which I learned that Bear would either canter beautifully or try to get rid of me (Sam assured me it would be the former – it wasn't). Before I had time to practise my freestyle (in walk) we were in!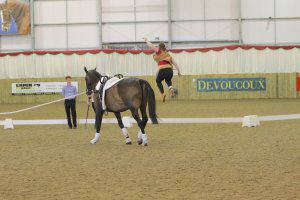 It all went OK, but the one thing I was really proud of was my dismount. At home I'd reached around an 80% success rate with my new dismount – literally just leaping off the horse from standing – but I normally needed to do a few badly first to get my eye in. Having not practised it off Bear, I nevertheless decided just to go for it – go big or go home, right?! – and I'm so glad I did because, to my astonishment, I nailed it! Honestly, *not* falling on my bum in the International Arena at Hartpury is one of my proudest moments.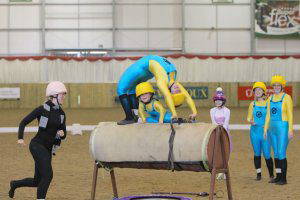 After that I watched/helped my teammates who I coach: one vaulter on a horse and two on the barrel. Next was our team routine, to the music of 'Happy' from Despicable Me (I was a minion…). It basically *was* happy from beginning to end and we all had so much fun showing it off to everyone. The audience seemed to enjoy it too!
East of England RDA Vaulting Team Results
Seven-year-old Eden came 1st in the under-10s on a pony she only met that day
Kate and Emily came 2nd and 7th respectively on the barrel.
I was the only one in my individual category (17+ Canter/Walk) but I was also pleased to achieve my goal of posting the highest score on a horse all day (inc. Walk/Walk classes)
The team came 2nd – an amazing achievement in a competitive and experienced field and only 0.1 behind the very worthy winners.
The team also won 'Best Turned Out' – enormous thanks to Kate Lawrence (mother of one of our flyers, Kodie), who did such a fabulous job with our outfits.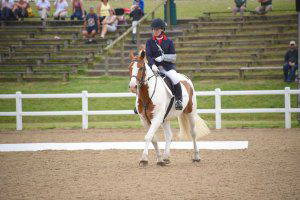 After all the excitement in the vaulting my day still wasn't over as I had a dressage test to ride with Boysie. We were the last riders to go and, to be honest, I remember very little of it because I was utterly exhausted! Boysie went quite nicely including what felt like our best ever canter work. My tired legs jumped about in the free walk which meant he jogged but despite this we finished on the 4th highest score. Collectives bumped us down again, this time to 6th, but going by my rule of 'anything is a bonus' I was perfectly happy with that. Plus I now have the purple rosette I've been hoping for for years!
With that, my competitive efforts at Hartpury were done for another year and all I had to do was to sit back, watch my friends, and keep playing on volunteering with the 'have a go' vaulting barrel.
Then…
When I got back home we still had two weeks left at school followed by one baking hot and one very stormy day coaching at a vaulting camp, then two soggy days showing off RDA vaulting at The Game Fair. It was all good fun and a lovely way to start the summer even if I didn't dry out for three days – plus I got the chance to try some polo at The Game Fair!
Last weekend I went to Wales for a BEV (British Equestrian Vaulting affiliated) competition. I had a lovely day and won my canter/walk class on another new (to me) horse, Celt, who was kindly loaned for the day and lunged by Andrew Williamson. I also nailed the dismount again!
Now…
I'm in France for a couple of weeks and will soon be joined by my RDA vaulter friend, Kate. We're going to do some riding at my favourite local stables – they have amazing horses, a fab instructor and stunning scenery for mini, para-friendly treks.
Next…
My next big event is the English Vaulting Championships in mid-September. Four of the BEV (not RDA) vaulters I coach will be going to this too so I'm looking forward to seeing how they get on. With any luck I'll qualify for the British Championships in October at the same time. After that – well, I haven't thought that far ahead yet!