The Pure Spanish Horse or Pura Raza Espanola (PRE) is a breed of horse originating from the Iberian Peninsula, where its ancestors have survived for thousands of years.   The PRE horse, has been known through history for its aptitude as a war horse and was recognised as a breed of its own since the 15th Century.   Prized by the noble, it's conformation has changed very little through time.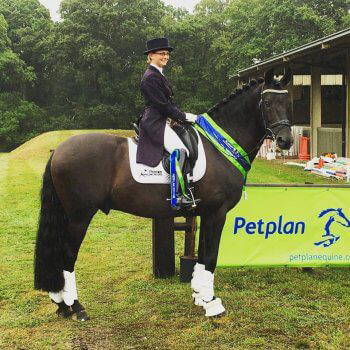 The Iberian horses are thought to be some of the oldest domesticated horses.   Compact and strong, yet elegant and athletic, the horses are known for their docile and intelligent nature.   Modern Spanish horses are commonly used for dressage and show jumping and are often picked to play parts in historical movies.
Alice started riding after being introduced to horses by her horse loving mother before she could walk!   "I had my first pony aged 8 – she was a Welsh section C, bought from a dealers yard for £850 with the money I was left from my grandfather after he passed away.   I had a typical riding school/pony club childhood – I was never really interested in dressage!   It wasn't until I was given the ride on a welsh pony trained by my dressage-focused riding instructor in order to get some experience under his belt with a pony rider. After a few hunt/PC dressage shows we were entered into the British Dressage National Talent Spotting in 1999; where amongst the posh polo-bandaged German ponies we managed to win! From then on we were scooped into the world of dressage, going through Under 21s National Dressage Training & competition until the age of 18".
Alice previously worked at the Woodlander stud gaining invaluable experience with young warmbloods and competed several of her own horses including Woodlander Frangelica, while studying at Hartpury College.
In 2010 Alice went to work for Karen Bourdon at her therapy and rehabilitation yard in Duns Tew.   "When I came for my interview she explained she had just imported three 3 year old Spanish stallions and since my background was in dressage, suggested we see what we could do with them"   "In the beginning we had a lot of Thoroughbreds in for rehab and training, usually recovering from racing injuries.   Now, more than half of our horses are Spanish!"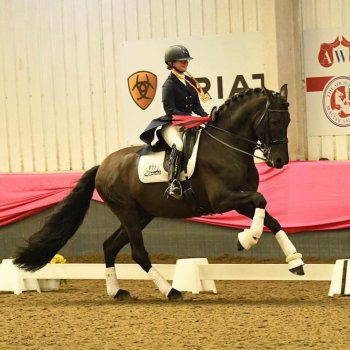 Having come from a background of warmbloods Alice was sceptical about the prospect of training the Spanish horses.   Nevertheless, they soon won her over with their intelligence and willingness to learn.   "Since then 'Premier PRE Dressage' evolved as the direction of the yard morphed and expanded into mainly dressage training"   Two of the horses imported still remain with Alice and are currently campaigning at Small tour and Grand Prix.
Premier PRE dressage has gone from strength to strength with most of the training happening at home.   "I don't often get to have lessons so I have to savour whatever advice I can get as I work a lot by myself. Currently I have help from Richard Davison, Diane Thurman-Baker and Victor Alvarez."   Their help has been invaluable to the progression of the boys, "You can never stop learning and developing as a rider.  Whether it's absorbing a new exercise from a trainer or finding an alternative way to tackle a problem on different horses
"I believe, the Spanish horses take a lot longer to establish the basics and build strength.   Things like straightness, rhythm and contact come more naturally to a warmblood, but once you put in the time and effort, the more complex stuff is a lot easier to teach- In my opinion!   As with all breeds they all have different characters and strengths.   I think they are often misconstrued as quiet, easy horses which appeal more to the middle-aged amateur. There are of course quiet individuals about, but they are very sensitive horses both physically and emotionally. They can be quite challenging to train on a more complex level and don't have the natural rhythm of a warmblood, but when you strike a bond with them they can be the easiest horses in the world, though I still wear a neckstrap on everything!  It's my must have piece of kit, I put them on everything!"
Spanish horses are more often than not kept entire, particularly in Spain.   They need to be ridden and trained differently but they do require a bit of patience and a gentle approach.  Lots of encouragement to stretch over their backs and engage their cores.   They are a very manageable breed but it is important not to be complacent.   The forage in Spain tends to be poorer quality and on the whole, they are very good doers and they adapt brilliantly to the British climate.
Not everyone is a Spanish convert, preferring the traditional warmbloods for pure dressage, though the Spanish horses are quickly earning their place in the ring showing the intelligence and athletic ability to compete against the best.