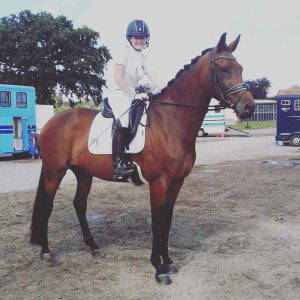 And all at once just like that, Summer has ended. Whilst Benji was having a holiday after his summer of fun, it was Flora and I's turn to try something new. I finally got BD medium ticked off the bucket list ✅ I have been meaning to move Flora up to Medium, but both mine and Flora's health have got in the way so it was a sign of relief to be able to finally enter for it. I did think maybe I should do another elementary before, but I thought 'what the heck' let's go for it. The one aspect I was worried about was the sitting trot, as due to the bounciness of Flora it makes me cough and is similar to my physio treatment I do at home. So I always now need to have a spare tissue or two with me when I ride (sorry gross CF related issues). As we are now upping the training, I need to ensure that my lungs are in mega shape, and thankfully they seem to be coping with our more upgraded training, and luckily so is Flora!
Flora was an absolute angel, warmed up beautifully, went into the arena and we flew round coming 5th!! It did feel weird coming down the line in sitting trot and then remembering to continue the sitting around the arena! We did have some expensive marks lost due to spooks and tension in the walk, but I was so proud of her. Once we finished the test, I almost cried and hugged Flora with happiness (you can check it out on my Facebook page), but I can't tell you what that moment meant to me. It signified that not only Flora could get round a medium, but that my CF wasn't going to stop me! Flora hadn't been to this venue in a year so it great to see her grow in confidence in the warm up and in some ways in the arena.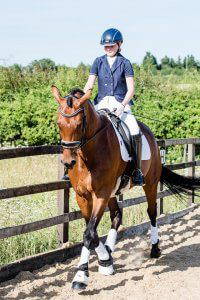 Lungs held up very well and only had a small cough (thought I would be continuously be coughing throughout), and wasn't as breathless as I thought I would be either! I'm still absolutely gobsmacked we've finally reached our goal. Big thank you to my support team, unfortunately my dad (who was taking me) couldn't, but thankfully my whole yard stepped in to help me get there, and cheer on from the side lines!  It was a lovely surprise to have them all come together to help Flora and I achieve our goal, and I appreciate all they do for me.
As you can tell this is a flora themed month, and a couple of weeks after the show, Flora and I volunteered to help my friend Beth Hicks photography get pictures for her portfolio. Flora was on her best behaviour, and we both managed to survive even in the 34°C heat! As always our yard manager Claire did the most gorgeous plaits, which I have yet to master and made Flora look like a proper show girl.
Now onto September and dare I say it …….. Winter.