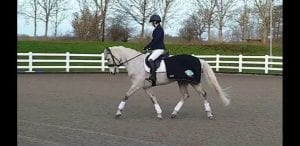 What a rollercoster February has been! We had 2 storms, 3 months-worth of rain and flooding, and the Coronavirus started to grow. But being a positive person, I like to look on the good times and our achievements. With Flora still coming back into work, I decided to start doing some more dressage with Benji. On 1st Feb, we set out to Merrist Wood and Benji chap absolutely smashed it in his first Prelim of 2020. Up at 5:45 am to do physio, then at the yard to pray that Benji hadn't decided to roll in poo before setting off the Merrist wood.  He warmed up beautifully and keep it together in the test, and we came away with our new PB of 69.6℅ and came 2nd! I'm definitely thinking of aiming him for BD and area festivals possibly. Thankfully the lungs behaving themselves so I'm happy with improvement after finishing ivs in January.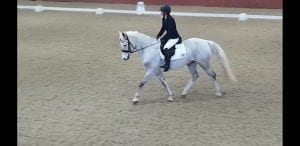 Benji and I had an appointment with Hannah from Rider Focus Physiotherapy to help me with my riding position. Due to my CF, I do a lot of physio and coughing which has caused me to lean forward a bit and be quite rounded in the shoulders. This means that I'm not really getting enough air into my lungs during riding and that I struggle a bit with collection, as I'm sitting forward. After I explained my situation to Hannah and she saw me ride, she set to work examining my body. And I was surprised to find that I was straight in my position, but my pelvis was tilting and that my left glut was really tight! I would never have guessed that! We then tried out all her bands and peanut balls, which after using I felt a HUGE difference, my shoulders and chest were more open and I was sitting deeper in the saddle, and less out of breathe! I would definitely recommend Hannah to help with your position if you're struggling, I feel so much better since having our session!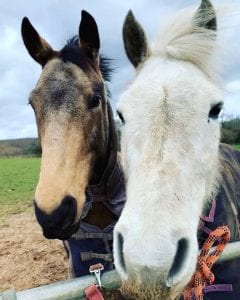 However, it seemed that the sun only lasted those two days as we were bombarded with constant rain! I've got a few strong words to say to the weather gods, it's been so cold and wet I haven't be able to ride consistently. I do feel guilty for not riding both of them, and I am extremely fortunate that my trainer Melissa can ride Flora when I can't, but with Benji our school easily floods so it's impossible to school when it rains and hacking does get wet as well. So Benji had an easy 6 days just chilling and playing with his field mate Charlie when it poured it down. You have to remember horses don't care when their ridden and an easy week off won't hurt them. At least I can still see my guys, and give them cuddles no matter how wet they are.
Well March started off great. With the spread of the C-virus ramping up all over the UK, it was inevitable that we would be on lockdown very soon. However before that, Benji and I tried something different, we had a go at……..TREC! It was definitely different sort of discipline to what we're used to, we did lots of different obstacles which I thought Benji might look at, but he was a pro like he had done it all his life! It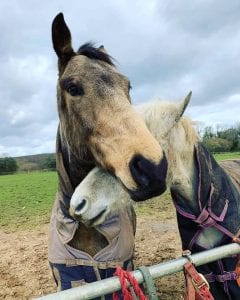 was really interesting to try all the different obstacles and at faster speeds! It's always good to try something different and new, to put some variation in your horses work. And with that, that was our last outing together for a long time, and then it happened. The Government made the announcement that all people in the high risk category (elderly, people with health conditions, etc.) must stay at home for 3 months! Which means I can't go out and ride Flora and Benji for 12 weeks, so no shows, outside training, etc. for the horses. Its so frustrating as I was hoping to be going out and about with Benji and Flora doing more dressage and SJ to get ready for Munstead UA in April, but that's not the case. Better to be safe than sorry and my health is my number one priority. Although I'm trapped indoors, at least I have some activities do keep myself busy and I know that both my horses will receive the best care and enjoy the sun that's decided to show itself. March also celebrated the 2-year gotcha Anniversary for Benji, who arrived on 20th March 2018. It's crazy to think that 2 years ago I welcomed him into my life as an unconfident, skinny Connie, now look at him and all we've achieved, and he's a big boy, nearly 8!! It's taken a lot of work but I'm such a proud mum.