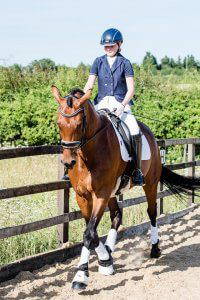 As the winter months and the end of 2019 drew ever closer, so did the time for exciting changes. November and December was both full of new experiences and life choices for me and the horses, as well as heartache. At the beginning of November, Flora, mum and I braved the freezing cold to Headmore Stud to attend our first Claire Gallimore clinic spanning over two days. Day One consists of a 60mins initial groundwork assessment by Claire, allowing her to understand the horse and be able to see what stage the horse is comfortable to work up to, then day two Claire worked with Flora and I in a 45mins follow up session. Flora has always been a worried and tense about not only when in new situations, but especially when things are near her feet. Claire was brilliant with flora, really understanding her and magically getting her to find her relaxed state on her own really quickly! It was so interesting to learn all about the different exercises, how to read flora's body language and where I should be when working with her. I would 100℅ recommend Claire, even in 2 sessions I have noticed a difference in flora already! We've been working continuously at home using the techniques Claire gave us and its crazy to think that Flora is much more confident with having scary objects touching her legs and hooves.
Also during the month, I had also been debating with whether to do this or not for a while. But a lot happens in my life daily that isn't always easy to write down in a post. So I have decided to have a go at vlogging! As a CF sufferer, I thought it would be cool to show my daily routines, struggles and how I manage my horses, etc. Having been inspired by some of my favourite insta-vloggers such as 'Life on the left rein', 'Riding Remington', etc.
I thought why not, and hope that my followers enjoy and get to learn something new, check them out on my Instagram am_dressage.
Also in the month of November something exciting happened to the Cf community, the miracle drug Orkambi and Symdeko were approved in the UK! For those of you who don't know, it has taken the CF community 4 years to get these drugs approved by the NHS and the Government, but finally sufferers can have the best Christmas they've ever hoped for. This drug won't cure CF, but does increase Lung function and weight by 5-10% and keep it stable, so I am very fortunate to have been able to start this wonder drug in December, while I will be vlogging on my Instagram page about my progress on the drug and its approval for me.
And finally, I have started my two new jobs, and yes I hear you say TWO JOBS!?! Thankfully these jobs are part time and the hours work well for me to fit in my treatments and horses. I now work in a local bakery, icing and preparing cakes to be delivered Monday to Wednesday, then Thursday afternoon and Friday morning I work in the local vets as a receptionist. I was worried that working a full week might deplete my energy levels, as  I used to work 9-5 5 days a week and I would get exhausted and not be able to fit in the two, let alone one horse. Therefore I made the decision to work part-time and it really suits me, in terms of allowing me to earn income and keeping fit and well.
In December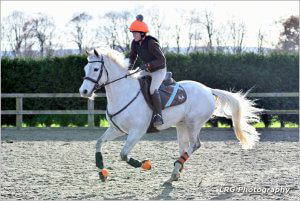 , we started off well with Benji and I attempting our first arena eventing at Coombelands Equestrian Centre. He was on fire and we would have had a clear round if the pilot hadn't forgotten where the last jump was and had to quickly turn to it, and only having about 70% of brakes I'm surprised we made it! However, our victory was short lived as a week later I fell ill with a virus and then started the Symkevi as well which just made my body go into chaos mode! The drug can make you feel like you're having flu for at least a week but 2 weeks later I was still feeling like death, there was so much (sorry!) yucky mucus down in my lungs that it got to the point where I couldn't breathe. So on New year's eve eve, I went to my hospital and was straight away admitted into a room and started IVs, and yes I spent all of New year's eve and day in Frimley which was quite sad that I couldn't spend it with my family. I was feeling very disheartened that I spent Christmas lying on the sofa coughing and worrying my family and friends, and also not being able to ride my horses. I even missed Olympia, it was driving me mad! However after 5 days of treatment, I began to go back to my old healthy self, and soon was discharged and back with Benji and Flora, thankfully my wonderful friends and family had stepped in to keep them both going whilst I was ill. Now we're in 2020, I feel much better and happier back where I belong, whilst still dodging everyone's coughs and colds. Now I just want spring and summer to come quickly and be able to enjoy the sun again.