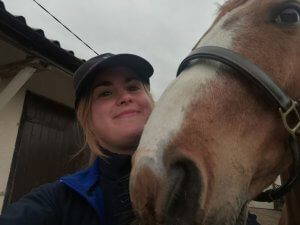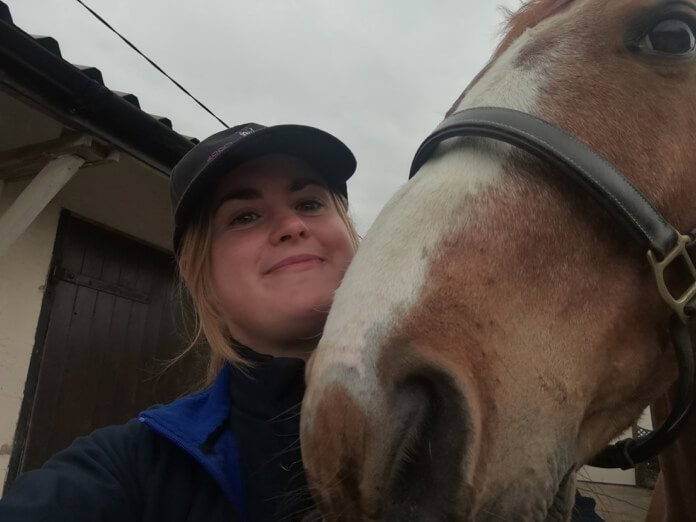 So, we arrived at our first BD affiliated competition in quite some time with the birds tweeting and a feeling of hope (this is meant to be enjoyable after all!). I was looking forward to taking him out as training has been phenomenal.
However, when we got into the warm up and he was really holding his back tightly and tense, I tried to focus on everything I do at home to get him to relax and be more supple and it helped… for a short time. If horses get very near to Terry, he can get quite tense. He leans towards the thoroughbred side of the Irish sport horse breeding to be honest. He is also chestnut. Enough said. He is one sensitive boy!
As I came into the arena, I was struggling to get the trot I wanted, then the writer told me to go inside the boards (as opposed to around the edge) and I felt muddled. Obviously, interruptions can always happen I just need to get better at dealing with them. I tried our little techniques to get him in a good trot but to no avail! I kept questioning: what was wrong with me? what's wrong with him?… instead I should be asking how questions. How do I get him to listen? How do I give him confidence? How can I sit better? We ended up with a messy test where I was riding him forward at all costs and driving him on to the forehand at times.
Even still we got 64.79% and 2nd in our section. 10th in a big class with professionals. I was quite upset when we finished but quietly pleased that I was able to ride more assertively. We now just need the consistency of contact we get at home and we will be golden. Back to the drawing board it is… only two weeks until the big day (the petplan area festivals that is!)
Search
Recent Articles
Article Archives