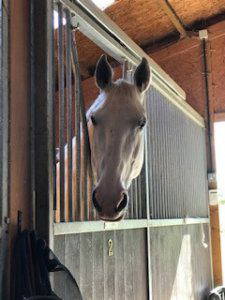 So many of you have asked me for an update on when they will see Winnie the Unicorn back out competing Internationally with me and sadly it now appears that that might never happen now.  Its been so very difficult for all of us involved in her care and there have been lots of tears, and so much support including the 2 veterinary practices who have tried so hard for a different outcome for us.  But sometimes horses just tell us that they have done all they can and its time for a new horse to take over, however devastating that is for us riders its something we have to go through. It is much harder though when they aren't by any means an old horse as in Winnie's case and at the top of her game.  As an elite equine athlete we needed to get Winnie 100% sound and despite everyones best efforts each thing we tried ended up breaking something else, so it was decided that we would let nature takes its course and see if a period of time with her shoes off would give us the best outcome.  A year ago I met Liz Launder who is based at Skelwith Stud in Wales, but also holds the reins at the Hartpury Rider Performance Centre, where we met.  Liz had also come to help me with Winnie and my riding position and we had remained in touch.  So when I needed some help with Winnie I went to Liz for some advice, amazingly she said she could take her to her own home and work her magic with her.  If ever there is to be a good outcome for her it is with Liz, as a human and equine Osteopath she couldn't be in safer hands and she is just a really good horse woman. Winnie has done so much for me and taken me from a newly disabled person struggling to accept the change to my life to a super confident international rider on the World Class Podium Potential Squad, so if it is now my time to look after her then so be it.  If we can get her comfortable enough to be a hacking horse for me in the future and to do a few demos then that would be great but we will probably let her have a foal next year so there will be a mini Winnie for us all to adore.  She has such an amazing temperament, a sister moving up to Grand Prix, a PSG Father and Mother who was a 2* Eventer so we are hoping for a very special mini Winnie. If she could give me a Grade 1 Paralympic super star then what an amazing thing that would be.
I went to Skelwith yesterday to see her and she was so happy and relaxed.  She has a lovely 2 year old filly next to her and they were mutually grooming each other, something I have never seen before, she usually squeals at other mares, so it was lovely to see her being a horse.  Liz told me that she had met a mare and foal yesterday as they had come in alongside her to have their feet trimmed and she rather liked the foal so I guess that bodes well.   Being so typical for Winnie she has also been involving herself with the Farm and Equine Vet students Liz teaches on the site, so much so that she is going to become their cover girl for the website.  There is just no stopping her when there is a camera about.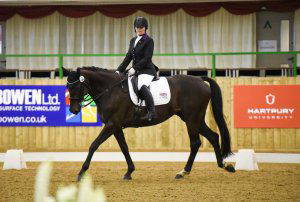 With all of the heartbreak surrounding Winnie, poor Lexi has really been thrown in the deep end going to a Premier League event within 2 months and more so when we were selected to compete at the Hartpury 3* CPEDI.  As you can imagine it was an emotionally charged week for Leonie and I and we were so grateful to all those who came to support us and the 1st two days did not go as we would have wanted. Lexi was just a bit looky and we hadn't remembered to set the rein connector on my double bridle to the right length but by day 3 we had pulled it together and got a 70%+ score. Much more like it and more tears, this time happy ones.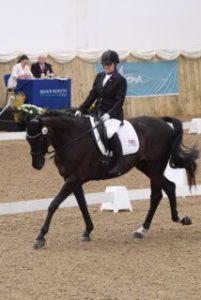 We all learnt a lot at Hartpury and so when Bishop Burton came around the first week in August we were prepared for it.  Safe to say we smashed it and came away with an International PB of 72%+ and a second place in the Individual Championship Test behind Sophie Christiansen and beating some very experienced combinations and the odd Paralympian or two by a sizeable margin.  We even got stopped mid test when one of the judges thought we had gone wrong but we hadn't and it didn't phase us.  It did drop our score a tad as the other judges didn't see that element but thats dressage and I was pleased with how I coped with it in such an important test.  Winnie took 3 years to achieve a 2nd placing at an International and Lexi has done it in 4 months, hence why we are all so excited about her.
We came away from Bishop Burton very excited for the future with Lexi, we know where our extra marks will come from and so we are training hard towards Keysoe as we have been selected again in October for our 3rd International of the year.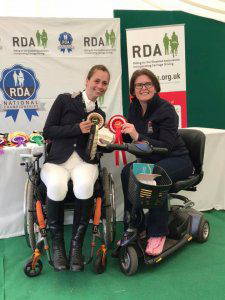 In amongst all of this I was invited to work with the British Dressage Para Team again at the RDA Championships and had the pleasure of not only taking part in the 50th Anniversary parade with a few of my fellow squad mates but to present the prizes again, something I love doing as I get to meet riders that follow and support me and its great to award them with their prizes and see their tests.  It is always such a lovely event and I am honoured to help every year.
Myself and Winnie of course in her own blog will update you on how she is going in the new chapter of her life, she does have an exciting photoshoot coming up at Skelwith and will be launching her own Unicorn Club so that her followers can keep up to date with all she is doing.