2019  was a difficult year on #teamunicorn losing my dancing partner at the top of her game hit me so much harder than I ever thought it would.  Winnie had done so much for me and been a real light in my life in the hardest of times as I learned to accept my disability, so not to have her by my side was heartbreaking.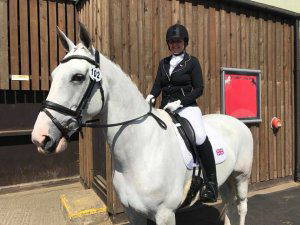 Para Dressage is a tough sport and it is tough on everyone, horses, athletes, support crews and trainers.  It takes a huge amount of effort from everyone for it to all come together for 5 minutes in the arena, when athlete and horse have to pull off a seamless and harmonious test.  The highs and lows of that effort are immense and some won't make it and some will decide that the pressures are too great for them and step aside but for those who stick with it the rewards are incredible.   In my former life I worked with the RDA and I fully appreciate what it takes to give your all to a Para combination and I am grateful to everyone who has helped us along the way.  But, I also understand the joys of knowing that you made such a difference to someones life including your own, which for you both can be life changing.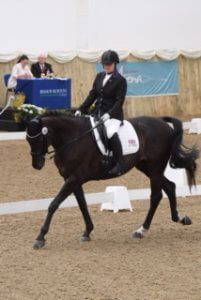 Lexi has done so well in her short Para career and we ended the year getting another few national and international personal bests and smashing through the 73% target we had set ourselves for last year.  She isn't the easiest horse for me to ride and lacks confidence at times but is learning to get her confidence though me, ignore my wonkyness and really stride out without worrying that she needs to look after me. We aren't fully there yet but on the right path. Our Para horses are incredible animals, they have to take us forward into the bridle, ignore our wonky bodies and mixed signals and pull off a world class test whilst keeping us safe and in the saddle when at times the atmosphere would test the worlds best able bodied combinations. It takes time for them to adjust to a Para riders and some horses never will but the ones that do are just amazing.
In November I purchased Lexi from Leonie and after consultation with our squad experts and my physicians decided that if we wanted to really campaign for Tokyo and beyond then something had to change.  Driving an hour each day to get to the stables was too much for me and I had been quietly struggling for months, it was taking 4 hours out of my day to ride and 2 hours of driving was leaving me too tired to be my best in the saddle.  I never give in to my disability but this time I had to listen to others and realise that those hours in the car were a waste of my energy that would be best spent in the saddle.  Sadly it was not well received and so we found ourselves moving closer to home rather more quickly than we would have hoped but everything happens for a reason and the universe has a way of resetting your plans at times for the better. Now I only have a short distance to travel and we are both really happy in the glorious Gloucestershire countrside.  An article will be released soon on our new team and I can't wait to introduce you to them.
Winnie the Unicorn is also doing well and this morning had some front shoes on, the farrier noted that there is still some bruising in the sole that needs to grow out but Liz is walking her out and apparently she is looking beautiful in her barn – she has all the moves!  Will she dance again? Watch this space on this one..
Our next #teamunicorn outing is squad training in February before we travel up to Myerscough for the Nationals – can't wait…..
Follow me on Twitter, Facebook and Instagram @DGParaDressage