Gosh how things can tip so quickly – one minute we were campaigning towards Tokyo and the next being advised not to ride at all, so that we wouldn't be a stretch to the NHS if we were to sustain an injury.  With all competitions cancelled for the foreseeable future it is like nothing we have experienced and feels very surreal.  We have a bi-weekly catch up call with our head of squad Erik and being very well supported remotely by team physios, dieticians and doctors but we are all itching to get back out competing.
This time though has made me realise a few things and to also decide on a few things going forward in life. The move closer to home has made a huge difference to both Lexi and me.  Holly HMN Sporthorses is the most fabulous trainer and although not trained an Para Horse before has really put her heart and soul into working out how Lexi needs to both be trained but also set up for me to ride, so that we can be the best we can be together.  She has studied the videos we have of us and also the winning horses from WEG and the Europeans and it has meant that we now have a horse that really is up to taking on the world.  Lexi has developed physically and mentally and become quite a character.  It's funny because when Winnie went lame and I had to stop riding her I really didn't think I would or could bond with another horse and at first it felt very disloyal to Winnie after she had done so much for me but now Lexi and I do have that bond and although she can be a bit sharper than Winnie she looks after me and has started to take her confidence from me, often something very difficult for a Grade 1 to give to their horse.
Winnie is still with Liz Launder in Wales and I miss her dreadfully, but she is in the best hands and I am grateful to Liz for doing the best for her, on her own whilst foaling her own horses. It can't have been an easy few months and not over yet.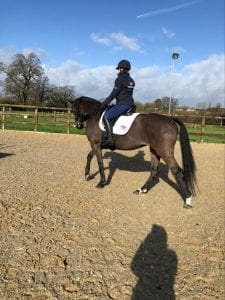 Before the lockdown happened we had started to explore the difference a new saddle might make to both Lexi and me and we were lucky enough to be loaned a Fairfax prototype through squad and although it isn't perfect for me Lexi likes it.  We also had my saddle fitter Caroline Wilde come and fit us with a different version of the Fairfax, I loved it but Lexi didn't so much, so we now know that it is something in between that we both need.  Sadly the lockdown happened and we haven't been able to complete the exercise and order the eventual saddle but will do as soon as restrictions lift.
I have also been looking at how I can pay forward this chapter of my life and I am delighted to say that I am now the Ambassador of Watershed RDA, the RDA that you will have read all about in my blogs and a Charity that I love, so I am super proud to be working with them officially.  But I have gone a step further.  Before the lockdown I had explored the possibility of me taking my Coaching exams through the RDA and doing the training modules with Watershed. I spoke with RDA National too and they were really keen to support me so there it was the idea was drafted.  It is now a firm decision and I will commence my training as soon as I can and can't wait to get started.
My third bit of news will have to wait as an article all about it will be released in a few days – I can't wait to share it with you all.
#keepsafe #teamunicorn