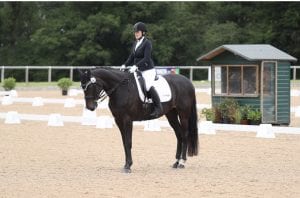 The last couple of months have been great for #teamunicorn and as we are all now back training at home we have been able to use the time to reflect on last year and look ahead to our new qualifying period for Tokyo 2021.  Without the pressure of competing it has given Holly and I and the rest of my home team (it really does take a huge effort to attain a championship horse) the time to really dig into the details from last year and look at the scenarios when things didn't go to plan and then benchmark those against the ones that went so well, like coming a close 2nd behind Sophie C at our 2nd 3* International event after coming last at our first event the month before.
I was so lucky with Winnie and she was very consistent once she learned the ropes and realised the only job she had was to walk around an arena elegantly and keep me safe for 5 minutes and she excelled, beating some of the worlds top riders at 3* level before her injury took her out for what has now been a year.  We haven't though managed that consistency with Lexi and we would go from utterly brilliant at one show to not so brilliant at the next, so our challenge during lockdown was to find out why.  We studied videos and Holly gave me feedback on how she felt for her each day and over the weeks we completely figured it out.  As we are an international combination I can't sadly share our secret with you but it is a complete gamechanger for us.  If I had the ability to jump up and down I would!
Lexi has come out of lockdown like a different horse. Holly has been working to get her more up in the shoulder and sitting more in her canter work and her medium trot is quite special, shame I am not a grade 2 as she really would be quite something.  Pole work has also been introduced to her weekly routine and she loves it. The result of this is that she has really strengthen her core but also her back and neck and she gives me a great feeling in the walk as she is really up underneath me and we maintain it.  All this strength means that she now has the power too and so I can ride her differently, she really marches around the whole test and is very manoeuverable. She really does look like a different horse, even Sharon her Massage Therapist asked me this week if she had grown another hand, it is quite incredible the difference.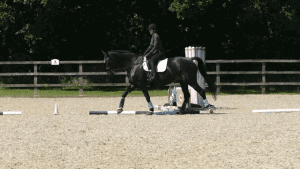 When she arrived at Hollys last December her default position was to go quarters in if she didn't understand the aid or got stressed, Holly has solved that too and we can now power down the centre line super straight.  This is all great for our scores as they are areas we scored poorly in before.  We have also cracked the walk in stretch which is the hardest element for me for sure.  I can't let go of my loop reins as I can't feel them to get them back so the only way to do it is to lean forward, but that is very tricky when you struggle to get back up.  In the past I have over tipped and she has trotted or my legs have come too far back and I have felt like I was leaving stage left, not a nice feeling in a competition.  To have cracked this will also make a big difference to our scores.
We have been videoing our training and sending them to the newly named British Equestrian coaching team and getting some lovely feedback on them so we can't wait to get out competing again and put all our hoard work into action.
There will be news on the fabulous project I have been working on very soon so keep your eyes peeled for the announcement on the www.geniusequestrian.com social pages.
All social @dgparadressage