The competition was fierce at the thrilling Equissage Pulse Summer Festival of Para Dressage hosted at Solihull Riding Club last weekend (1 – 2 September 2018). Though the sunshine stayed away, the talent of our future Para stars shone brightly.
Equissage are the official sponsor of our para programmes and Championship events.  "We are delighted to be associated with British Dressage as headline sponsor of the Para Programme and Para Dressage Championships' said Equissage Pulse UK National Manager Victoria Archer 'Equissage Pulse is world class therapy that is trusted by many leading professionals across a variety of equestrian disciplines. Supporting wellbeing for the horse and rider to achieve a world class performance is a fundamental part of top level success, and we are pleased to be an active part of that support"
Taking home the accolade of highest score of the show was Grade IV Silver Champion Rachel Collins. Rachel, hailing from Sandwich in Kent, scored a brilliant 69.56% for her ace test with her own Sandro Hit sired mare Ronja I. The 15-year-old Oldenburg impressed the judges to top the podium ahead of Katie Radzik with Principle FB and Laura Gulliver with Woodcroft Natalia.
Speaking from her Facebook page, Rachel said "What a weekend! Update to follow, but I'm totally over the moon with Ronja. What a special mare. She has been super all weekend and today all the pieces fell into place. I had one of those rides you never want to end. Thankfully the judges agreed and we are Equissage Pulse Para Grade IV Silver Champions!"
16-year-old Leonie Saffy was a popular winner in the Grade III Silver section with her own 20-year-old gelding Gemswood Morning Sun. The charming duo danced around their test to earn a win with 67.39%. The formidable partnership are no strangers to the big time having previously competed at the Para Winter Championships and Bishop Burton CPEDI2*. Young Leonie recognises Charlotte Dujardin as her idol and hopes to have a future career in dressage; her win at Solihull sees a successful return to the championship scene following an 11 hour operation on her spine in late 2016. Born with Escobar Syndrome, Arthrogryposis Multiplex Congenita and Neuromuscular Scoliosis, Leonie started riding as therapy and hasn't looked back since!
Also earning the spoils in the Equissage Pulse Para Silver Championships were Hope Hayward with Cadeau K (Grade V), Denise Smith with Sheepcote Catkin (Grade III) and Alice Lundy with Carlton Cadman I (Grade I).
Three debut riders, Rebecca Goodwin (Grade IV), Vanessa Palmer (Grade III) and Jane Ogden (Grade II), each took home a title in the Equissage Pulse Para Bronze Championships with stellar marks. Nottingham-based Jane also managed to notch up half of her Winter Championship qualification points in Saturday's classes; Jane and her Irish bred gelding Fairview Romeo train with former Youth international rider Elspeth Day of Lambley Paddocks Dressage.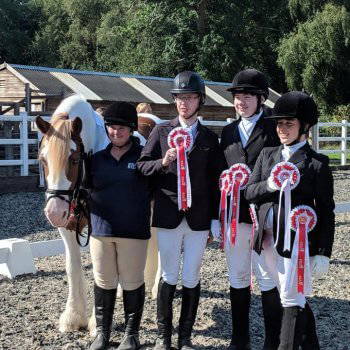 Running alongside the Summer Festival was the Intelectual Disability Championships.   RDA Ambassador and competitor Matthew Dalley commented "It was amazing to be a part of the first ID Dressage Championship at the BD Para Summer Championships last weekend. RDA and BD organised this together and I was proud to be a part of that team as RDA Ambassador, helping with publicity for the event."   This was the first inaugural RDA and ID championships.   It was a great way to integrate the RDA riders and the Para riders.
Ellis Holdaway took the RDA walk test with a respectable 69.16%, on her horse Charlie.   Lee Lawrence and his ride, Whisper contended in the RDA walk and trot test, taking the title with 66.12% .   The canter test was won by Kayla Pratt with a whopping 70.00%.   Exciting and encouraging scores for these riders who may transition into para BD in the future.   Prizes were presented by triple gold Medallist  Para Dressage rider Julie Payne, "What an honour to be invited to present the awards at Solihull Dressage Festival to the RDA ID Championships. Lovely to see these lovely people enjoying their horses and competing in such an atmosphere. Well done to all, a privilege to meet you and present you with your well-deserved prizes"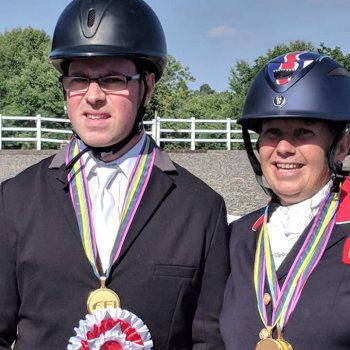 Congratulations to all who took part in this brilliant Championship. Thanks go to generous series sponsor Equissage, as well as to the dedicated team at Solihull Riding Club.
Results
Grade V Silver
1st Hope Hayward with Cadeau K, 65.46%
Grade IV Silver
1st Rachel Collins with Ronja I, 69.56%
Grade III Silver
1st Denise Smith with Sheepcote Catkin, 66.30%
Grade II Silver
1st Leonie Saffy with Gemswood Morning Sun, 67.39%
Grade I Silver
1st Alice Lundy with Carlton Cadman I, 69.37%
Grade IV Bronze
1st Rebecca Goodwin with Mr Bertram, 64.00%
Grade III Bronze
Vanessa Palmer with Encore, 66.38%
Grade II Bronze
1st Jane Ogden with Fairview Romeo, 61.46%
For full results click here.
For pictures/extended coverage from the event please visit our BD Para Matters Facebook page.