Eventing, for all its elements, is all about showing a rideable, brave, adjustable horse. For that reason, one element of the cross-country phase is that of speed. At each level of eventing, the cross-country course is set at a specific length and speed. After factoring in the pace for that level in meters per minute (mpm) and measuring the length of the course, the course designer then sets the optimum time for completing the course.
At each level, the meters per minute pacing is broken down as follows (see section Appendix 2 of the US Equestrian eventing rulebook here for more details):
Beginner Novice: 300-350 mpm
Novice: 350-400 mpm
Training: 420-470 mpm
Modified: 490 mpm
Preliminary: 520 mpm
Intermediate: 550 mpm
Advanced: 570 mpm
To put some of these into more easily visualized paces, a Beginner Novice mpm would be between 11 and 13 miles per hour, while an Advanced horse would travel around 21 miles per hour.
While riders at any level should, first and foremost, focus on proper jump position and technique rather than galloping hell-bent for time, integrating pace training should still be a part of any eventer's training. After all, cross-country riding is built on the practice of riding at speed, taking jumps out of stride efficiently. Positive, forward riding is encouraged on cross-country, so learning how to feel and manage your speed will help smooth out your course.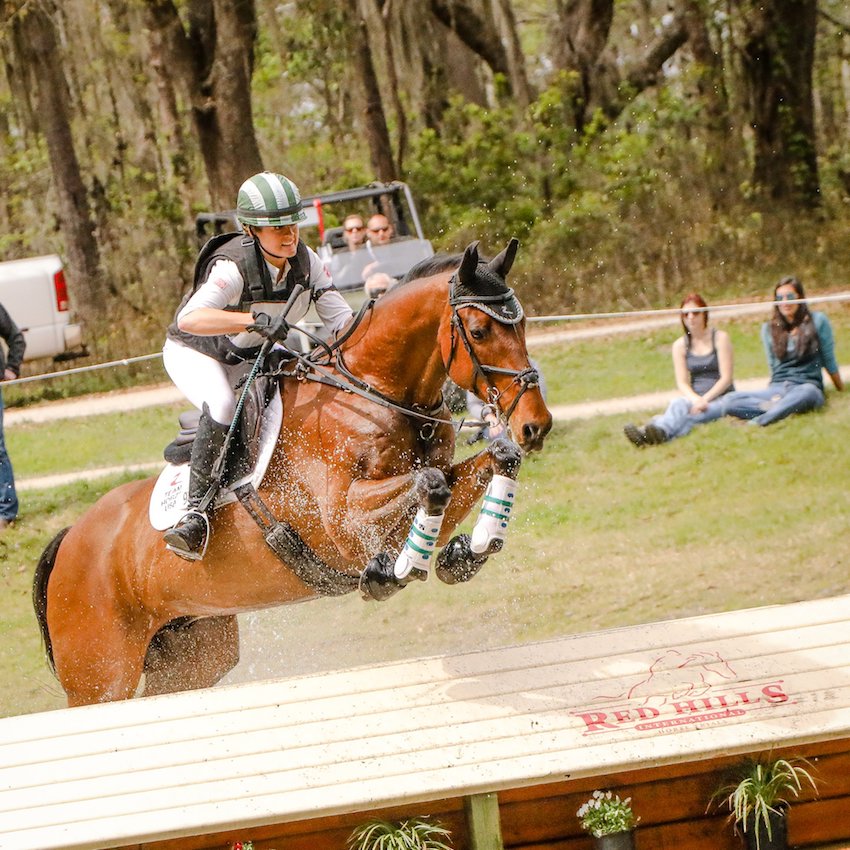 Advanced level event rider and coach Ashley Kehoe of Lexington, Ky. has a background in Pony Club, where riders are taught early on how to know their gallop pace. Learning pace, Ashley says, is an important part of even a lower-level rider's education. But how do you go about learning? Before you just go off tearing around a field as fast as you can, here's a simple way to start practicing:
"Mark off 100 meters, preferably in a flat field or an arena if that's all you have," Ashley instructs. "Depending on your space, it may take you one or two laps around." Have a friend around to help you with your time, or wear a stopwatch if you're on your own, and make sure you don't have the distance marked in a small arena with tight turns that will prove dangerous.
Once you have your meters marked, take into account your level of riding. If you're riding at the Novice level, Ashley says, you'll cover that 100 meter stretch in about 15 seconds. A Training level horse should cover the 100 meters in about 14 seconds, and so on and so forth. Practicing the appropriate pace – and it's safer to start slow and build – will help you start to learn to "feel" your pace.
Feeling a little stiff? Try these stretches to maximize your ride.
When you're practicing your pace, take the opportunity to also practice your galloping position. Even at the lower levels, it's important to learn the fundamentals of a good gallop position. This allows the rider to ease off of their horse's back and really encourage the horse to use his engine. Plus, Ashley reminds us, you can't expect your position to be solid if you don't practice."It takes very different muscles to stabilize your galloping position with short stirrups than it does for show jumping or dressage."
"You can practice by putting your stirrups to your cross-country length, or even a couple of holes higher," Ashley says. "Walk around with the shorter stirrups, doing some walk work and incorporating transitions, and then the same with the trot and canter when you're ready and able to. The different movements going on under you will test your position – you must be very strong in your adductor muscles and lower back."
And while you work on your own position and fitness, your horse's level of fitness will also increase. Fitness work is important for any horse, as proper fitness can help reduce the occurrence of injury that comes from bad steps or poor breathing. Use a FLAIR Equine Nasal Strip to open your horse's nasal passage during your pace training – this will help your horse breathe easier, thus making his job easier. The FLAIR strip will also help your horse take in more oxygen post-exercise when left on during cool-down.
Yes, your lower level horse still needs to be fit. Here's why.
By integrating some pace training into your routine, you'll see that you're more comfortable with forward riding out on cross-country. Riding positively will help improve your distances and confidence, which go hand-in-hand with safe riding. Make sure to enlist the help of a coach who has experience with pace if you're unsure, and practice the basics to give yourself a big leg up at your next event.