Working full time as a nurse and competing two horses internationally is like juggling with jelly. It can be a bit messy at times and difficult to do but not impossible. I have always looked more at what I can do and feel that because I can still work, I am quite lucky. Equine sport is expensive, and my job has meant I can carry on and pursue my dreams. When I applied for my current job, I made them aware of my disabilities and that I used a mobility scooter and needed to take my leave around World class activities which was agreed making it already easier to juggle.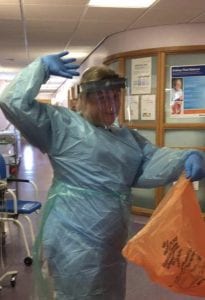 My role a site nurse practitioner is split between days, nights and weekends. Every shift is 12.5hrs long and although that sounds dreadful it works in my favour giving more days at home. In the morning before work I sometimes ride or if not after work. I have lights at home on my arena which makes this possible. I plan the horse's days off and lunge days also on my working days, so I don't get too exhausted and spread the workload through the week. On my days off I always ride and will also try to make a day to hack or go to the beach if I can arrange help. When I work nights, I ride before work and so riding times for my horses varies a lot. This has also helped at shows when you can compete early or extremely late. My horses really do not mind.
Due to my shifts my horses and yard have not got set times and routines as it must change daily. I have found that the horses have adapted to this well and are not expecting set feed times so don't bang doors or get upset in fact two of them were born here so they don't know any different.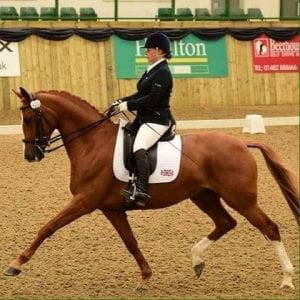 At the beginning of this year I was invited onto the world class podium potential program due to the great results I had in 2019 on my homebred mare. I am on the long list to campaign for a place at Tokyo and a chance for selection for the team. The support I receive is amazing. We have access to the best of the best in all spheres from equine and human practitioners which is lottery funded.  I use all my annual leave for squad training and any important shows such as national and international championships. I normally have a week spare that I can take for myself to have a brake too with my husband Dave.  Dave is self employed so can work around my shifts and often has my meals ready after a long day. Since acquiring an automatic lorry with hand controls I am able to drive to shows myself although do require help once there, so Dave is also the one that stays behind when I compete to make sure the other horses and animals are cared for. This support is particularly important as it stops me worrying about what's happening at home. I have often come off shift and had to drive straight to an away show. Dave is always great at getting in the shopping and making sure the lorry is packed with enough food for my stay.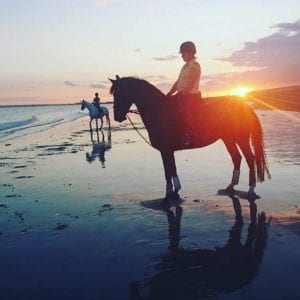 Of course, it is not always rosy and sometimes that jelly gets dropped and priorities must be made. My horses, on a daily basis are not turned out to show standards and their care and exercise will take priority over trimming that mane today or making the much heap into beautiful steps. I can say they want for nothing, but the tack might be cleaned twice a week instead of after every ride. The reality of finishing a 12.5hr shift and getting home for 9pm in the winter to then ride will often mean dinner at 22.30 before being up again for 6am. It is hard work physically and mentally but definitely well worth it.
I also must mention the support I have from my friends. I am super lucky to have amazing people in my life that bake cakes for my trips. Pop over and trim a mane the night before a show or be here for the physio when I am at work not to mention take the horses out on a hack when I am working. My super vet farrier and physio for making sure the horses are fit sometimes working with them when I am not here. All these things really help to make it work and I am really grateful to have a supportive team around me.