Well I should be careful what I wish for! At the end of my last blog I said I was glad to be leaving the heavy winter behind but it's been long and tough…I had no idea things were to get tougher for very different reasons. However this blog will concentrate on what I managed to do before the Corona Virus turned all of our lives upside down! We had lots planned for several of the horses so I'll get started.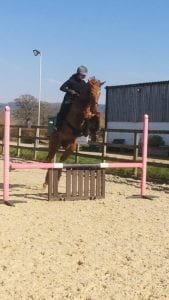 We had a momentous day at the start of March – we took Friday on her first ever outing!! Oh my, it's been a long journey with this witch (sorry I mean angel) but after 18 months we seem to have her sound and comfortable (big thanks for my vet and farrier Joel Roberts), and after 2 cancelled outings due to storms we finally had a play date!! Luckily she's only 5 rising 6 so we have time on our side and it's not been wasted as it's taken ages to build her confidence…she's no longer terrified of everything and is actually becoming quite the self assured independent woman! We had a slightly interesting start when Friday took exception to my mounting block (no idea why – it's the same one I used when I backed her so should be super familiar!) and reared and disappeared across the car park…not once though – twice! The second time she decided to step things up and not just rear but flip straight over and hit the deck on to my lovely saddle… but once I actually managed to get on she was amazing! She jumped everything first time with zero hesitation and that includes fillers she has never seen before. So I'll almost forgive her damaging my gorgeous saddle (not really – she needs to win Badminton to make up for it) One of the things I love about young horses is their education and Friday will have learned so much from her outing so will be interesting to see how she goes next time (ie if I can get on her in one piece)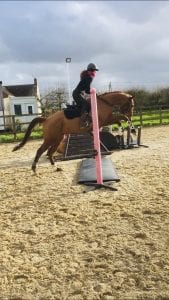 Of course we haven't managed to get out again for more play dates with Friday but she has continued her training at home and has been great. I've tried to introduce new challenges now she's become much bolder and coped with her first outing. Time for the XC fillers!! So I introduced her to a couple of the easy ones – the water-tray and a palisade type filler. So thrilled with her as she flew them both first time – not a single hesitation at anything, which frankly amazed me because it took me 10 minutes to convince her to even walk alongside the water tray! Don't want to harp on about the start of her ridden life but this is the girl that at first wouldn't go over a pole and then once we got her over it and confident she would forget, and the next time not go anywhere near it again! It took so long to progress on from that, then once she got the hang of jumping she went in to racehorse mode and would charge at the fence with her head in the air leaping occasionally (ie a lot) So it is no exaggeration to say this has been a lengthy and challenging process, and why steps like this mean so much. I think it would be fair to say that the only word you could use to describe her now is brave. She gives the most amazing feeling over a fence and has so much scope, I love her 'if in doubt just jump higher' attitude!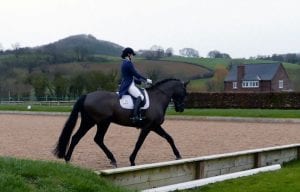 Ruin also managed an outing before lockdown – his first and last it would seem! We had a really good day though, donning the dressage kit for the first time since November. I took him to do a PSG freestyle for fun and to ease him gently back in to the white boards away from home. Now it is true that I swore off doing any more PSGs because
(a) the Inter 1 suits Ruin much better,
(b) since learning his 2-tempis and some 1-tempis Ruin refuses point blank to even acknowledge the existence of 4-tempis (which are in the PSG), and
(c) now he's starting to grasp the concept of the canter pirouette Ruin flatly refuses to only do a half pirouette and instead much prefers going for at least 2 full pirouettes…
But music is fun so I made an exception! We got some fab work in the warm up and I was so pleased. However after walking to the test arena this was a distant memory and normality resumed, of course. Guess what happened? We didn't get the 4-tempis and he threw his head up coming out of the pirouettes after half a turn… well I can't pretend to be shocked! We even messed up the 3-tempis but fortunately I managed to repeat those for a clean line and bring that mark up a fraction. Most of the trot work felt really good, so overall I was really pleased because he's not been out for over 3 months and showed a little of the big improvement he's made over the winter's training. Safe to say I was chuffed to get 68.8% and a red rosette for his section and 2nd overall! Now that really is the last PSG…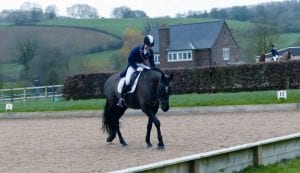 It's funny how those outings feel like so long ago already. We are very lucky to live on the farm so lockdown doesn't feel so claustrophobic, and my routine remains pretty unchanged as the horses still need to be looked after. I am still riding, although being careful with what I do and it's no longer about having super fit horses ready for dressage Championships and one-day-events! It's really hard to stay motivated but I want to use this time well. Lots of people aren't riding now but I have made an educated and informed decision to continue; I had no falls in 2017, one fall in 2018 where I landed on my feet, and no falls in 2019. In over 20 years of riding I have not once required any medical attention of any kind for any falls I have had – yes I'm touching lots of wood! So of course it's a dangerous sport and accidents happen but I personally don't feel I am taking an unnecessary risk continuing my riding, however everyone needs to make the right decision for them, using facts and taking into account their own and their horse's welfare. In that vain I entered my first online dressage competition with Ruin! We did the Inter 1 and won with 65% with three big mistakes! Yes we were the only one in the class but that's just nitpicking! it was really fun and now I'm working towards my next one, maybe with some of the other horses too…watch this space. Be safe and see you next time.
www.facebook.com/hmnsporthorses instagram: @hollyhorsenorris