Hello again! May has ended somewhat differently to how it started, as a result of some lockdown restrictions easing. My life hasn't changed hugely – the horses still need to be looked after and that's most of my day taken. The evening teaching, competitions and my own lessons are the main things that have disappeared, however this does take out some of the stress so I've enjoyed the more regular and relaxed pace!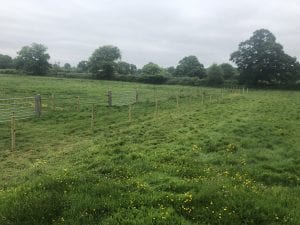 This is the time of the year that 100 things need to be done on the yard – the joys of living on a farm! The grass grows 50cm per hour and the weeds suddenly sprout from invisible to knee-high! This was put slightly on the back burner at the start of the month as we finished fencing the summer fields. We had it professionally done with wooden posts and electric tape when we first moved here but only a handful remain after they have rotted (or been pulled out by youngsters!) We purchased our own post pounder and my heroic mum and dad have spent WEEKS re-doing it all. It's been literally hundreds of posts and miles of electric tape so no small feat. Now it's finished and looks simply amazing, just in time for happy horses to move across to some new grazing and the feeling that summer has finally arrived!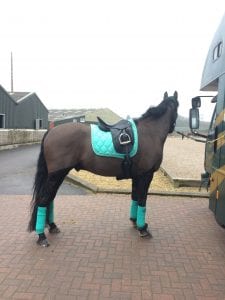 While we are continuing with lockdown on the whole it has been great for a few things to become more 'normal' again. I had my first lesson with my trainer Gareth (Hughes) after several months. It was amazing! The horsebox started first time after a 3 month hibernation as if desperate to be used, and off up the motorway I went with Ruin. It's incredibly easy to social distance at his yard because I am completely by myself in the carpark, where I mount and ride straight in to the open arena, have my lesson and ride back to the lorry. I do feel I've become slightly feral during lockdown and I was definitely a bit over excited at seeing other humans for the first time in a while…even Gareth commented that it was a good job it was a restriction on movement  and not talking!! It felt great to get his eagle eyes back on us and make sure we're still on the right track. Ruin was thrilled to go out for a party and was a really good boy. We went through a bit of everything but focused on the Inter 1 canter zigzag (steep halfpasses back and forth across the arena with flying changes in between each) because I admitted to Gareth that I felt I'd lost my mojo in the canter zigzag…it's something that Ruin really struggles with and every time I worked on it it became worse and worse to the point that I left it alone completely so I could do no further harm!! It made me feel very despondent as I didn't feel I had the tools to fix the problem, not a feeling I'm familiar with. Gareth was lovely and very understanding. We broke the movement down with Gareth explaining that each movement is in three parts and I was getting hung up on the middle and forgetting the beginning, which is especially important for Ruin – preparation for him is key so he knows where he's going! It wasn't long before we did a great zigzag and I was so chuffed. A reminder of why we go for lessons and that Gareth is (obviously) a genius, I'm very lucky to train with him! The online dressage test competitions have helped me keep motivated but at this level you really do need regular eyes on the ground to keep things correct. Gareth reminded me that what we're doing now is really hard but said we haven't completely lost the plot in his absence so that's a relief!!
I have also been out to teach my first couple of lessons, something I felt a bit nervous about but went really well and was great to see my favourite pupils again to give some help and advice. The main struggle is the social side of things, because I am not good at teaching and just leaving – I always leave extra time because I like to have a chat, have a bit of cake and generally meander around catching up!! This is the biggest change as I now park, walk straight in to the arena to teach (and chat!), then leave. I must admit it is having a drastic effect on my time management as I try to keep a lid on my 'there's a human!' enthusiasm!
We have now been able to have some practitioners to the yard to treat the competition horses, something they have really missed. They are athletes in every sense of the word so regular treatments are vital to keep them in tip top shape. My amazing physio Hannah Hartop from Vet Physio UK has been to give Ruin a session and while it felt weird keeping a distance the whole time it was so good to have her back. I'm not sure however that Hannah enjoyed being left with Ruin and without me holding him to stop him biting her, shoving her, pushing her, knocking her off her stool, and generally being incredibly annoying to treat!! Fingers crossed Hannah hasn't been scarred for life and will come back!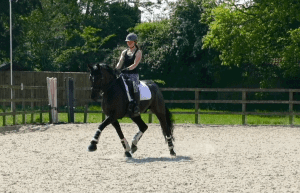 There is a recent 'discovery' I thought I would share, concerning Ruin, in case it might be of help to someone else in a similar position. It is regarding the trauma we were having with the Inter 1 canter zigzag. It wasn't exactly going plain sailing in training but when we did it in a test to record for the online competitions it completely fell apart. Trying to work out what is different in these two scenarios I noticed that in training I 'click' a lot (anything to help!!) but obviously during the test run through I have to be silent. Thinking about it our voice is an aid so in schooling sessions he has that as an additional aid but then suddenly, when I run through a test, that aid disappears. Is it a surprise that he would back off during the test, when that encouraging instructing 'aid' disappears? So I have made a change! The last few weeks I have stopped clicking and it confirmed my hypothesis – even in training everything became more laboured as I think he wondered if I was 'serious' with the lack of clicking that resembled a pneumatic drill having a seizure…however I backed up with the whip to make sure it was crystal clear what I was asking and it has slowly become better and better. We haven't done any test run throughs but I am confident it will make a significant difference because now there are no differences between my training the canter zigzag and riding it in the test. He's such an idle boy that I have tried to do every bit I can to help him be more forward but actually I think this has had a bit of the opposite effect! So next time you don't understand why things have fallen apart during the test when it's gone so well in training, try not to blame the horse, but instead think about all the little things that might be different between training and competition and see what you can change. You might be surprised!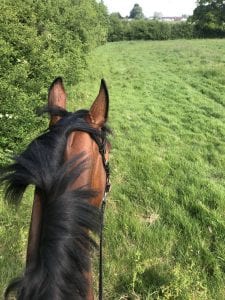 Everyone keep safe, healthy and happy. I hope the easing of lockdown has made things better and easier for you all. Thank the Lord we have horses to keep us sane… See you next time!
www.facebook.com/hmnsporthorses instagram: @hollyhorsenorris