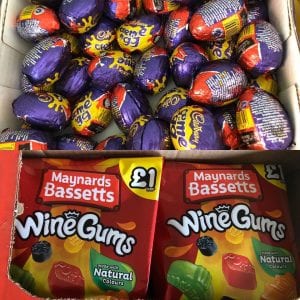 Welcome back! It feels like we've been on lockdown for a long time now and we're quite settled in to the routine, and I have to admit I am enjoying having quiet evenings in rather than out teaching so much. I am embracing the situation in the only way I know how – bulk buying edibles! So I am already on my second box of 48 Creme eggs and have made a healthy indent in my 2kg of wine gums!!
I am still riding and in lieu of training I did consider jumping on the bandwagon of doing some training videos… I mean there are several topics I could provide help on that I haven't seen other riders showcasing, for example:
1) how to ride a chestnut mare and survive to tell the tale
2) how to ride a horse with ADHD and still manage a productive session of sorts
3) how to drag a horse, who's favourite pace is slow walk, through a PSG/Inter 1 test
4) how to ride a horse who acts like they are on 'speed' and not break the world land speed record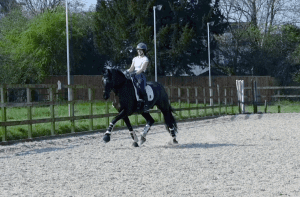 Despite several additional suggestions from friends and clients you may be pleased to hear I decided not to go down this avenue!  The horses are thrilled and have been going really well. Ruin has been a bit flat but that's understandable – it's the longest time he's been in one place without going for a lesson with my trainer or to a competition. He's such a laidback individual (aka lazy) that these regular trips are really important to keep him interested in life and he does love his playdates. We always use lots of variety in their work schedule with potters around the fields, pole work and jumping, including over my XC fences, as well as their dressage sessions. I have had to really ramp this up and also try to keep Ruin's schooling sessions light and playful to keep him slightly more enthused about life! Otherwise he does a great imitation of a sedated sloth. However he did manage to get motivated enough to complete another Inter 1 test for his second online competition at the end of April. I went for more power and expression and pulled that off, although this of course does bring more opportunity for mistakes, which we capitalised on!! However we got a higher score than last time with many more higher marks of 7.5 and 8 – result! The mistakes clearly led to a handful of 4s though, which was very expensive, but the judge's comment at the end was lovely and I was happy – if we can get the quality with a clean test then we will be on to a winner. Especially if I can find my centre lines, which are normally one of my strengths, but on this occasion every centre line was literally in a different place according to my test! Who knew it was so hard this dressage malarkey…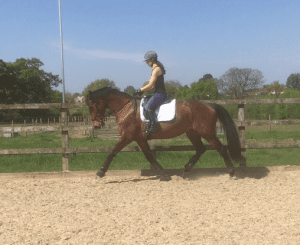 From the sedated sloth to the fiery ferrari I cannot go without expressing my pride of G! I've had her two years now and it has taken until now (no joke!) to be able to get more 'niceness' n less 'death' as I refer to it. I knew I was taking on a wild ex-showjumper when I got her, but oh my god I had no idea it would be frankly so near dangerous. She has a well established array of party tricks and she has managed to get me off once! From bolting at the arena fence to jump out (all with me on board and it's an extra high 5ft fence) plus throwing herself through it – I have lost count of the number of rails she has trashed and I have had to replace. I sent her to a well known behaviourist last year for two months for a small fortune, and she came back as pretty much his first 'failure' and with the explanation that she has 'blown her brain'. We've obviously been down every vet route to eliminate any pain as the cause. We know the trauma and 'accidents' she has had in her past, physically and mentally, so it's no surprise she's a bit messed up…it's very upsetting to think about. I then tried to put her in foal last year so she could have some chill out time but she didn't take – of course!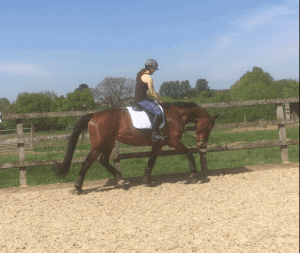 So we carried on over the winter, trying to keep her legs on the floor and me in one piece! And somehow we've started to make some progress – really! Maybe it's because she's now been with me longer than any previous home (all homes less than a year) and has finally realised we want to help her and her to be happy and she's not going anywhere…who knows. But we've had a handful of months now of actually quite productive and calm work! We still can't walk without 'death', but we are definitely getting some recogniseable trot and canter. I am so over the moon!! I adore this mare, she is so complex but an absolute diamond I am convinced. She deserves loveliness and is so talented, I'm starting to feel there might be light at the end of the tunnel. Who knows – in another couple of years we might actually get some walk! Watch this space.
I hope everybody is managing to keep safe, healthy and happy. Let's hope by the time of my next blog things have taken a turn for the better and life is a little easier for everyone. See you then!
www.facebook.com/hmnsporthorses instagram: @hollyhorsenorris