Hello again! I left you last month with the promise of a big and busy August and I definitely won't be letting you down on that front!
First was Fozzy's first BE competition, the BE90 at Solihull, and I think the word unbelievable would sum it up nicely! The few days in the lead up to Solihull were pretty awful with seriously horrendous weather and worries the ground wouldn't be ok, but after much thought we decided we'd go and see what we could do. At worst just do the dressage and showjumping (showjumping on a surface) and not run XC. Disappointing but no competition is more important than the horse. So cue a 4am start! We arrived and got started. The dressage first and it was good. Fozzy was a star and didn't put a foot wrong, however he couldn't quite grasp the concept of a canter transition in the corner of a grass arena while not exiting the arena…we left the arena, leapt back in, got the wrong canter lead, panicked, managed to correct – pretty much just in time for the trot transition! The second canter transition on the other rein wasn't a lot better either! Not Fozzy's fault at all – he's actually never done a dressage test before or done the white board thing so he just didn't understand the question. But it was expensive….two 4s for those transitions amongst mostly 7s and 7.5s put us on 33.5. Not what we're capable of but not a bad score at all.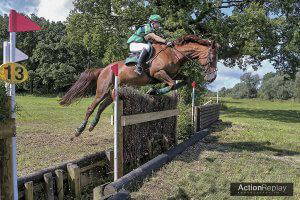 Showjumping was next and Fozzy jumped his socks off! Not the most stylish round but he did his upmost to leave the poles up and we went CLEAR! We fully expected several poles down so both Lisa and I were practically in tears as we finished! The weather had improved and reports from the XC were positive so we decided to give the XC a go and just see how we got on. Fozzy's only done a handful of XC schooling outings but he was fab and really stepped up for his first course and we came home CLEAR inside the time! Finishing on your dressage score is always the aim so we were thrilled and hopeful of a top 10 if we were lucky…well we came 4th! With the winner 1.5 penalties ahead of us those dressage mistakes really did make THE difference. But just wow, Fozzy is amazing and has a heart of Gold. I really can't thank his owner Lisa Lessels enough for the opportunity to ride this boy, we have a lot to be very excited about!
The following weekend it was back to dressage and a much more traumatic and dramatic few days! We took Ruin to the Midway Championships at Hartpury for the PSGs and PSG Freestyle. Ruin has only done a couple of PSGs before this so we just wanted to improve our scores and give him another valuable experience in a big atmosphere. The first day we had the first PSG. Ruin warmed up really well, nicely forward (for Ruin, don't get carried away) and we went in feeling positive and ready. The test started ok but then turned in to an actual disaster!!  First a few irritating errors – he broke to canter in the extended trot, nearly stopped in one trot half pass and actually stopped in a one walk pirouette…thanks Ruin. Then he stopped in his first canter pirouette and literally wouldn't move. This is not an exaggeration! In championship classes you aren't allowed whips so cue serious pony club kicks, flapping reins and shrieking at him at the top of my lungs (and yes I had 2 marks deducted for using my voice!). I eventually managed to get canter but the correct canter lead, so I couldn't demonstrate the counter canter and flying change. And of course we hadn't done the pirouette which is a double scoring movement. That is a lot of very low marks! Managed to get through the rest of the test with lots of kicks and grimaces. Not surprisingly we got our worst score yet, sub-60% with several 2s. I was hugely upset and spent a decent part of the following couple of hours in tears. I'd never had a test go so badly and I felt incredibly disappointed and frankly embarrassed.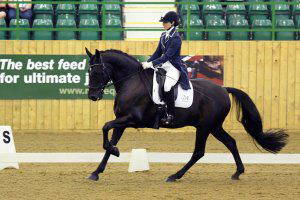 There wasn't much time to feel sorry for myself though as we had the PSG Freestyle on the evening! Fortunately I could carry a whip in that test so I wasn't feeling too concerned. The PSG and above classes were part of the gala evening so there was a big crowd and lots of atmosphere. I personally love an audience and really hoped the buzz would give Ruin some extra oomph! I just love my music and the test went really well. We had no unscheduled halting and kept to time with my music 75% of the time so that felt like a big achievement after the morning! Of course it couldn't be completely plain-sailing and Ruin threw in his favourite 2s in both sets of tempi changes. We got a better score than earlier (64%) but 4s for both sets of incorrect tempi flying changes, which is clearly expensive. However it was definitely a relief to finish the day on a higher note!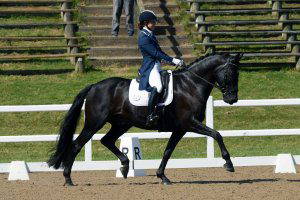 The next day was another PSG and the organiser very kindly agreed to let me go HC so I could carry my whip and not have a repeat of the previous day. Our previous PSG score had been so low we were completely out of the running for a placing so it was more about educating Ruin and finishing on a good ride. We had a good warm up, went in and did a great test – simple as that! I was super thrilled, I actually had a little cry on exiting the arena, I think as much as anything it was the relief at completing the test! We went to try and find out my score, just for interest, just hoping that we might have a nice percentage to round off the weekend…and found out we got over 71% and would have come 2nd!! When she told me I of course burst in to tears, again, before going to find and tell the others and promptly bursting in to tears again!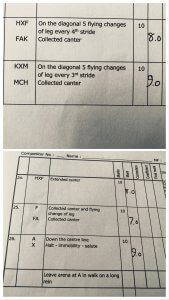 We were all absolutely thrilled. We put so much time, money, effort, sweat, blood and tears in to these horses and as cliche as it sounds it is an endless emotional rollercoaster. Having had the worst test of my life, quite literally, in our first PSG, to then do our best PSG and get our best score…it doesn't get more up and down than that! From near devastation to utter euphoria in 24 hours was exhausting and it will definitely take me a while to completely recover. I received my dressage sheet a few days later and was ecstatic to see we achieved two 9s in our test! One for the final centre line and one for the 3 tempi flying changes. It really was the icing on the cake and has me feeling so inspired and extra motivated.
Ruin is now having a mini holiday – shame I can't have one! I have lots on in September (cannot believe it's September) and frankly I'm just hoping things go a little more smoothly…until next time!