Hello again, it's been a rather quiet month here after the manic lead up to the Winter Championships at the start of April. Ruin had a holiday after we got back, as planned. When thinking about it I realised that Ruin had had a pretty full on 6 months…after getting back from WEG (the World Equestrian Games) in September (spectator, not competitor!) the focus was on getting the tailcoat on before the end of the year and doing an Advanced. So we spent October and November heavily focused on that and in December Ruin did his first Advanced and qualified for PSG. Tick. The next aim was the Regionals in February so the rest of December and January was centred on working toward those. We of course, miraculously, qualified for the Nationals. Tick! So the focus then moved on to those Championships in April, and the rest of February and March was all about preparing for Hartpury.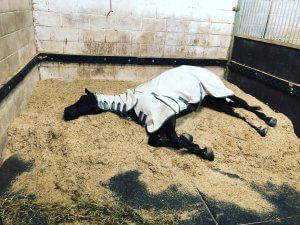 So when I thought about it poor Ruin did deserve a bit of a break! My plan was to basically give him as long as he wanted…within reason!! He's normally a pretty 'expressive' chap so when he's bored and wants to work he makes sure you know about it. I did explain to him that this wasn't early retirement though, so after a fortnight he would be coming back in to work whether he liked it or not! I hoped the two weeks would be about right, and after a few days it was clear he was loving the holiday as he did little other than sleep flat out snoring. This didn't last though and Ruin decided just one week was plenty. I won't lie; I was a bit irritated – the marginally lighter workload was lovely! However you couldn't misinterpret his banging and crashing, so after a week – back on board I went, even if somewhat muttering under my breath. He has since told me a few times he'd like another holiday but I have told him he made his choice and he can't go back now!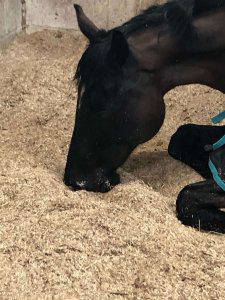 After having so many competitions to focus on and work toward it can be really difficult to get back the motivation when there is nothing else in the diary. I would say it took me a good week to get my mojo back riding Ruin. We'd meander around the arena, play with a bit of this and that, but not with any real determination or ambition. Now, however, we are back on it! The next aim is of course PSG (Prix St Georges). So we are back schooling on full throttle and feel very motivated. The PSG trot work is no different to what he's been doing so that's not much of a worry. The canter throws up the most challenges with tempi changes and pirouettes. I love a challenge though! The pirouettes won't be super tiny as he learns to balance and his collection improves in time, but he understands the idea and they can be quite smart. The tempi flying changes are our biggest hurdle. Not because he can't do them – he demonstrated that rather nicely at the Nationals in the Advanced Medium where he did fricking tempis everywhere!! In the PSG you have to do 5 four-tempi changes across one diagonal and then 5 three-tempi changes across the next. The main issue is speed control! Ruin has a naturally big and expressive canter, which is great yes? For a single change yes. For a series of changes…not so much! If we come in a forward  collected canter we basically run out of room across the diagonal. Genuinely can fit in about 3. His canter and changes also get bigger as he goes so by the end he is too forward to even do a flying change so it is not pretty! Simple solution, I hear you cry? Be more collected! Yes you would think so wouldn't you, however if I have him too collected in the canter Ruin drops behind my leg (correction, even more behind my leg) and then completely misses my cue for the change, and instead of 5 lovely 4 tempi changes we get a mixture of 5s and 2s. Not so great. Achieving a happy medium has been a real struggle! What am I saying…it is still a struggle! However we are getting the right balance more often than not now so when I feel we have it sussed I shall get him entered and we'll give it a bash. Probably for me to over ride in the test and miss all the tempis anyway. C'est la vie!!
The rest of the yard continue to progress well and we are thrilled to be nearing summer, particularly for the eventers. I have two young eventers to play with, although only one will (touch wood) do any B.E.s this year. All I will say is the future looks orange! And in case that was too vague I'm referring to the fact they are both chestnut. Can't wait to get out with them!
At the end of April I managed to get away for an over-night stay at my brother and sister-in-law's house in Nottingham. I think it's so important to get some time away when you work with horses and there is no such thing as a day off. Seriously. Like, never. However do as I say not as I do, because I don't practice what I preach! This was a lovely weekend though, even if we did have an inevitable bit of drama. It honestly follows me. Can nothing go to plan?! Had a lovely massage when I first arrived, which was amazing, particularly as it was only the second one I've ever had in my life. Need to make that a regular treat I think! We then went to see the new Avengers film. We bought lots of sweets, popcorn, drink and ice cream, all totalling much more than the cost of the tickets. We arrived with plenty of time, went in and found somebody in our seats…pointed this out and he moved, going to challenge others that were clearly in 'his' seat. We sat down and began our picnic, for said man to return and point out that actually this was his seat…cue check our tickets…ahhh yes that would be correct, we actually had tickets for the following day!! So our cinema snacks were ultimately consumed in an Uber. Well I would have gotten to bed well past my bedtime (9pm) anyway so silver linings and all that!
Now I'm home; relaxed and refreshed and ready to regroup! I have a competition pencilled in for the end of May for Ruin that we may do…we may do a PSG, we may decide to do another Advanced, or we may not do it at all. As I've said before, it's never wise to make too many concrete plans with horses. See you next time!