Welcome back!
June was all about 'Mission PSG' and July feels like much of the same! So we cracked on and had another go. In Ruin's first PSG we had mistakes in our tempi flying changes, which was really frustrating, so that was a big aim for his second one – to get a clean test. Well mission accomplished! He was a dude and we had a 'clear round' without any daydreaming (from Ruin) and the only error being a flying change going in to his final halt. Really chuffed that he came 2nd overall and 1st in his section (he was the only one though…) Great! Lots to work on but felt very pleased that we're going in the right direction and it was an improvement from the previous test. However I then watched the video…as I have said before sometimes (aka often) it can feel very different to how it looks. This was one of those occasions. While we had a clean test the quality of his work wasn't great and it all looked very flat and earth-bound. Ruin has an expressive canter and good activity in the trot so this was very frustrating that, in my attempt to avoid mistakes, we lost the quality of his paces. If it's not one thing it's another! So the intention for next time is to show higher quality work (and not have any mistakes), surely that can't be too hard…
My next competitive outing, it would be fair to say, was a pretty monumental one…Bertie went to a competition! Those who have followed my blog from the start will remember my part-bred Spanish horse who had a very successful 2017 before becoming injured at the start of 2018 and a lot of time off. It's been no secret that the last 18 months for him have been horrendous; after getting injured in March 2018 he proceeded to have problem after problem….literally one thing after another for over a year. Treatments didn't solve the issues and they started to get more extreme. After a whole year off we managed to get back on board in April, but of course things weren't straightforward and Bertie needed further vet work! However things took a turn for the better and we have slowly built things up, keeping our fingers crossed the entire time. Things had been going really well, Bertie feeling great and getting fitter, so we felt he deserved a party (he loves his parties!). Therefore I re-affiliated him and off we went for a little Medium test. It would be safe to say Bertie was rather excited (understatement of the century), spooky and basically a bit all over the place – but what do you expect! The important bit was he had an absolute ball and ultimately it really could have been a lot worse… He did a nice test, just a lot of excitable tension – a struggle to keep actual walk in the walk work and lots of Bertie hoping we were going to gallop… All the scores in the class were low so was thrilled to come 3rd with 64.48%. The Judge was very understanding and her comments were really lovely, as you can see from the sheet photo. Our lowest score was a 6 so it can't have looked that bad! It was definitely an emotional day. There were plenty of moments when we honestly didn't know if we would ever get to this point with Bertie. Now I can't quite believe it! I'm not being naive, we don't know if or how long this will last so we will enjoy it while we can and make sure Bertie has lots of fun doing what he loves.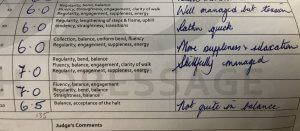 Next it was Ruin's go again! Obviously this time my aim was to show a higher quality way of going, which I'm pleased to say definitely went to plan and he scored really well for his 'paces' mark as a result. However it meant we had mistakes. Again! For example Ruin was in the world of 2s…whether we were aiming for 4 tempis or 3 tempis what we got were 2 tempis! Wonderful, really helpful and just a tad expensive in the test Ruin… He was apparently admired in the warm up with people saying we must be preparing for Inter 1 with all the 2s…if only! I watched the video and felt pleased that his work in general was more quality so, while there are lots of things to tweak, it felt like mission accomplished in that respect. Now we're at PSG it's a long road where you basically stay at this level for a year or two while you get your Grand Prix work consolidated. He's ultimately going to be doing the exact same test for a really long time so the entire aim is to chip away at it and make little improvements each time, which is what we're doing so I can't not be pleased with that. If we can make a little step in the right direction with each test then think where we'll be next year! It was nice that even when it's far from perfect the judges still like what they see and we still managed 3rd overall with some flashy horses in the class and more  combinations scoring lower than us than higher – so that's encouraging. I know we will get there. He has two Gareth lessons before the Midway Championships in a couple of weeks – so hopefully we'll get there by then! No pressure Gareth (Hughes, my trainer) but you've got your work cut out next time I see you!
August looks extremely busy as you have probably gathered. Four Gareth lessons with three different horses, another competition or two for Bertie, Fozzy's first BE90 (our intended first one at Howick was cancelled), and the Midway Championships for Ruin. I'm exhausted just thinking about it! So join me next time to see how we fair.