Welcome back! It's been another busy month but not involving Ruin this time as he's had a light September after the Midway Championships. I was hoping things might go a little more smoothly than the drama in August, however I think it would be fair to say that hasn't quite happened…
First up my and Sarah Varney-Wiseman's Spanish boy Bertie, who got his 'flying changes' badge after doing his first Advanced Medium! It was only his second test since his comeback but I decided to bite the bullet and see if we could pull off his flying changes in the test…something that is not a foregone conclusion! They can be really pretty established at home but doing it in a test is a different thing entirely, in fact it's not unusual for their flying changes to miraculously 'disappear' during those 5 minutes the first few tests. Fortunately this did not happen, praise the Lord! Well, to be more accurate it did a little because we had two little 'misses' where the changes were correct but a few strides after I asked. However three changes were spot on and we got 7s for those, so that is really exciting. This is a horse that learned his flying changes in about two seconds but then took about two years to do a little less 'flying' in the change! The rest of the test wasn't our prettiest as Bertie was a bit 'looky' and this affected his rhythm and relaxation, but we still managed 63.5% and came 3rd, so for his first attempt at this level we're thrilled.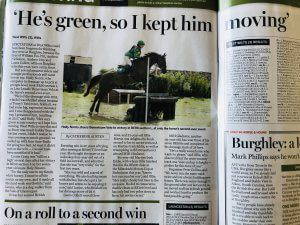 September has been such a lovely sunny and warm month that it's been a great time for eventing, and a great time we have had! Fozzy had his second event, another BE90, at West Wilts EC. The aim was simply to build on last time and what we've learned about each other in that competition. As regular readers will know we came 4th last time, which was amazing, but our dressage score was disappointing after we got 4s for awful canter transitions and overall I didn't have him in the correct uphill frame. So I have spent the last few weeks on a mission with it and at West Wilts we managed to 'slightly' improve our last score (33.5)…getting 20.8!! Best in the section and we even got a 9! I cannot tell you what an amazing feeling that is. Next was the Showjumping. Not the best preparation when Fozzy casually knocked down several jumps in the warm up… However he seriously knows when it counts and, once again, jumped out of his socks to produce another clear! What a clever boy. Finally the XC where I felt pretty relaxed because I knew I could afford time faults and stay in the lead, so we aimed for a nice smooth round… Fozzy flew round and was so much bolder jumping than at Solihull, which is perhaps how I noticed, when riding toward the last fence, that I was really up on the clock! In eventing you get time faults for going too slow and exceeding the optimum time, however you also get time faults for going too fast and too far under the optimum time – there is quite a small margin between the two. Therefore we jumped the last fence out of the slowest canter you will ever see on a XC course! Thank god we had leeway for time faults because I did get time faults for going too fast, fortunately only 4 though and it didn't cost us the win. I would have been mortified if that had been the case, but instead we won out of the 35 starters! Fozzy is such a special boy. To put icing on the cake Fozzy made it in to The Horse & Hound the next week with a lovely article and photo. Not bad for his second competition and already featuring on the 'winners' page!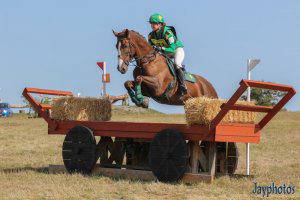 Two weeks later was Fozzy's third BE90, at Pontispool, where we had a little more drama…what a surprise – we couldn't go through a month without a bit of trauma! We should have known because the lead up was far from ideal. I'd been poorly and hadn't been able to ride as much as usual and it was touch and go whether I would be well enough to compete. Fozzy also got cast two days before and was very stiff. In fact we trotted him up at 6am on the day of the competition to see how he looked before making a decision and leaving an hour later! Fozzy has definitely grasped the concept of eventing now and thinks it is extremely exciting. This is fantastic and I'm thrilled he is keen! Not for the dressage though…I had quite a job keeping his focus in the test and it was not a very pretty test. Amazingly the score was much better than predicted and a bad test on Fozzy is still a 20s score, so we got 28.5 and were in 3rd position after the dressage. Showjumping was next and after a rather excitable warm up Fozzy did his best and smoothest SJ round yet for another clear! I genuinely had a bit of a sob afterwards! It was very emotional. We were now lying in 2nd place.
Finally the XC and 'unfortunately' a case of pat the horse, slap the rider. There were a few questions I thought would challenge Fozzy, in particular fence 8 – a jump just before the water. Fozzy has been pretty hesitant with water, he had to be led in at his first few schooling outings, then would stop and walk in very carefully. He has become braver but I was really concerned he would think he was being asked to jump over a big log in to water, because until you were literally at the jump it looks from a distance like it is IN the water. Coming toward it he definitely came to that conclusion and started to back off, so I decided to take my hand off the reins and give him a tap with the whip behind my leg. Unfortunately he has always been a bit nervous with whips, and when he saw me move the whip he panicked and leapt off to the side, which meant to the side of the jump. I circled around and reassured him, then he popped it easily the second time and flew the rest, staying in the time. That's 20 penalties though. I won't lie, I have really struggled to come to terms with this because you have a split second to react and make a decision! I made a judgement call with the information that I had (i.e. Fozzy backing right off the jump) and I'm gutted it was the wrong one. I had no idea moving my whip would have that reaction or I would never have done it – I would have sat tight and hoped I could encourage him to clamber over. However that is always risky because that kind of jump can cause an injury or a fall. Ultimately though it was my choice and my fault, which really stings. Without that rider error he would have finished 2nd and he fully deserved to. That was Fozzy's last BE for this year. I started riding him 6 months ago and he's now done his first 3 events n has finished 4th and 1st (and nearly 2nd!!) He has been simply unbelievable and has learned so much from each one. We're not greedy though and he's young so we'll leave it there and now consolidate over the winter before stepping up next year.
So I think it would be fair to say that it has been another action packed and emotional month. We are in now October and I feel (quietly) confident that this month will be a much smoother affair…there have to be some advantages to Winter! Watch this space
www.facebook.com/hmnsporthorses instagram: @hollyhorsenorris