Hello again! October was a full on month with lots of competing and Ruin back out at parties after a quieter September. Whether it's been a smoother month than September…you will have to read and find out!
First competitive outing of the month was with Bertie, doing the Advanced Medium Freestyle for a bit of fun. I didn't have the easiest ride at our last competition as Bertie was so excited it was like he had ants in his pants and keeping a lid on things was a little tricky… Randomly I found some old calming cookies in the feed room the day before so I decided to give them a go – nothing to lose right?! Well lots to gain it would seem… Bertie was really relaxed (for Bertie); he stayed calm while I got on (instead of his usual sitting down and bouncing like a pogo stick from carpark to arena!) and was the best he's been in the warm up – no unintentionally reversing this time! Always a relief for my fellow competitors. Then in to the test and he really stayed with me, I could enjoy riding the test instead of damage limitation and pretty much everything went to plan. Some of the flying changes weren't our best and there were a few tight moments but I was just thrilled with him. We won the class with 66.8% (although I should point out this is no big achievement considering we were the only competitor in the class…) The scores in the previous class peaked at only a percent higher so I can at least compare our mark a little to that. Very proud of Bertie!
I had two lessons in October on Ruin with Gareth. We played with some one-tempi flying changes which was very exciting! Ruin's first time and I haven't done many but we did get a few pairs, which was thrilling! I was really looking forward to getting him out and showing how much he has improved since his last competition in August. So off to Summerhouse we went for the PSG… He was a bit fresh in the warm up but felt really nice…until the test itself that is! My excuse is that he was a bit ring rusty…that's my reasoning  anyway and I'm sticking to it! The whole test wasn't our best, but the best (and worst) parts were our tempi lines where Ruin threw every other flying change in, apart from the ones that were actually required…3 tempis Ruin – they are supposed to be 3s! Not 2s or even 1s!! We've practised the 1-tempis a few times since our lesson and clearly he now thinks he's super clever with his new trick…we've created a MONSTER! So understandably and appropriately we had a lovely selection of 3 and 4 marks. Amazingly we didn't come last and actually came 3rd out of 5, to be honest I was just stunned we weren't sub-60% so that was a boost.
My next show with Ruin was a bit of a big deal…Ruin and my first attempt at Inter 1! Now I know that Ruin only stepped up to PSG in July and is still quite green but I really feel the Inter 1 actually suits him better and when I ran this past Gareth in our last lesson he said that's sometimes how it is. Plus, seeing as Ruin is so desperate to show everyone his 2 tempis, I thought we should give him a test that actually has them!! We started with the PSG and he did a really nice test for 67%. Definitely an improvement from Summerhouse, although of course we had some 'adlibbing' in the tempis and Ruin did more 2s in his 3 tempis…again! But some of the more 'awkward' parts felt much better so I was really pleased with that.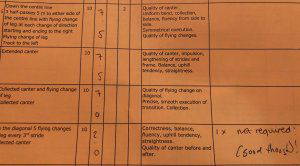 Then the Inter 1…really good! I was completely right – the positioning and order of the movements suit Ruin so much more than the PSG and it felt great. However we had mistakes…again… And guess where? The tempis!!  But this time in the 3 tempis Ruin did loads of 1s…as in 12! Yep, we've created a monster!! So that was expensive (we scored a 2) but the Judge even remarked that they were at least really good 1-tempis! Then we got a beautiful 9 for his final extended trot. Not expected a huge score because of the mistakes, so was thrilled to get 68%. Totally ecstatic and I might have cried a little when I saw the score… As the Judge commented on the sheet summary – it will be great when mistake-free. It's really amazing to think that this exasperating weirdo has become my complete wonder horse…prelim to Inter 1 in two years and really is making my dreams come true. Good job really as his endless devil antics are simply infuriating!
If there is one thing that I have learned (and hopefully I have learned more than one!) it's that there is no single road to Rome (or Ruin!). Horses don't all follow the same path or progress according to the 'manual'. Sometimes you have to think outside the box or be a little (or a lot) unconventional. That's pretty much my middle name! Ruin started his BD career in 2018 at Elementary. The more you give him to think about the better he goes so it seemed pointless to do Novices and that was Gareth's thought too. After a couple of Elementaries we skipped Medium and stepped up to Advanced Medium instead. The reason being that Advanced Medium is really just Medium but with flying changes instead of simple changes (canter-walk-canter). Ruin has always been good at his flying changes and awful at simple changes so that seemed an obvious decision too. That's another veer off the road…the expected order is that you teach your horse simple changes first and then when they are good you progress to flying changes. However I often do it the other way around! Some horses are great at simple changes from the start but, in my experience, if they struggle with simple changes just crack on with flying changes and an amazing 'by product' is that they miraculously come out with great simple changes too! Ruin has also stepped up to Inter 1 quite quickly and at his last show scored better in this test than the PSG. That isn't logical as it a harder test but for us the Inter 1 moves are positioned in a way that suits Ruin better than the PSG. For example Ruin finds it much easier to be open in his shoulder-in when he isn't on the track – in the PSG they are on the track but in the Inter 1 they are on the centre line. For some horses that would cause them to be really wobbly but for Ruin the quality of his shoulder-in greatly improves. All I'm trying to demonstrate is that you shouldn't feel stuck to following the dressage 'manual' or that you have to progress up the levels in a strict logical fashion. So relax, have a play, think outside the box and who knows where you'll end up! See you next month.
www.facebook.com/hmnsporthorses instagram: @hollyhorsenorris