Hello again, I'm going to focus this blog on my experience at the Summerhouse Regional Championships as that has been our focus for Ruin for quite some time, but you'll have to read to the end to see how we fared!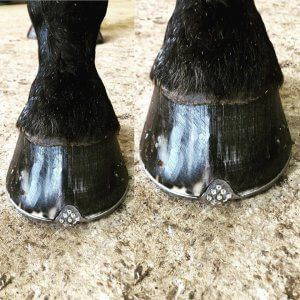 Everything in the lead up to the Regionals went pretty smoothly, not something to take for granted as this is rarely the case for me! Ruin had his routine physio appointment with Hannah Complin from Vet Physio UK. I really appreciate Hannah's support with all of my horses, she is simply amazing, and she worked her magic with Ruin as always, managing not to kill him as she has to dodge teeth and legs the whole time! His favourite trick is a side sweeping front leg paw with the pure intention of knocking her off her step… Helpful Ruin, we want to keep in with Hannah, not send her running (or to hospital). My fantastic farrier, Joel Roberts, also came as planned for Ruin's five-weekly appointment. However this time he went the extra mile with added diamanté on Ruin's toe clips! We were determined to make a (good) impression at the Regionals.
A week before the show we took Ruin to the venue's arena hire. Even though he isn't a spooky boy he can put his handbrake on in unfamiliar venues. As he hadn't been to Summerhouse for a while we thought it was a worth a refresher. This was definitely wise! There were good points…he didn't spook and all his flying changes were spot-on. Plus we did a mean centre line in our test run-through and finished with a lovely square halt. Again, rare. There were bad points though…basically I still had a lot of work to do before the Regionals! My mum videoed the test run-through and let's just say I definitely needed to focus on keeping my Quasimodo impression at bay; I'm too young to be a hunchback, I must channel the 'swan effect' – legs working overkill while body is still n serene… So with one week to go before the show it was back to work with intense focus.
A few days later I received my test time…nice and early! Our horses are stabled during the day and turned out in the fields overnight and I wasn't going to change their routine (and risk their sanity) because of a competition. So the day before Ruin had his plaits sewn in and tail washed, then went out to the field in the bug rug (for complete plait protection), with a tail bag on and his shoe secures to guarantee no lost shoe surprises. I'm fairly sure the experience did nothing for his street cred as none of the other horses knew who/what this weird animal was and kept snorting in his direction!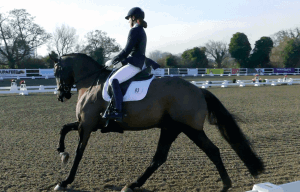 The next day was the big day and we passed the first hurdle as Ruin came in with most of his plaits still in tact (how he managed to dislodge three in the strait jacket I just don't know), a clean tail and all his shoes still on. So of to the ball we went! When we first qualified for the Regionals I felt we had a really great shot at potentially qualifying for the Nationals – the advanced medium classes are often really small! So as soon as I saw the times and that there were 25 in my class my spirits plummeted. Suddenly my aim became to simply get a top 10 placing and that would be an achievement. As a result we went with no real pressure, just to do as good job as we could and give Ruin a great experience at his first big show. He definitely had his eyes on stalks when we first arrived – he's never been in such a busy buzzy atmosphere before! Ruin warmed up really well in a very chaotic warm-up and then went in to the arena…and did a lovey test! It wasn't perfect and we had a few errors but I'm lucky that errors with Ruin don't tend to be massively expensive. For example, he will do a flying change a stride after I ask for it because he's busy watching the butterflies (even when there aren't any, and that's basically always the case because there are never any butterflies Ruin!!) so the change isn't at the designated marker and a good Judge can see I asked a stride earlier anyway so he clearly isn't on my aids. However he still does a smooth and correct change so the mark deduction is minimal, luckily for us! Overall it went really smoothly and he tried really hard, plus we didn't grind to a halt through lack of having a whip! Result. I have to admit the tack check straight after the test was a god-send as it gave me 5 minutes to replenish my oxygen supply. I felt really pleased with Ruin.  There were lots of classy horses there so a top 10 finish was still very much the aim, knowing full well that qualifying for the Nationals wouldn't be an option as only the top 3 qualify.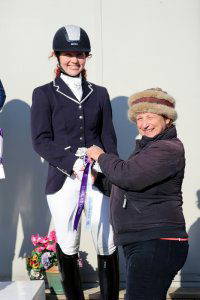 Well I cannot believe this – we came 3rd and qualified directly for the Winter National Championships! I am literally blown away. I was early on and the class went on for another 3 hours so we went home and carried on with the yard, aiming to pop back later to collect my sheet. We kept an eye on the livestream scoring but I refused to get my hopes up. My mum saw that it had me in 3rd, even when the class finished, but I refused to believe it until I saw it written down. We arrived and went to the pavilion and saw it said I had finished 3rd, but again I wouldn't believe it just yet. I picked up my sheet and saw an envelope with a 'BD Winter Championships' sticker on the front…I held my breath and ripped it open as quietly but quickly as I could. Pulling out the paper inside the first thing I saw was 'Congratulations for qualifying for the BD Winter Championships…' and that was it – the flood gates opened and I immediately burst into tears! I've always been tough on Ruin; it's been a lot of blood, sweat n tears (actually just lots of sweat) but wow he has rewarded all my faith and hard work in the best way imaginable. I owe him so much. Of course now the hard work really starts (continues) as we aim for the Championships at Hartpury in April. I still can't believe it! Exciting when Ruin only did his first BD show one year ago and this was only his 6th Advanced Medium. He's just 8 years old so hopefully this is the start. It was definitely my best Valentine's Day.
Entries for the Championships opened last Friday and so I entered last Friday! March is going to be busy. I have an arena hire booked for an unfamiliar venue for Ruin to help with his confidence and do some test practice. I also have two lessons with my trainer Gareth (Hughes) in the diary. I am on a mission already and practice elements of the test almost every schooling session. My hope is that Ruin takes confidence from it being very familiar and knowing where he's going, plus he may even anticipate the odd thing (don't hold your breath on that one) which could only be a good thing! I am beyond excited. The 'negative' with qualifying for the Championships and doing so at a higher level is that I am now in the Gold section for all the lower levels. Seeing as this means competing against International Championship riders like Charlotte Dujardin I'm realistic about my chances of qualifying again. Therefore we are just going to go and enjoy it, lap up every minute and do the best job we can possibly do. They livestream the classes so check it out if you can, I'm on Thursday 4th April. Hopefully we'll all have a productive March, see you next time!