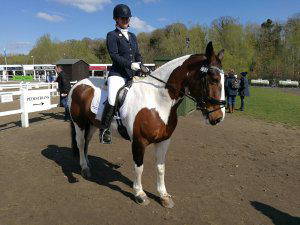 Last weekend as some of you may know I had a go at dressage to music for the first time and to be honest I didn't expect to be as nervous as I was (I had proper butterflies for the first time in a while)! I thought having dance lessons as I child might give me an advantage but all it achieved was bringing back memories of the fact I wasn't very good at dancing. Counting the beats, knowing when to come in and being graceful all at the same time…
That being said I always loved the performance side of it. Doing the dressage to music took me right back there. So, it was all worth it and as soon as I did my first canter transition, I was smiling away and actually breathing! The music for Lily cob is a medley of sassy and punchy pop songs which I love. Yes, by all means it was not perfect, and Lily has not been doing masses of flatwork training recently so she was a bit tight over her back and a not quite into the contact at times but Sunday wasn't about that. It was just about finding our way.
There were times in the warm up where I lacked confidence in our training (I haven't had a lesson before Hartpury because I have been focusing more on Terry) and I started to feel my breathing shorten. I think the lack of confidence also came from doing a freestyle test where there is a lot of uncertainty. What if the music doesn't play, what if I go completely wrong and get lost and the music is still playing?
In the end I had to take confidence in where we were that day. Yes, our lead up to it wasn't ideal but I know her well, I know how to get the best I can out her and I know what to work on after the show. Whilst we won on 68% there was definitely some other triumphs in there. Firstly, I was a little ahead of my music so improvised by adding a circle (anyone who knows me knows that I struggle with thinking on the spot!) And secondly I tried to avoid the temptation to 'train' in the warm up (new and challenging work should be done at home and if you are struggling with something at the competition you have to work with what you have on that day- don't get frustrated if you don't have your ideal ride).
Anyone who is doing their DTM for the first time I would love to know how you get on and what you found challenging about it.