Hi! Lofty here again! Last month I told you how I became known as 'the little horse who wears trainers'…this month it might be heading towards summer for us right now…but my blog is about a completely different time of year…the run up to Christmas!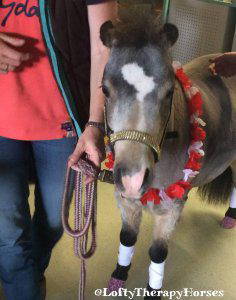 No! I'm not going crazy! I thought you'd like to hear about how my first couple of visits to a Ward in our local Hospital changed my life forever!…
Over a number of months I'd been to visit residents and staff at a couple of Nursing Homes, I'd even met the Town Crier at the summer fete at The Knoll. I'd visited patients and staff at our local St Margaret's Hospice, and I'd also attended a special event to help raise money for our local Hospital Charity Fund…where people had to guess my weight!
I was really getting in to the swing of meeting lots of new people and helping to brighten up their days. I was learning to manoeuvre in tiny spaces such as lounges and bedrooms…and was coping really well with all the new and unusual sights and sounds I was encountering.
I was now regularly visiting Yeovil District Hospital's 'Dementia Garden' – which is a lovely little walled garden just outside one of the Wards on the ground level. I did try to nibble some of the flowers and plants that looked very interesting, but 'Groom' kept a careful eye on my mischievous antics, so I never managed to get hold of any…however hard I tried!
Staff on various Wards throughout the hospital would bring patients, most often in wheelchairs, down to meet me…I always really enjoyed seeing everyone…and everyone seemed to enjoy meeting me too! They would stroke and talk to me, and chat to 'Groom' and 'Gofer' – asking them lots of questions. I loved, and still do love, making people smile.
Being in an enclosed garden…when the sun was shining it got very hot, and patients had to be careful not to get sunburnt…but if chilly or wet, patients had to be kept warm with extra clothes and blankets. So being outdoors wasn't always ideal.
It was during one of these Dementia Garden visits that I heard Amy, the lady who arranges for me to be there, say to 'Groom' and 'Gofer' that it was such a shame that more patients couldn't be brought down to see me. There wasn't anything that could be done about the weather obviously…but the staff were extremely busy with lots of patients, so they often just didn't have the time to bring many down, and those patients on drips, or bedridden, made it tricky or impossible for them to attend.
So, behind the scenes, one of the lovely ladies called Janine, a Consultant Nurse for older people, was working hard to find a way to enable me to get to meet lots more patients…and staff! And finally Infection Control and the Hospital Management agreed!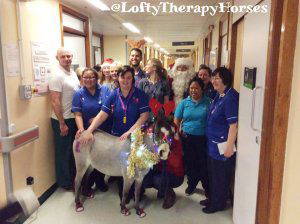 I was to visit Ward 7b…meaning I'd get to ride in the lift too! And although I didn't know it…I was going to be filmed!
Well, looking back, those first two Ward visits are a blur – I felt like a complete superstar! Crowds of staff came to meet me! There were so many people! On both visits a Somerset Live camera person did a short video on the Ward, staff wanted photos and selfies…and I got to visit each patient in all the bays, either sitting in their chairs…or in their beds – I got so much fuss and attention, and I think I surprised quite a few people (in a good way!) appearing at their bedside…patients, as well as their relatives and friends who were visiting…always bringing a smile to their faces. Not to mention the shocked looks I got when the lift doors opened on various levels on our way up and down in the lift! No-one was expecting to see a horse in the lift…not even a very small one!
Not only do the patients benefit from having a visit…but most definitely the staff do to – I'm often told that I lift everyone's spirits and make the hospital a brighter place when I'm there – I can't tell you how very proud that makes me feel and how privileged I am to be able to do it.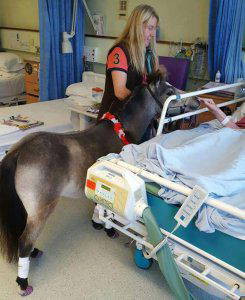 I took it all in my stride…including the lift! In fact I quite liked that I could admire myself in the mirrors at the back of it whilst we were moving!
Somerset Live posted the short clips of those two visits on-line…and they were seen by thousands of people! It was amazing! That's when everything changed! 'Groom' was inundated with enquiries…and there was no looking back…my calling in life was definitely to be a therapy horse!
See you all again next month!
Lofty x
Key: 'Groom' – April
'Gofer' – Steve
Otherwise known as 'the management'!