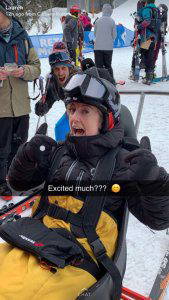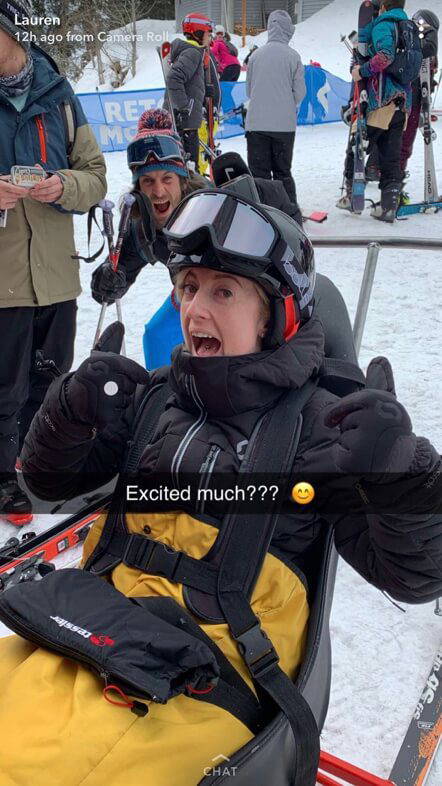 I swapped four legs for two skis last week. This has been a plan of mine since the accident, but I just hadn't had the chance to go before now. I used to go skiing before I was paralysed and loved it so much. It is one of the best things I have done since. I went to Morzine in France and it is beautiful there. We organised it all through a charity called Ski2freedom.  They provide a tailor-made service to each beneficiary – guiding you through every aspect of your journey towards your aspirations for a more fulfilled life. No other organisation caters for the needs of people affected by such a wide range of physical, social and emotional conditions or has the specialist knowledge required to meet your specific needs. After we spoke about what my goal was for the week we decided Morzine would be the most suitable place as they had a very experienced sit ski instructor.
We started the week off by me being taken out in a tandem ski, so I basically just sat there, and he took me round the resort and I got used to that feeling and we got to go so fast. I did tell my brother's, but I don't think they believed me until they came out with us but couldn't keep up. The afternoon plans were to then teach me in a dual ski. It really isn't easy when your balance is compromised and trying to get the hang of it. By Wednesday morning I was able to do bits on my own which is a huge achievement. It was such a special moment as my family was there as I did my fist solo ski and when I stopped everyone just cheered. I did have a few little falls which were hilarious but one big wipe out. I picked up speed and lost control which ended up with a lot of snow in my face. I think everyone was a bit worried, but I was just laughing. All I heard was my brother saying, 'is she just laughing?'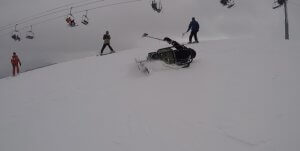 I will most definitely be going skiing again and highly recommend Ski2Freedom if anyone needs any special requirements or advice.
Before I left for skiing I had a fantastic lesson with Nina where I actually felt like the old me riding. Jools is listening so much to my aids and my stamina has got better. It was a very different story when I got back from skiing. Apparently, a week of not riding and sitting in a sit ski is not the best combination. We had to go back to basics and go on the lunge as my body was not with it. Thank god for my physio who fitted me in to help get me sorted.
I am very happy to say that Jools and I are being sponsored by the brilliant feed company BlueChip. Jools is being fed BlueChip Pro and Dynamic and well as Joint-RLF. They have been so good at looking after us and we get deliveries straight to the door!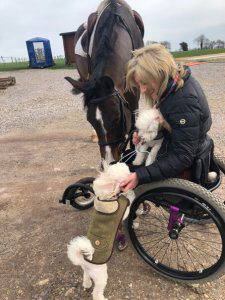 I had my big 30th birthday just before we left for skiing and had a very quiet day just getting ready to leave. I did manage to pop out and watch Echo who was entered last minute into a dressage competition. She was so well behaved considering she had so much time off to let her skin recover and won it with a score of 71%. She is such a good girl and Yaz has been having a lovely time going to ride her while I have been away. We keep reminding her she is to be a para horse so keep those feet on the floor!