Recently the RDA asked its member groups about what the concept of "partnership" meant to them. I hadn't really thought about it as more than a concept but the more I thought the more I could see that no group can really work without it.  Rather than being just a relationship between two people or entities, at Kesteven RiDeAbility it is much more. Our whole ethos is based around the concept of "partnership" and how it drives everything we do. It is evident in our riders and the volunteers who support them, the volunteers and the coaches who mentor and sustain them, our trustees who partnership everyone in order to support our needs, our coaches and their pupils and our pupils and their ponies. Each one is special and without the trust that these interactions foster the benefits of being with horses, whether riding or not, would become a barren experience. Partnerships foster teamwork and comradeship and create an inclusive and supportive learning environment which benefits everyone. Our parent's partner with other parents creating fellow-feeling between themselves and a collectivist approach, sharing their experiences through social media and enhancing their relationships. Every time we match a rider with a pony we hope for that magic ingredient which will create a partnership between them and we see this happen with our ponies Rio and Fudge who work with a variety of different children and adults with a range of disabilities yet who still build long lasting and very touching partnerships with each one of them.  Kesteven RiDeAbility is all about partnership and the result is a happy and inclusive group which excels at what it does precisely because of this.
I have had to edit what I originally planned to say. The arrival of Covid 19 has caused the closure of all RDA groups so the exciting plans we had for the next few months will now be on hold for the foreseeable. But it is now that the strength of our group will help us to overcome the difficulties this virus is causing. The strength of our partnerships is already being seen with some riders and parents offering to continue paying lessons forward. This is such a relief as with no income we have to fall on our reserves to keep our ponies fit and well. They still need to be cared for and our plans going forward will still happen although not for some months yet.  Looking on the positive side of things we can look forward to lots of exciting developments. Yes, we may not be able to execute them for some time but we can still look forward to being able to when things hopefully settle down.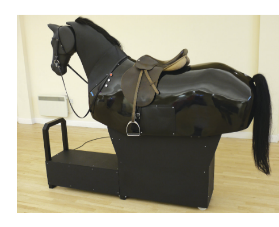 Our plans before the arrival of the virus were exciting. First up was the amazing news that we had been awarded a grant from the Sir Peter O'Sullevan Charitable Trust – thevoiceofracing.com – to replace our irreparable riding simulator.
Lloyd, our current simulator, has been with us for many years and given sterling service but had been failing for some time. We don't have an indoor arena so during the winter months or when the weather is inclement he is vital to ensure we can keep providing riding sessions. As well as this he provides the opportunity for those who can't ride a horse to get the feeling of what it might be like. But, as with all things, he has become old and now is irreparable. We were so worried about how we could be able to afford to replace him as simulators are very expensive.  We approached the Trust to see if a simulator was the kind of thing they would consider providing and after they said yes we carefully crafted our bid and sent it in. We kept everything crossed through the latter part of the year and into January and we were so giddy with excitement when they contacted us to say our bid had been successful. What a fantastic start to the year. Our new simulator is currently being built and will hopefully be in place by the summer. We all walked around in a dream for quite some time after as it was such a momentous moment when we heard!  Okay we may not be able to use it immediately but it will be there waiting to be put into service as soon as we can reopen.
Until this past week I have been continuing my riding journey even though it's quite tough with the weakness in my leg. Poor Rio, he must wonder what is going on when I try to signal – only one leg and that doesn't work very well!  No wonder he is somewhat confused as to what I am asking him. That said, he tries very hard although I still need to be more authoritative with him. Something I still struggle with. But, despite these difficulties I am still learning and will keep going as long as I can even if the virus has caused a pause in my journey.
My backup plan, carriage driving, has also had to be paused which is a shame as we had only just become a designated Carriage Driving Group. I managed one lesson before we closed and it was so exciting. It's much harder than it looks particularly as you have to remember that not only do you have a pony to guide but also a carriage. Turning and executing corners has to be thought out carefully and the manoeuvre matched with the appropriate speed.  I think if everything falls apart and I have to give up my lessons with Rio at least this is something I can do and can compete with. We have the loan of a lovely driving pony called Pepsi. She is so calm but very responsive when in harness. She has been coming regularly to the yard since last year as she also takes part in our "Silver Hour" and our "Saddle Club" so she is familiar with the surroundings. It's quite amusing to see how the other horses react when they see her in the arena. Rio and Raven were in the adjoining field and really curious about what she was doing. They both trotted up to the fence line, ears pricked, and then heeled away as she got closer – before coming back and repeating the same movements again and again. It was so funny to see. But she is such a good pony she wasn't bothered by this at all which augurs well for when we are back up and running and can begin the project in earnest.
In the last few months we have seen an increase in the numbers of parents contacting us about lessons for their children. Many of these are on the autistic spectrum as well as having physical disabilities. In the past we might have had to turn them away but we now have a new pony which means we can offer more riding sessions. He is a very attractive Welsh cob called Bob and is 14.2 hands high. He is very friendly and has done lots of different things on and off the lead rein so will be very flexible in what he can do lesson wise. Of course, we cannot do the things we planned at the moment but we are working hard to maintain some level of income so that there is a group for all of these people to come back to. It's not an easy process and the situation is so unexpected and challenging but together we will with time come back stronger and more resilient.
Kesteven RiDeAbility. Sue's Blog. Mar/April 2020. www.kestevenrda.org.uk