Hi! Lofty here!
Sorry it's been a while! I thought I, and the rest of the Therapy gang, would drop you a line to say hello…to see how you're all doing?
The Corona Virus has affected us all in so many ways. We hope you're ok…and that you're finding lots of things to do, make, watch, play, read, etc…to keep yourselves busy during this time of lockdown?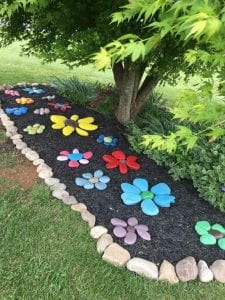 Why not check out the Lofty Therapy Horses FB page for a few other ideas…we've included some horsey puzzles, a Thelwell crossword, even a lovely idea about painting pebbles to make a pretty flower bed, along with videos and photos of us all and what we've been up to.
Well, what have we been up to?…
We've had our hooves trimmed twice since the lockdown started…most recently was yesterday. Denise Powell is an 'Equine Podiatrist' so she is different to a Farrier or Blacksmith – they trim hooves and can fit metal shoes. A Blacksmith actually works with iron and is the one who makes metal horse shoes – so they can do the whole lot.
As an Equine Podiatrist, Denise specializes in trimming and balancing hooves, but doesn't shoe horses. She also looks at the health of the horse as a whole…helping with nutrition and diet. None of us here at Lofty Therapy Horses wear metal shoes…so for us it's a bit like a human pedicure…but for horses! And we enjoy the fuss and attention!
Luckily us horses/animals don't have to stick to the same rules as humans with social distancing – we can't get, or pass, the virus thankfully.
So we are allowed to be visited to have our hooves trimmed, as it's classed as 'animal welfare', especially for Star, who is diabetic (and suffered such a serious bout of laminitis – a hoof problem connected to her Diabetes – last year) – so she definitely needs regular attention to keep on top of her health issues.
In order to keep within social distancing rules…Denise, our Equine Podiatrist, is disinfecting between visits to different yards…and keeping 2 meters away from horse owners.
During lockdown we've been spending a lot of our time just relaxing out in the field together…munching grass! The weather has been so lovely, hasn't it!
During the day 'Groom' has been bringing us in to our stables to give us a break from all the grass – too much isn't good for us! The day time is when the grass is full of sugars called 'fructans' as it grows in the sunshine…so although we love to eat grass all the time, any time…it's not always in our best interests! You wouldn't eat sweets and chocolate all the time…as that would be bad for you…it's the same for us. (Mind you…'Groom' seems to eat chocolate all the time?!)
It's also nice to spend the hottest part of the day in our stables, because it's much cooler in there…and the pesky flies that bother us outside don't bother us inside…so it gives us a break! We have a nice rest, and usually myself, Peanut and Star take the opportunity to have a lie down and sleep…whilst Bertie chooses to snooze standing up.
It's a bit like being in a hotel really…because at lunch time 'Groom' serves us each a delicious bucket of Honeychop chaff, soaked hay cobs, Protexin Gut Balancer (pre and pro-biotics), along with a powder containing all the vitamins and minerals we need each day, as well as linseed (which we love!) – it's great for our skin, hooves, manes and tails…and gives us shiny coats too!) We also have hay and salt licks (a very important part of our diet…and one that Bertie spends a lot of his time enjoying!) So…everything we need to stay healthy and in tip top condition hopefully!
'Groom' has been teaching Bertie and I some new tricks too! We can now both ring a bell on command! And we're even learning our left from right when asked to lift a front left or front right leg! We don't always get it right mind you…but we're trying!
Peanut doesn't know any tricks yet, so he's learning to touch a target when asked – this is how we begin to learn to do tricks.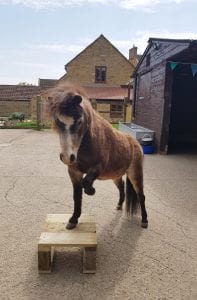 'Gofer' made me a pedestal…from old bits of wood that he had lying around in his shed…and I've learnt to stand on it – It makes me feel taller…and I'm very proud of myself! I have to be careful not to get too excited though, as occasionally I tip it over!
Another exciting thing that has happened is that we had an artist, called Meg Hill, draw us in cartoon form! Now all we need to do is get 'Groom' to write some books about us! Hey! Maybe you could think up some good stories for us?
This winter 'Groom' decided to try wintering us out without rugs – something she hasn't done before. We all grew lovely thick warm coats (which made us look very cute and cuddly!) and we have field shelters we can use as well. On really horrible days (and there were quite a lot this winter!) we got to stay in our nice warm cosy stables together…munching hay. So now we're all shedding our fluffy winter coats…and most days 'Groom' is plastered with hairs when she's finished brushing us!
Even the dogs are moulting like mad too! Sometimes she grooms us in the field so that she doesn't have to sweep up all the hair…and we watch the crows, and other birds, swooping down to collect beakfuls of fluff to line their nests…now that's what you call recycling!
'Groom' has also filled up 103 bags of manure since lockdown started! People are using it on their allotments to help their plants grow…
I think she's on the muck heap now actually! She has someone collecting another 20 bags next week, so I expect she's filling them up as we speak! She leaves them out in the courtyard, so doesn't come into contact with anyone when they collect them…and she seems very happy that she's being able to help people to grow their own fruit and veg…and 'Gofer' says it keeps her busy and out of mischief!
We've had a lot of Birthdays here since lockdown started too! I was 8 years old at the end of March! I even had a party on the yard with my horsey pals…with a table, tablecloth…and carrots instead of candles! (There's a video of it on our FB page!)
Star turned 11, Peanut 9, and Bertie turned 15! Phew!
We can watch what's going on during the day from the comfort of our stables…'Gofer' has been gardening, turfing, fencing, hedge trimming, spraying, shed clearing, painting, staining and planting…and we've also seen the 'management' reading and eating their lunch on the patio occasionally…I'm not sure if that's allowed?!
The swallows have returned, as they do each spring…and they are busy making a nest in the rafters of my stable again…ready to lay their eggs…and hopefully there will be a new family of baby swallows in a few weeks time! It's at this time of year that I often have to dodge bird poos as they forget that I'm down below when they're sitting up on the rafters! Sometimes I do get poo-ed on by the swallows and 'Groom' has to clean it off when she brushes me…she gets all the nicest jobs!
Next week I'm hoping to join in on a Zoom meeting call to chat with some of the adults with learning disabilities and autism that would normally be coming here each week –  I'm really looking forward to that! Now, what shall I wear?!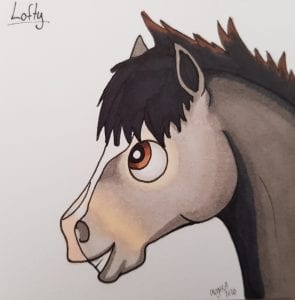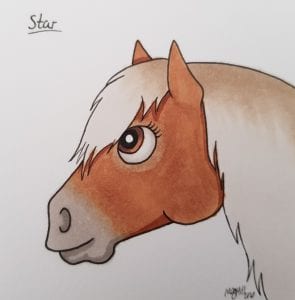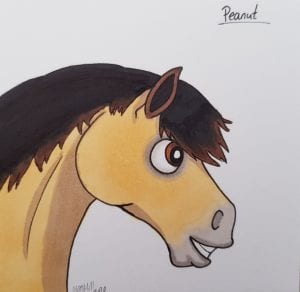 Anyway, I'll say goodbye for now! Take care! Stay safe!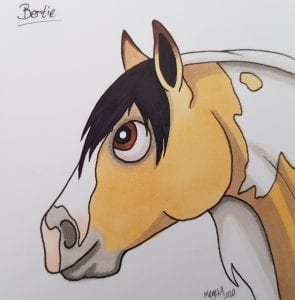 Lots of love,
Lofty and the gang
Key: 'Groom' – April
'Gofer' – Steve
Otherwise known as 'the management'!