Hi! Lofty here again!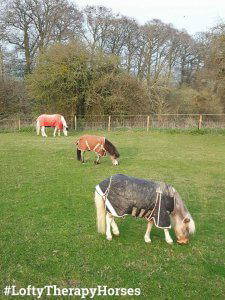 Now…where did I get to? Ah, yes! I remember! Bertie and I had a surprise…a new four legged female friend 'Star' had joined us just in time for Christmas…and we both thought she was rather beautiful…although rather fluffy on arrival…but underneath all that winter coat there was a gorgeous chestnut and white American Miniature mare hiding!
During the next few days we all got to know each other…and Star settled in very quickly.
Over the next few weeks and months 'Groom' worked with Star until she felt she was ready for her very first therapy visit.
Star had been a 'party pony' at a place called Dandy Miniatures before being very kindly donated to us, so she was used to having lots of people around her…but a visit to a hospital was going to be a whole new experience!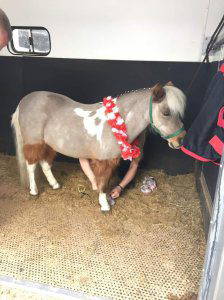 After 4 months with us…Star was ready for her new role: bathed, clipped, groomed and looking very smart…she set off in the horsebox on the short journey to Crewkerne Community Hospital with 'Groom' and 'Gofer'.
Needless to say that everyone there, patients and staff alike, immediately fell in love with her!
Star took it all in her stride…with one small exception! Each time she entered a private side ward she had to pass a full length mirror on her way in…and she would look at her reflection and neigh at the 'other' horse…not realising it was herself! (Either that…or she was neighing at her reflection because she thought she looked so good?!) This little antic certainly surprised a few people around the hospital…and caused quite a lot of laughter!
Star grew out of this habit in a short time thankfully…but not before repeating it in the mirrored lifts in our local General Hospital! It's surprising how loud a neigh sounds when it's in a confined space!
After Star's first therapy visit she only had two days before she was heading out on another adventure! This time I went with her! That's what I like to call 'double trouble'! Not that we were any trouble of course! In fact, 'Groom' commented on how vocal Star had been when she was travelling on her own…but with me there for company she didn't whinny once! Must be my calming influence?!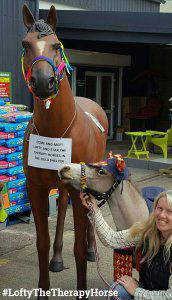 Star and I had been asked along to our local Mole Valley Farmers Store, in Yeovil, as it was Easter…to meet customers! We had a lovely field shelter to stand in whilst we were there, and lots of people popped over to say hello – we had a great time meeting everyone!
We also got to have a look around inside the store, walking up and down the aisles (including the equine section of course!) We met the giant Mole Valley Mole, had photos with him…and then I even got to have a go behind the checkout…with Star as my first customer! A day at a Mole Valley Store should be on every mini horse's bucket list!
Just five days later we celebrated Star's 8th birthday…followed by another adventure a few weeks later…to Evershot Country Fair! We had been invited by the Evershot Village Bakery, who sponsor the event each year. They had decided at Christmas not to send cards, but to donate the money it would have cost them to a worthy cause instead…and they very kindly chose us to go towards the therapy work we do…which was amazing of them! 'Groom' and 'Gofer' are always being surprised by people's generosity to help…and I often hear them say that we couldn't do what we do without the support we receive – so I'd like to say a BIG THANK YOU to EVERYONE who supports us in any way…on behalf of ALL of us 💖
In between these adventures I was also busy doing therapy visits of my own with 'Groom' and 'Gofer'. I'd now clocked up fifty therapy visits of my own by this point…hospitals, hospices, nursing homes, schools, nurseries, day centres…so Star's arrival meant someone to 'share the load with' so to speak…and we made a great team!
Our next adventure together was the Yeovil Show…where we were asked to join the Humberts Estate Agents stand for two days, and we got to meet loads of people! We also got to go into the main arena to help with the prize giving for the scurry driving competition…which was VERY exciting! When the scurry ponies did their lap of honour, pulling their little carts, before leaving the arena, I must admit I leapt around a little bit! I REALLY wanted to join in! Star, who is 3 years older than me, acted very sensible and grown up…and just stood proudly watching as if she was royalty! Sometimes girls can be so boring!
Then we heard some very exciting news…we were going to be having a baby! No…not literally!…but a new baby mini was going to be joining us! A one year old palomino and white American Miniature colt called 'Pandora's El Dorado Gold' was being donated to us by the Pandoras Miniature-Horses Stud in Kent!
But that's another story for next time!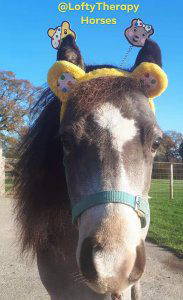 In the meantime…all at Lofty Therapy Horses would like to offer everyone who fundraised for Children In Need a very big THANK YOU! Hope you managed to raise lots of money for such a worthwhile cause. I was visiting the patients and staff at South Petherton Hospital…wearing my Pudsey ears!
Bye for now,
Lofty x
Key: 'Groom' – April
'Gofer' – Steve
Otherwise known as 'the management'!