Back in 2015 April and Steve Kibby took their American Miniature horse Lofty to visit Aprils father in law in his nursing home.   The catalyst that would create, 'Lofty Therapy Horses'.
Over time they began to get invitations to visit other nursing homes and their local hospital.   It was here that they were filmed by Somerset live on a Christmas Visit and later, NHS England filmed on a visit to Yeovil District Hospital as part of the NHS 70th Anniversary.   To begin with, visits were about once a month, but things were about to get busier!
The team consists of American Miniatures; Lofty, Star and Peanut.  And Miniature Shetlands, Tinkerbelle, Jezebel, Armani and Lindy.   They visit hospitals, hospices, nursing homes, mainstream and special educational needs schools, colleges, adults with learning disabilities and mental health facilities.   The visits have therapeutic benefits to relieve anxiety, lower blood pressure, promote relaxation and offer stimulation.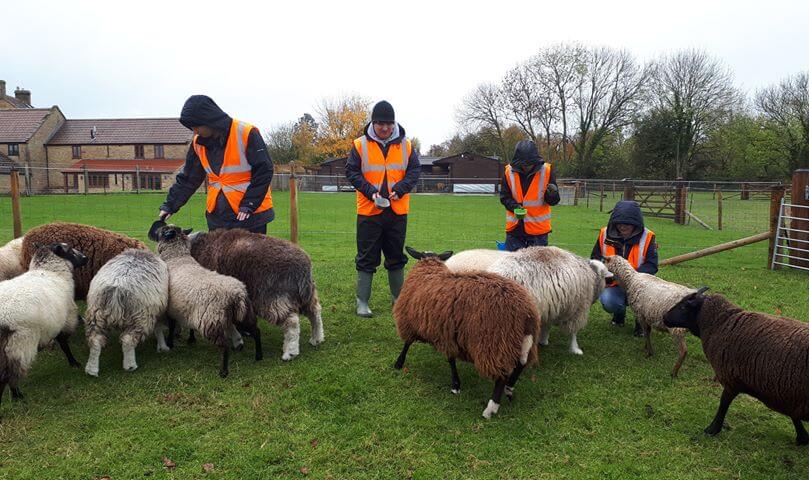 Visits have become increasingly busy, with the team heading out three to four times per week.   Sadly April's husband Steve took early retirement due to becoming ill with Follicular Non-Hodgkins Lymphoma.   His treatment has been involved, but it has meant that he has been able to join April and the mini's on their therapy trips.
"We started off with one mini…Lofty…but now have a team of 7 mini's!"  Lofty has now been joined by 6 friends, who have been donated to April and Steve.   "Dandy miniatures Donated our second mini, Star and the rest of the team have been donated for various reasons due to changes in their owner's health or circumstances meaning that they could no longer care for them.    It is always a pleasure to be able to help by taking them in if they have the right temperament for 'the job'…and previous owners are kept up to date with what their mini has been up to."
"We keep the horses are kept at home in Ash, Somerset…on just over 3 acres for all the animals…but I have to manage the ground, and poo pick daily – I even poo pick the sheep paddocks!"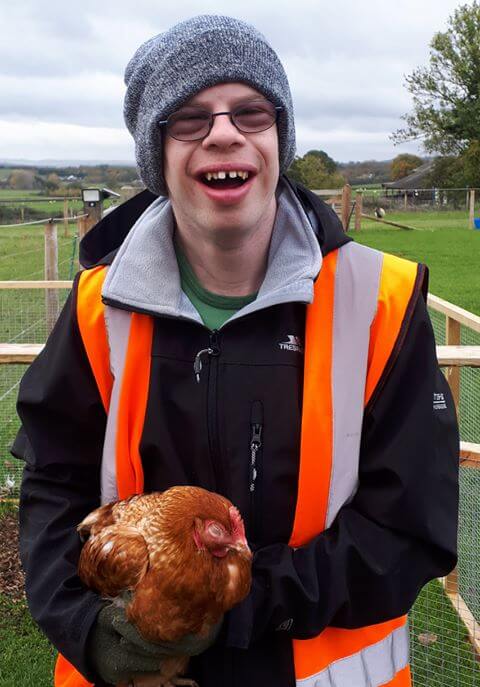 Whilst visits have been restricted due to Steve's chemo…April also started taking adults with learning disabilities and autism at home to teach them about interacting and caring for the horses, as well as the other animals- chickens and sheep!   "The adults love interacting with the animals and it is great therapy. "  These sessions currently run once a week, but as demand has been high April has been able to offer more weekly sessions.   "Steve also works part-time with adults with learning disabilities and autism…so it was a natural step to try and help them at their home with the use of Animal Assisted Therapy."
Horses provide honest, clear and immediate feedback. They are kind, forgiving and challenging. They are incredibly good teachers and can teach us all so much about ourselves, our emotions and how we interact with others.   Horses can read human emotions, they mirror our feelings…allowing psychological therapy, enable improvement in motor skills and offer an ability to foster change in people.
April, Steve and Lofty rely heavily on donations and sponsorship and run as a not for profit making concern.   They ran it completely free of charge for the first two years…relying entirely on donations…but with running costs mounting up they have introduced a small charge to cover fuel, insurance, feed and other essential expenses.
"we do get help from companies (ie. bedding (Sorbeo), feed (Honeychop & Protexin), Teddy Mountain UK (trainers!), Horseware rugs, our farrier doesn't charge for their trims, a lady runs photo shows in aid of us, another lady makes boxed horse shoes for us to sell, …all sorts of wonderful people help – there's a list under each of our visit posts on our Facebook page thanking them all each time…without them it would be so difficult – they're amazing!"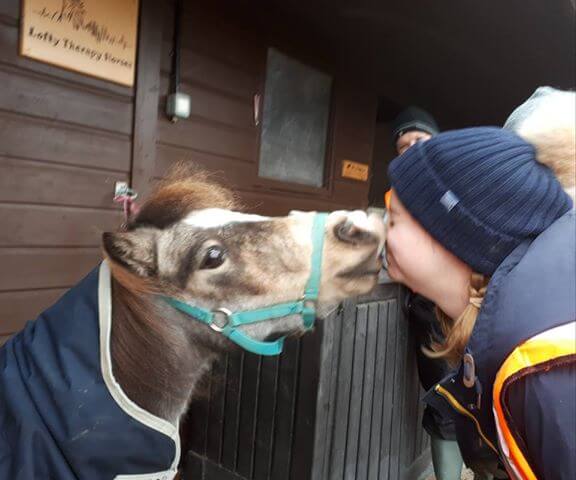 "One of our sponsors is Teddy Mountain UK who very kindly provide us with the little teddy bear converse trainers that the mini's wear on visits…they help prevent them slipping on shiny floors, it's more hygienic…and brings a smile to everyone! They are a great talking point…in fact…they are the single most talked about thing on our visits"
Head over to Lofty Therapy Horses Facebook page to keep up to date with their adventures.
https://www.facebook.com/LoftyTherapyHorses