Hi! It's me again…Lofty!
Last month I told you how I'd moved into my new temporary digs…the summerhouse-turned-stable at the top of the 'management's' garden, and how 'Groom' had arranged a date for me to visit 'Gofer's' dad, Brian, in the Nursing Home he was in…
Well, the date had been set and the morning arrived. It was a nice dry day…bright and sunny, but not too hot – perfect for my first ever 'visit'. I understood what a show was – I'd been to quite a few of them – but I had no idea what a visit would entail?!
The preparation for it was quite similar to getting ready for a show really – I was bathed and groomed and looking my best…wearing my posh leather headcollar (with the fancy jewels on each side!) But then I had little white fleece bandages put on all four legs, ''To make you look smart', 'Groom' had said. (I felt I looked just like a mini dressage horse in fact. I couldn't wait to tell my cob friend 'Bertie' all about that when he came back from spending time with 'Groom's' daughter, Jade, at Catherston Stud  doing dressage!)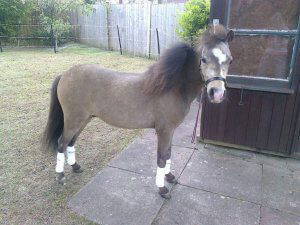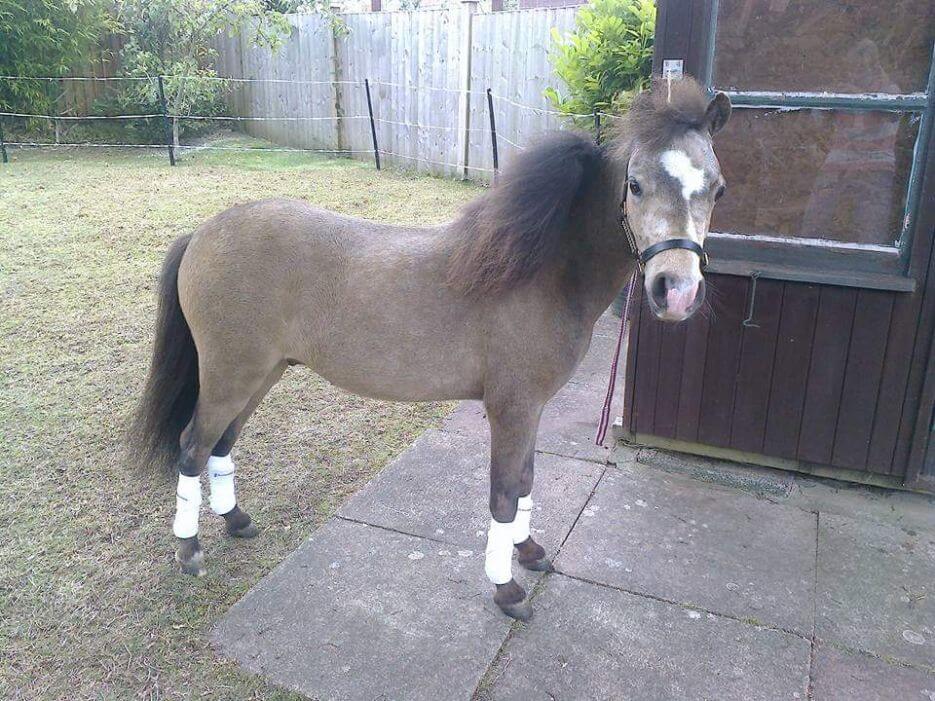 I was then loaded up into the little silver horsebox and we travelled to a place called 'The Knoll Nursing Home' where 'Groom' rang a buzzer on the wall and I was lead through the very large, very grand front door into an impressive wood panelled foyer. We crossed the parquet flooring past the reception desk and were very warmly greeted by several members of staf who seemed extremely excited to see me!
We went along a short corridor until we reached the doorway to the main
lounge…and then I saw everyone! There were lots of older people seated ​around the room, on settees and high-backed chairs, all looking in my direction! I felt like a celebrity! It was quite strange to be in a large room full of people but I wasn't scared…I just wanted to say hello to everyone! And that's exactly what I did! I walked from person to person, spending time meeting each one in turn.'Groom' chatted with them, telling them my name and all about me, whilst I allowed them to stroke and pat me, feel my sleek coat, my mane, ears and soft muzzle. Those that were able chatted and asked questions…or told 'Groom' and I stories of horses and other animals they'd owned or ridden in the past…bringing back memories of happy days gone by.
I loved all the fuss and attention I got…and didn't mind listening to their tales at all – in fact it was quite soothing to hear their voices and see their happy faces. We continued around the room until we reached a couple, at the far end of the lounge, sat together on a settee holding hands (as always )…they both had huge smiles on their faces and seemed to know 'Groom'. I was then introduced to the person for whom my visit had been arranged…the lovely 'Brian' (and Gloria, his wife – 'Gofer's' parents – Gloria visited and spent every day there with her beloved husband) and they were both very excited and pleased to see me! I got lots of fuss and attention from them…and so did 'Groom'!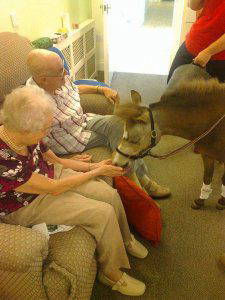 After spending time with them I was taken through a door that lead from the lounge, along a hallway, where I then got to visit residents that were unable to leave their rooms…getting used to entering and manoeuvring in much smaller spaces, reaching up to the residents in their beds…to be stroked…or just resting my head on them to let them know I was there…learning quickly how to move over, back up and be careful not to knock into furniture and medical equipment. 'Groom' had been working on things like this at home…but this was the first time I'd had to do it 'forreal'…and I did her proud – afterwards she showered me with praise and told me what a good boy I'd been!
​Before we left we went back through the main lounge to say goodbye to Brian, Gloria and the rest of the residents, as well as the staf, who had enjoyed my visit just as much as the residents had! I had photos taken with quite a few of the staf…and then we headed back out to the horsebox and the short journey home.
And that was how it all started!
Next month I'll tell you what happened after that – see you soon!
​Key: 'Groom' – April 'Gofer' – Steve   Otherwise known as 'the management'!