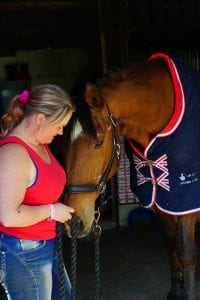 Introducing me… I'm 34 years old, married, a mother of an almost 9 year old daughter and live on a smallholding and yard in the beautiful Wye Valley. I am an RDA Green Coach, A Para Coach and International Groom as well as running a Riding school and RDA group Ride2Acheive at our yard, with my mum Janet and a fabulous team of like minded individuals! I am mentored by the fabulous Clive Milkins who is also a great friend and trusted me with the care of his Gold Medal winning Paralympic Horse Janeiro 6 for his final years and something I treasure.  Clive has given me the opportunities to groom for an incredible Irish Grade V rider as well as for several other inspirational para athletes. Every day I learn more leaving me hungry for more knowledge. I love my jobs and care for each individual client, I pride myself in not just being a groom or a coach but also a facilitator, supporter, manager, problem solver, friend and Enabler. I empower both horse and rider to achieve their very best.
My life as revolved around Horses since I was born, my dad show jumped and my mum ran a livery yard and was a pony club instructor. All of my childhood memories were based around the ponies and the yard. My dad gave up riding quite early to concentrate on his family business as a baker however mum continued to direct me to horses, competing in Lead rein Showing from the age of 3 I would compete on a rare slightly nuts Caspian pony that mum would have to long rein for miles before I sat on. However he was extremely successful and although accused of being irresponsible putting me on this crazy pony it never did anything wrong whilst I was on board.
As a young child I mostly Pony Clubbed, Hunted, Show Jumped and Evented however I did do a lead-rein Dressage on my welsh pony Pip Squeak.
Then other than whilst Eventing I didn't return to Dressage properly until I was 14 years old. I was very lucky to have been put forward to do my B test as a very young 14 I had been attending Sheepcote to improve my flatwork then just 2 weeks before the test my pony Star went lame.
Luckily for me we are steeped in lovely horse people in Herefordshire and Melanie Phillips from the Ruxton Stud had several horses that I could try and borrow for my B test. Ironically the first horse went beautifully for me but scared the life out of me and I couldn't even get him to walk lol.
So next up was an extremely hairy, very compact, black 15hh warmblood called Quickly.
I loved him from the moment I sat on him, and he took me through my B test passing it all in one day! Best of all at the end of this his owner allowed me to have him on loan for the next 4 years. Those years were insane…… turned my life upside down we went from no Dressage to competing at Medium, 2 talent spotting finals with a score of 84%, BYRDs training and teams, 2 Home International's in Ireland and Scotland. Not just that I was based at Sheepcote full time and really got to train and ride some incredible horses from breakers to Grand Prix this was the start of where I am today.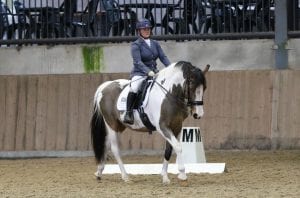 As we all start to come out of lockdown and things begin to gear up in both the yard, school, RDA and my International career I look forward to bringing you an insight each month into the challenges and successes we encounter along the way.
Until next month keep safe, Jo …..