I thought I'd take a break from my regular posts to use this week for a daily overview of the days before, during, and after competing at the World Equestrian Games (WEG) Test Event in Tryon.
Assume that I do all the things you typically do before a horse show. Now, supersize that. Packing for any weeklong trip is daunting, when you add everything required/expected for an international competition leading up to a world championship, let's just say it gets CRAZY.
Add to that my own personal family drama. My mother "broke her back", is in immense pain, but must wait for surgery. I've been her caretaker 24/7 this past week, leaving most of my preparations until the last night. She is staying with another family while I'm in Tryon. It's a lot but, thankfully, we can tag team each other. And just in case that wasn't enough, my youngest has scheduled shoulder surgery next week, too, on the other side of the country!
But, thanks to family, friends, and caffeine, we pulled out yesterday around 11:30 for Tryon. Everything after that point was normal. Unpack, setup, hugs with old friends, hellos with new ones, then saddle him up.
As a Grade IV para rider (second least disabled level), my trainer, Melanie, can warmup my horse each day until 25 hours prior to the Jog on Thursday at 3:00. Melanie rode first, releasing and suppling him while introducing him to all the new stuff at Tryon. There is construction everywhere you look and tons of workers in every area. I'm sure it'll be ready, but it will be a push. Next, I mounted. He was lovely. Light and forward as I repeatedly asked for Medium canter back to collected canter. I couldn't have asked for a better first day ride. Well, except that the temps went from 35 when he loaded on the trailer to 80 when we rode.
Melanie and I were both pleased and looking forward to my first Observation Day ride on Wednesday. A celebratory dinner to begin the week at Legend's, one of the great restaurants on the TIEC facility, and back to the stall feed my big boy.
Except, he wouldn't eat. Or drink.
Okay, Melanie knows the drill. All feed and hay out of the stall. Offer carrots. He eats those. Try feed again. No go. Another paras horse wasn't eating either. Hmmm. We weren't sure what to do. He wasn't in clear distress, just not eating.
As our AirBnB was only 10 minutes away, Melanie decided to drop me and our dogs there, then go back to check on him. He was laying down. That's when she called the emergency vet who was only 15 minutes away. Melanie hand walked him until the vet arrived, and after she left, until Melanie felt comfortable to leave him. Which was the middle of the night.
The good news is that the vet found no problems and told us that this issue occurs quite often here. The water has an unfamiliar taste. Since we soak his feed, maybe he just didn't care for it. No medications were necessary. Honestly, we are overly cautious, especially at shows, especially with the widely divergent weather we've been having.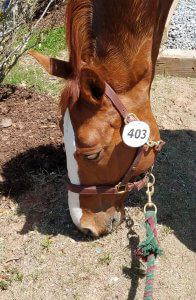 There was no way I could sleep until Melanie arrived (about 2:00 am) and could put my mind at ease. The only way Melanie could sleep was to leave him in the capable hands of Amy Struzzieri's NightWatch, who went above and beyond by staking out on our aisle to keep a close eye. Melanie will sleep for a few hours and check him again in the morning.
to be continued………..