For those of you who know me but don't interact with me regularly or don't follow my blog on Genius Equestrian magazine, it must have seemed like I fell off the face of the planet. I went from competing every other weekend in SC, GA, Wellington, and Tryon to not showing anywhere for many months. I must admit that it's due not only to a shoulder injury (see last blog post) but to a confluence of packing up and moving, making new friends, a fun and fulfilling relationship, new hobbies, travel…well, life. Once my shoulder proved to be harder to heal, I decided to pick my head up to see what else was out there. For years, I laser-focused every cell of my being toward dressage/para-dressage. When my body insisted on time (more of it than I'd hoped), I could drop my head in defeat, or I could drop back and punt. I decided to hit my fallback position and punt. So, now, I'm in a whole new place and ready to put competitions back into my world view.
Against my wishes, my shoulder still insists on pain whenever I raise my arm above my shoulder, so I now ride with my hands much lower down. It's still a struggle to do anything with my good arm above shoulder height. No chance with my left, of course, so I still need more help than I'd hoped. My amazing trainer, Melanie Mitchell, has decided to drop back and punt with me by using this new "disability" to retrain my brain and my body to ride better, to use more of what I have and forget trying to use what I don't. (As an aside, the best single piece of advice I can give a rider, able-bodied or para, is to find a trainer who not only works through your short fallings but can see a way to use them to make you slowly but assuredly better.)
I was lucky. If I had to schedule an injury, this would have been the right time with nothing hard and fast on the schedule. Thankfully, no surgery was necessary, just rest and PT. This "free time" allowed me to slow down my training schedule allowing me to divest myself of much that I've dragged around with me for decades. I finally had the luxury of time to sort through every box of memories, deciding what was important enough to garner a place in storage or just in my heart. All others were memorialized by photo to be enjoyed when I can no longer get up and out doing, instead of remembering!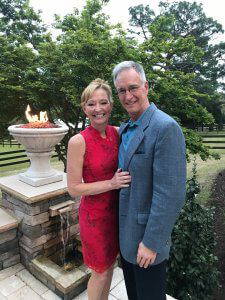 So, I'm moving to Aiken, SC! Listening to friends made me realize that I could continue wasting hours every day traveling back and forth from a place that means little to me anymore or move to a city that makes me feel alive with tons of friends and a man who makes me laugh as we create our life there. I'd already sold the home I raised my children in and was living in a rental house I'd owned for years but that would never be home to me.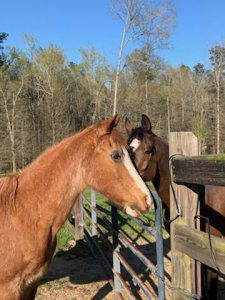 I've seen to it that my 34-year-old Arabian is with my wonderful neighbors/friends. My miniature donkey is starting a new career at Great Oak Therapeutic Riding Center in Aiken! I can see them both anytime and can rest easily knowing that they are well loved and well cared for. It is time to put myself front and center.
The PT and regular workouts of Pilates, 5-mile hikes with my man, and online ab/leg videos have made me strong. Stronger than I've been for many years. When Snickers and I come back to the show arena (probably in June), we'll start at Third Level, but we will train, hard, to compete Fourth, then Prix St George. I have my Bronze medal. My sights are on Silver.
Any time a para competes in the able-bodied world, there are some who say we should stay in our lane, riding para classes. I say that I've spent all my life in the able-bodied lane and I'm not going to change that now. So, look around the show arena for me. With my Dispensation to use specialized equipment/tack, I'll be in your classes, with my amazing horse, Quaterjack, vying to make another stab at USEF Horse of the Year listings. We were 3rd in the nation in First Level when I first imported him. Then, I stopped able-bodied to focus on para, in hopes of making the team. Able-bodied and para, though both challenging in their own way, are vastly different. For the immediate future, we're going for able-bodied again. That's not to say I won't be back in the para world someday. For now, I want to show that paras are no different than able-bodied athletes. We all must take our injuries or physical limitations and figure out how to live our dreams. I'm a "Drop back and punt" girl. I wouldn't want it any other way!