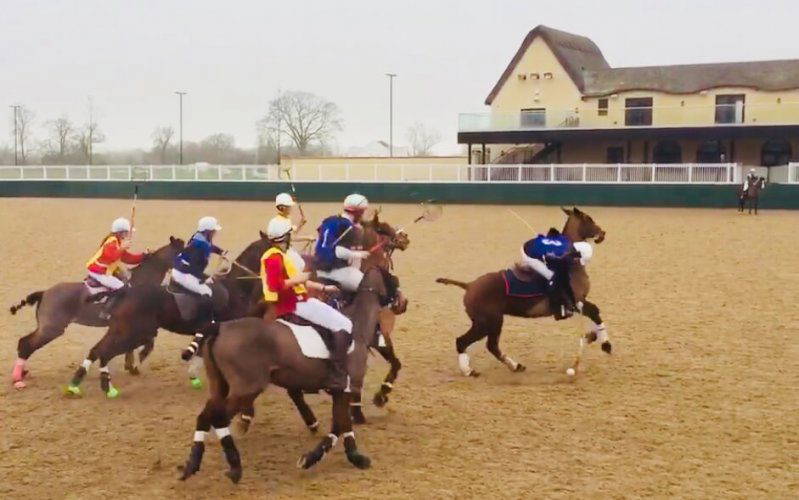 Rachael Duhig : Chip Off the Old Block…
Before I get into the success and FUN we had at the first Arden League Tournament, I'd like to introduce a few rules and specifics about the game of Polocrosse.   Only 6 players and 2 umpires are on the pitch at a time.   A team is made up of 6 players total, but only 3 people from the team play in each chukka.  #1 is the goal scorer, #2 is the midfielder and the #3 is the defender. You alternate between the two sections for 6 minutes each, 3 times to complete a game. The goals are added up at the end of each chukka, and the team who has the highest amount at the end of the game wins. We play on a pitch that is 160 yards long by 60 yards wide. There are two 30-yard goal-scoring areas on both ends of the pitch and a 100-yard midfield. Only the #1 of the attacking team and the #3 from the defending team can be in each goal scoring area. The game starts on the side-line in the middle of the pitch at what we call the "T". Players line up next to their opponent on either side of the T. The umpire throws the ball in down the middle all the players and that's when time is started. You also line up at the T after each goal that is scored. A picture of what the pitch looks like and where each player is allowed is as follows-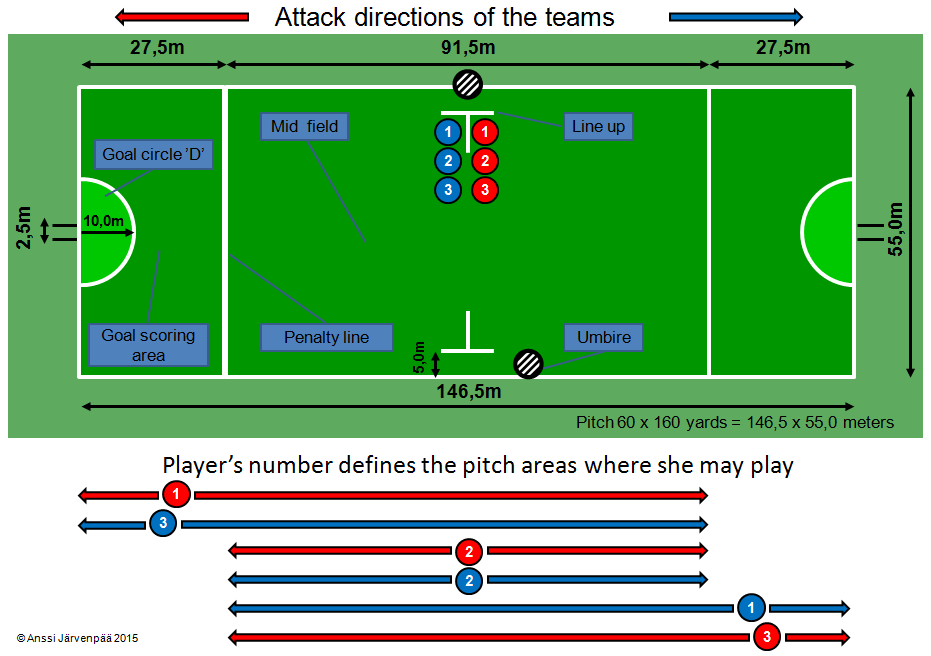 There are plenty of rules in Polocrosse to keep to, mostly to keep both the players and horses safe while playing. These are easier explained in person then in writing, so I'll save y'all from reading a bunch of gibberish!
Now onto the real excitement of this blog telling you all about the first tournament of the 2018 season AND the first time my son, Riley, and his pony, Shadow, played! I had been away all day, so it was a late evening getting the ponies cleaned up and the truck packed. We had a very early start for us all, leaving the house at 6:15am. It was safe to say that Riley was less than impressed, but his excitement grew the closer we got, and my nerves started to kick in wondering how wild Money might be warming up and during our first chukkas. My mind was quickly eased as she warmed up like a champ and played the first game as though she had been playing all winter. This is why I love this mare so much! After only playing around a dozen games in her first season last year, she took to the pitch as a seasoned playing pony. We played both a #1 and #3, both she did so effortlessly. I really can't keep expressing how excited I am about this special girl! Although I'll admit, I was a bit rusty, poor girl was working overtime for every pick up and pass I missed! I promised her that this wouldn't happen again at the next two tournaments, I could feel her eyes roll as the words slipped out of my mouth. Growing up in Texas, I was always spoiled with the weather during the winter. I'm very much a fair weather rider! That never bodes well for riding in the summer with all the rain we get, let alone with every type of crazy weather we experience wintering in the UK. She might not be so forgiving the next tournament…here's to hoping I step it up for both of our sakes.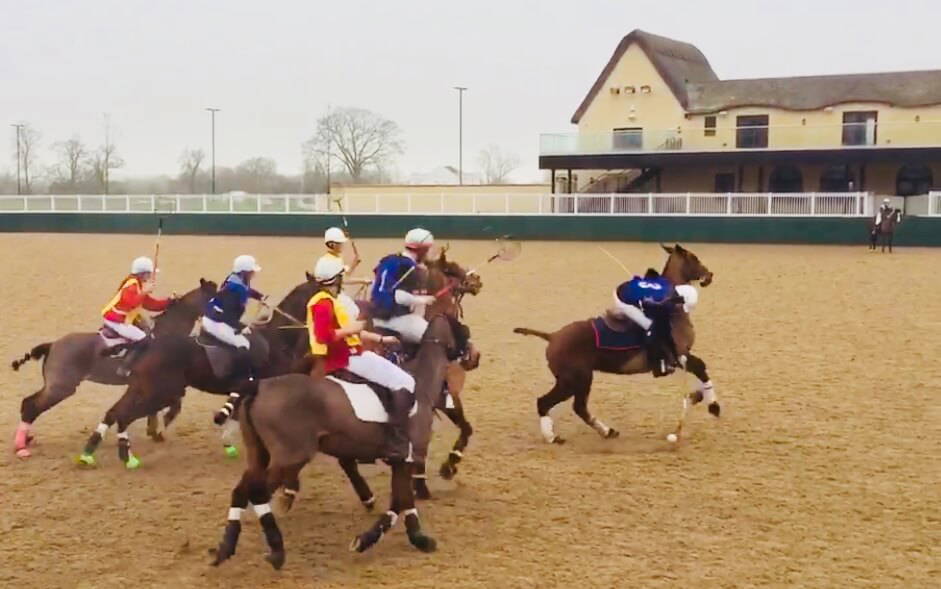 Riley and Shadow were playing in the third game of the day. It was an arena full of cuteness, as little ones between the ages of 5-9, started warming up for their first ever game of polocrosse. There was a bit of delay, so there was mostly a lot chatting amongst the parents while holding ponies with excited children on board. Danny was leading Riley, as I was playing in the game straight after. While I was watching and taking pictures of Riley and his mate, Archie, a quick thought went across my mind that I bet Shadow would give anything to have a nice roll in the soft arena she was patiently standing in. As I was walking up to the other viewing platform to chat with friends, I turned around just in time to see Shadow's knees hit the ground. Before Danny could even turn around, and Riley could get out anything but a yelp, she was on her belly! Danny's shock made Shadow immediately jump up, while Riley was already laughing on the ground. As I giggled to myself, because I knew that was bound to happen, I did have a quick think of "This is a great way to start out his first time playing…on the ground…." Fears of anything going badly quickly left my mind, as time was called on, and everyone began loudly cheering and having some good laughs at just how cute each pony and rider were! Riley started off playing a #1, the goal scorer, and to my shock his first goal was made outside the "D". The D is a 10 metre semi circle around the goals, your horses feet must be outside of this when you score in order for the goal to count. Because this was everyone's first time playing, the D and 30 yard line, that you must bounce or throw over, was discounted, to make the game a bit more fun and not so challenging for the newest players of this sport. Riley fist bumping the air after his first ever goal in Polocrosse, made my heart melt! The game continued on, and to my surprise, Riley made nearly every pick up at a walk, and was very close on some occasions while trotting. I always tell him that practice makes perfect (maybe I should practice what I preach ha!), so after lots of practice picking up and not many made at home, it was wonderful seeing how proud he was being able to accomplish what he set his mind to. Riley scored a total of 3 goals during the 3 chukkas he played as a #1, the other 3 he played a #3. As we left the tournament, Riley asked why we didn't go to prize giving. I had to explain to him that it was only after the last tournament that the scores of each time you played would be added up, and then prizes would be awarded to those who earned them. He continued to ask about when the other tournaments were, and was extremely sad when I showed him the date of the last one in April. He told me that he would be sad to not play Polocrosse anymore after that. The look on his face when I told him not to worry because then the grass season starts and he could play all summer was priceless. He was a happy boy to say the least! Not 2 minutes later, he was out cold, half eaten sandwich in hand and mouth wide open, the entire 2 hours home.  I would say it was a successful day of Polocrosse for the both of us.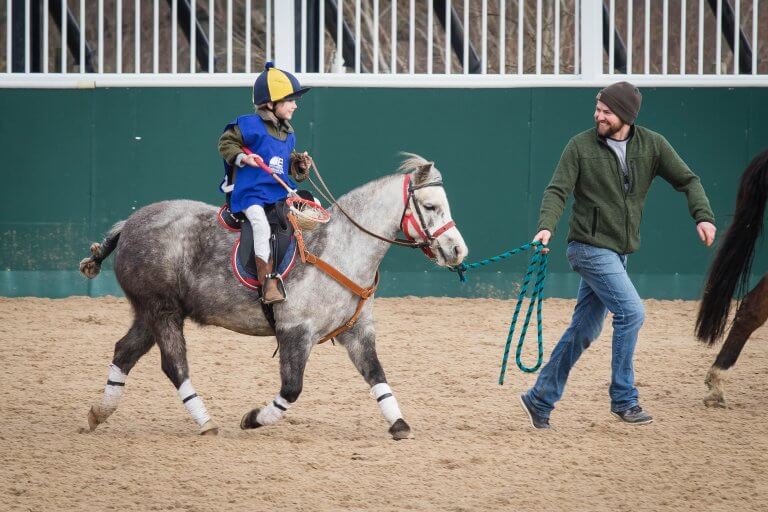 Have a look at the fun we had while playing!
Please enjoy and do make sure to check out the Arden Arena Leagues Facebook Page. This year they are having a raffle to benefit the Air Ambulance. Coming from a country where a life saving trip in a helicopter could cost you an arm and a leg, I am extremely grateful to have this charity available and I'm sure all other horse riders will agree! Check out their Raffle List Album showing what you could have a chance to win with just a £5 ticket. There is something for everyone, ranging from a bottle of British Polo Gin, a Premier Equine Magnetic Rug to a matching dog collar and lead set from Rhubarb and Co.
Stay tuned for my next blog where I plan to give more insight to the family aspect in Polocrosse, by interviewing some of the families within the UK who all play the sport.
This is Polocrosse.