In February we were selected to go to Deauville CPEDI 3* and Winnie celebrated the news by doing a series of hand stands in the field and came in with an over extension injury.  Great that's all we needed.  It would have been our first overseas competition for GBR, but that's horses for you, they are so fragile for such big creatures.
Winnie has been rather enjoying herself on her holiday, starting her own social media pages and eating her own body weight in carrots and bananas.
Riding is such great therapy for me and with Winnie out of action I called upon my friends at Watershed RDA who kindly let me ride with them again.  It was really lovely to be back there riding and I did some ridden lessons with the ladies I used to ride alongside in the early days.  I rode the movement and they replicated it which worked really well, it is so much easier to learn visually than it is from instruction.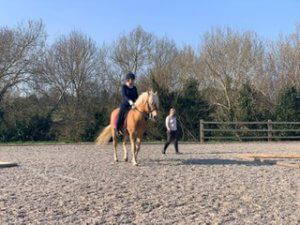 I was also lucky enough to be given a few rides on the Haflinger Stallion Tom who is based at Daneswood with Winnie.  He rather liked his Para job and thought he was doing something very important.  He was too, my muscle pain is horrid when I haven't ridden for a while so the rides on him really helped me.  Tom is competed and owned by our vet Claire Brown in both Medium Dressage and side saddle.  The side saddle experience meant he wasn't phased at all by my weak right site and he is so well schooled I could leg yield him from my seat so we had a lot of fun together.  He particularly liked the after carrots.
It was clear by month 2 that Winnie was going to need some good time off, she is relatively a young horse and still a Tokyo prospect so with the advice of our home vet and squad vet we decided to give her the time she needed, but that meant no horse for me to compete!  We started looking for another horse in earnest, but to be honest we had already been looking for months and not found anything suitable.  Some just didn't walk well enough, 1 horse came for a trial and had a great walk but was a lunatic in the field or stable if another horse was taken away from him so we couldn't have traveled him to competitions especially overseas and 1 horse was offered as a perfect Grade 1 horse with a great temperament but when Leonie went to try it on sales livery the trainer said she is for sale as she has frightened the owner, spinning and spooking! So we were a little disillusioned by the whole process.  I am a firm believer that horses find you so we kept going.
We eventually met a lovely little horse with a great walk and went to try him, he was very calm and sweet and would of made a good horse for the future.  We left quite tied, should we get him or wait for another to come along?  Well that weekend the owner decided that she couldn't sell him and so the decision was made for us.  The same weekend Leonie gave a lesson to a young event rider, who has a very smart and very hot horse young horse and asked her what she was doing with her other horse that Leonie had taught her on previously.  To cut a long story short we went to see the other horse and she was just lovely.  Calm, but with presence and not grey!  Sorry Winnie we love you but you are a nightmare to keep clean.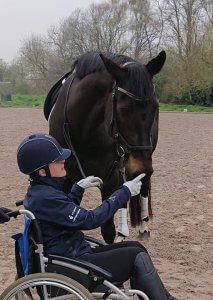 Leonie had just sold her horse and wanted to enjoy riding and competing again so she kindly offered to buy Lexi and let me ride her while Winnie was recovering. This way if she didn't work out for me Leonie would compete her to PSG. How lovely!  Well it all went rather well and within a couple of weeks we decided to take her to a competition where a Paralympic list 1 judge was scoring.  It was quite amazing and Lexi wasn't bothered at all in the huge atmosphere of Hartpury indoor arena scoring a whopping 70%+ – we didn't get any of our halts and she wasn't straight and there were a few contact issues so we were really excited to get that score.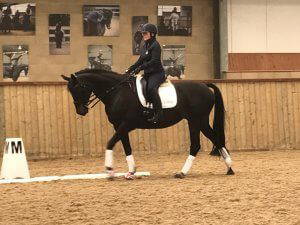 The next week we took her for 2 days GBR squad training and she just dazzled everyone and there was lots of excitement around us.  We really have thrown everything at her in a short space of time – it takes a long time to train a top Para Dressage horse but Lexi is loving her new job and taking everything in her huge stride.  She does though think its a bit odd that she gets so rewarded for just walking!
In my next blog I will share with you how our relationship has developed in such a short time and share more exciting news with you.