Caring for over 1,500 rescued horses, ponies, donkeys and mules every day is a big challenge for Redwings Horse Sanctuary – it's a total of 6,000 hooves to look after! SPILLERS® is a long time supporter of the wonderful work that Redwings does and their nutritionists are always on hand to help with feeding advice. 
"To ensure our herds stay healthy, our teams work hard to make sure they receive the best balance of nutrients," said Nicky Jarvis, Redwings' Senior Veterinary Surgeon. "Specialised feeds, such as SPILLERS® HAPPY HOOF®, play an important role in helping us keep our rescued equines in the best condition possible."
Little cob Sadie was born in 2014 after her pregnant mum was rescued from horrific conditions from a site in Wales the previous year. Hundreds of horses were found stranded deep in mud without any food, suffering from malnutrition, worms and the infectious disease strangles.
Despite her mother's ordeal, Sadie has grown into a happy and healthy young mare, thanks to the TLC provided by Redwings' veterinary and equine care teams.
"Today she enjoys a daily feed of SPILLERS® HAPPY HOOF®, to provide extra nutrition, while its low-calorie mix of vitamins and minerals helps to support hoof health and is perfect for a good doer like Sadie!" said Nicky.
Sadie also has a very important job – she's a much-loved companion of another young rescued pony who requires special dietary feeds. SPILLERS® HAPPY HOOF® provides an alternative nourishing treat for Sadie as she accompanies her friend for lunch.
SPILLERS® HAPPY HOOF® is a low calorie, short-chop forage, ideal for those prone to laminitis. It has all the vitamins and minerals they need, plus biotin for hoof condition and is approved by the Laminitis Trust. For those concerned about molasses SPILLERS® HAPPY HOOF® Molasses-Free is a low calorie fibre blend with garlic and rapeseed oil and no added sugar. It contains biotin to support hoof growth and is approved by the Laminitis Trust.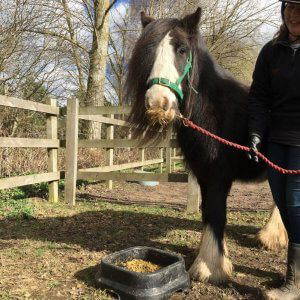 SPILLERS® is offering £1 off each bag of SPILLERS® HAPPY HOOF® during April and May while stocks last on flashed stocks only. Visit your local retailer to find out more.
To read more about feeding good doers and those prone to laminitis visit the SPILLERS blog page at https://www.spillers-feeds.com/blog/
For friendly advice on feeding seniors contact the SPILLERS® Care-Line on + 44 (0)1908 226626 or visit www.spillers-feeds.com.