Riders are urged to show their support to an online campaign calling for the Department for Transport to allow horses to use government-funded off-road tracks, such as cycle ways.
The petition is the third to be set up by Debbie Smith, the creator of the Facebook group 'Pass Wide and Slow', which campaigns for safer roads for horses.
Debbie, who successfully took a petition to parliamentary debate beforehand,  is amazed how many signatures the new campaign has received so far.
"The plan is to get to 100,000 signatures and then we will ask local MPs to take it to Parliament. I will be speaking with my MP Derek Thomas, who took my first petition to debate",
In September 2015 Debbie Smith started the petition 'Pass Wide & Slow' which to date has raised 139,598 signatures.
"We needed to raise awareness among the communities, so i put out a post asking if other riders would organise a ride with their friends as a group, and have the local reporter out to take a photo to write a report on educating drivers how to pass horses, and the reasons why.   Some drivers are scared to pass horses, and some drivers are completely unaware of the the possible dangers.   Horses are big animals and we need to educate drivers to reduce conflict".   
The British Horse Society launched the horse Accident website in November 2010. Since that Launch 2,900 report of road incidents involving horses including near misses and collisions have been logged by the BHS, Since the launch 230 horses and 39 riders have been killed.
These Statistics were spoken of in the House of Commons in July 2017, when the safety of riders and horses on rural roads was debated.
The purpose of the ride is to raise awareness to non-equestrian people, the importance of Passing Horses Wide and Slow on the Roads. We want improved road safety for ourselves and better off road facilities for horse riding and carriage driving.  "I don't want my ride or any other organisers awareness rides/drives to cause trouble, it is not a protest, riders will move out of the way and not deliberately hold drivers up, we just smile, thank them and hope that they enjoy seeing a group of riders or carriage drivers out together".
The PASS SLOW and WIDE Campaign is a countrywide event with over 68 other counties also taking part. The aim is to raise awareness to drivers of how to pass horses and riders when riding on the roads. With the aim of getting our local police and Mp involved to push for a new Law in the highway code, to make it Law to pass horses at 15mph and give a wide birth of 2m when passing.  All vulnerable road users are invited to the ride, to include walker's cyclists and carriage drivers.   In the first year 20 rides went out over the UK.   In 2018, just 15 riders attended, but this year we have a record.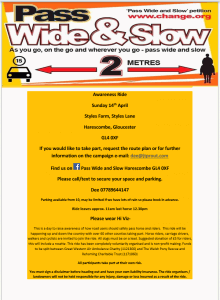 Harescombe Ride info:
The parking is available from 10am for horse boxes with participants read to ride out by 11am last rider out by 12.30pm. Cyclists will leave first, followed by the horse and carriage ( some horses may be spooked by this) followed by ridden horses then walkers. The ride passes through Brookthorpe, Harescombe and Haresfield.  The ride offers a 3. 5.5 and 8 mile route all on roads or rural lanes. 2 pub on route should you fancy a stop. The ride will be marked out but is very much a personal hack to be taken at your own pace.
The three local parishes, Brookthorpe, Harescombe and Haresfield are all supporting the event and have purchased large banners to place out on the day.  The mounted police sections have been invited and have agreed to attend on the Day.  Mid Cotswold Tracks and Trails have kindly offered to loan us their road signs to map the route.
Stroud District Road Safety Group have been made aware of the ride and are circulating it with participating councils.