Equestrian Australia
Photos Courtesy of Dominic Park
This 'for the love of the horse' story is as much about the horses, as it is about the rider, to whom his horses offered their sense of sight, the encouragement to talk, the joy of dancing, and the beauty of friendship without judgement. The magic of horses works in mysterious ways, and they have certainly worked their magic, in life-changing ways, on Nathan Harvey…
We all read or watched the story of The Black Stallion, by Walter Farley as kids, imaging we were the person lucky enough to be washed ashore with a magnificent stallion – to help, befriend and eventually call our own. (If you don't know this story, Google it – it's a quintessential horse-enthusiast must do).
Nathan must have had dreamt of the wonderful things to come when he signed a lease agreement for his own black stallion, eagerly awaiting his arrival from NSW to QLD. But his idea of a dream horse came quickly crashing to realty when the horse arrived.
Perhaps the horse had also read Farley's book and knew his dramatic story-entering role all too well. When Kiteroa Dominic 'Dom', a 16.2hh magnificent black Trakehner stallion, arrived at the Harvey property in the middle of the night, he was less of a 'night-stallion', and more of a nightmare. He reared and struck the entire way along the driveway, down to his stable. The following morning daylight didn't sweep it all away as a bad dream; there stood Dom, a thin, very angry horse.
The next few days weren't much better, and the Harveys were worried about their new arrival; Nathan said Dom just needed to settle in. He spent every waking hour with that horse. But Dom still wasn't settled. Dom kicked while at the wash bay nearly every day – once he even struck Nathan on the head. Nathan's mother, Kim had almost had enough, until a family friend stepped up. Yvette Vlies taught the Harveys how to 'own a stallion'. Yvette knew every trick in the book. Under her guidance, Dom got better and the Harveys learned about the differences in keeping a stallion, compared to their other horses.
As time went by, Nathan and Dom began to develop a partnership of trust and respect; pretty soon they were inseparable. Nathan, who began his own dressage training five years ago, turned the focus of his horse to dressage too. Nathan and Dom trained and competed on their own for a while, as Nathan searched for a suitable instructor.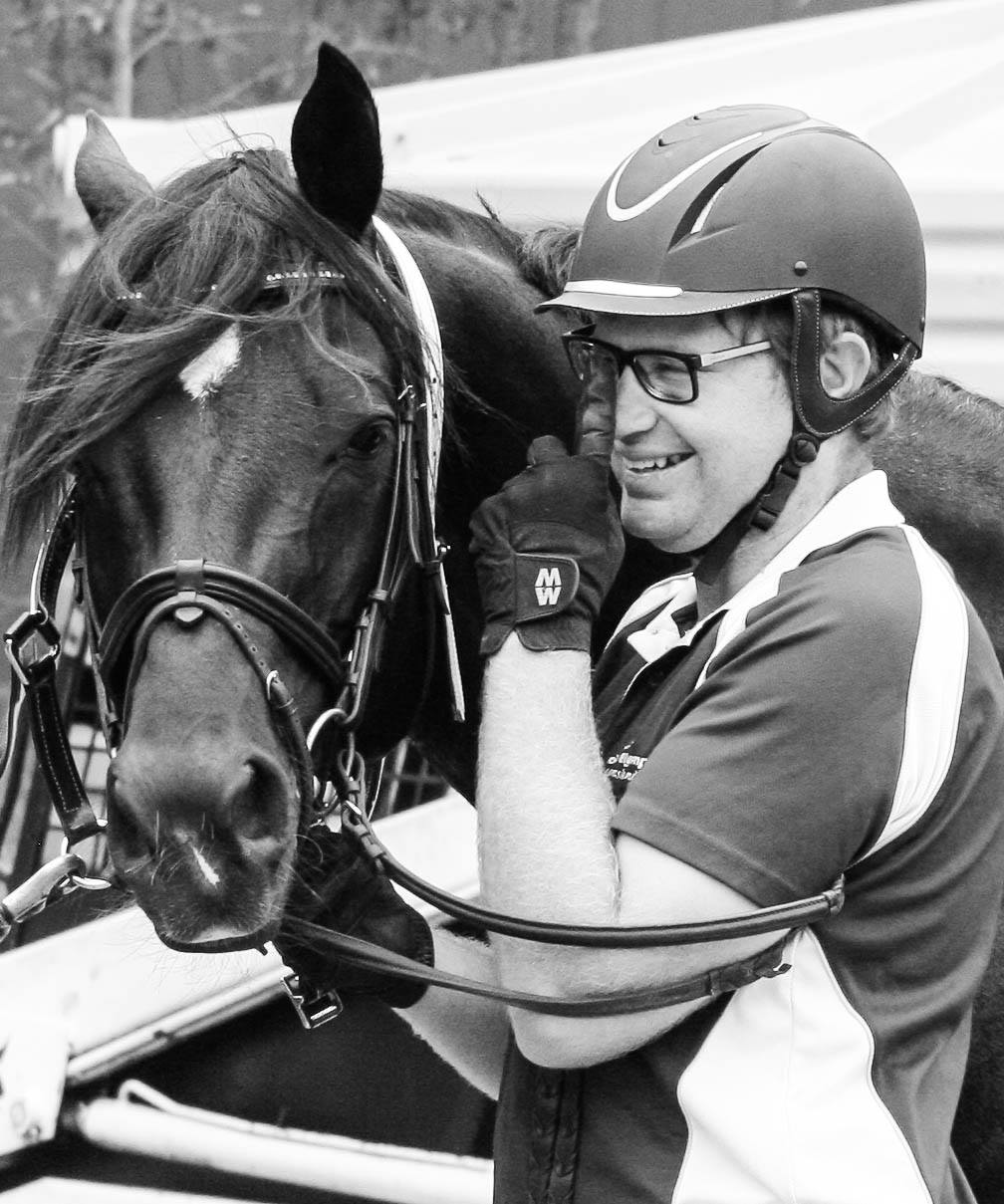 Best friends, Nathan and Dom
Some people made it known that they felt Nathan and Dom should not be out together at competitions. There were no dangerous incidents, Dom by now was actually very quiet, well behaved and had the sweetest nature; but Nathan heard 'whispers', and this made him very self-conscious when he went out to compete. At times Nathan would break down, causing Dom to become unsure of his job. But they never gave up, and they showed the country that they too belonged in dressage, along with everyone else.
Let's pause here for a moment to look back to where this all started, because you see, Nathan has a story of his own.
At two years of age, Nathen Harvey was diagnosed with Autism. Doctors called Nathan a retard and wanted him to be admitted to an institution. While that didn't happen, for the first four years of his life Nathan did not speak a word. That all changed on his fifth birthday, when he was given a pony named Tommy. When it came time to blow out the candles on his cake, Nathan could not be found. He was down in the stables, speaking aloud clearly, reading Tommy a bed time story.
At nine-years-old, Nathan began dressage and show jumping at pony club on a pinto, owned by Robyn Smith. Together they won many events. While Nathan went on to compete in numerous disciplines, it was dressage that stole his heart, with its 'dance – like' beauty. "It's like a ballet," described Nathan, "my partner being my horses."
Nathan first competed at a Special Olympic Qualifier in 2013 with 17hh Robbie the Wonder Horse. They tried so hard, but at the time Nathan was all but blind, waiting for corneal transplants in both eyes, he could barely canter a circle. Time passed and after two failed corneal transplants, Nathan's eyesight grew worse and worse, which had a detrimental effect on his confidence…
Back to Dom, with whom Nathan had begun preparing for Para-Equestrian Grade V FEI Training. The movements were difficult, but the duo tried their hardest. They entered qualifying competitions, gaining scores from high 50% to low 60%. While they still qualified for Brisbane CDI and the State Queensland Championships, where they won Grade V Champion, Nathan knew he and Dom could do much better than the judges were seeing, he just had to get his confidence up and not let Dom down.
Unfortunately, with his deteriorating eye sight, Nathan was struggling emotionally and began doubting himself. He stopped riding and would just sit with Dom for hours. His Mum, Kim thought his riding was over.
But Nathan decided he would rather die than never ride with Dom again, he couldn't let Dom down. They began riding again, first just at home in the paddock, however this was not enough for Nathan. He had his Mum help him map out the surface of the arena, by counting Dom's strides to each of the marker letters, so he could judge distances. By this stage, Nathan could only see a white background, with colours contrasted as 'light and dark'. As if the horse knew, Dom began to take over as Nathans eyes. Nathan learned to judge distance by feel. His confidence was coming back. He said, "I don't feel disabled with Dom, I feel I can do this with him".  And Dom returned the favour, he taught Nathan how to trust and love unconditionally.
Nathan and Dom riding a beautiful dressage test
The decision was made to take Nathan and Dom away for a two week road trip. They travelled south to meet new people, experience new events and see new faces …and to compete at their first interstate CDI, at Boneo Park, Victoria. The many interesting and influential people they met along the way opened their homes and stables to the Harveys. Everyone wanted to meet Dom and Nathan; some would arrange to meet and have photos taken with the pair.
The trip really solidified the bond between Nathan and Dom. Their training improved greatly, and they were ready to learn how to compete amongst the best. Upon arrival at Boneo, the family was treated like royalty; everyone knew Nathan and Dom were coming. Dom was stabled next to the 'A Listers', Nathan was excited, and star struck; the entire experience was amazing!
The training and bonding paid off, they came second in both FEI Tests and won Reserve Champion. The return trip home was booked solid; meeting new friends and stopping at Special schools. The students enjoyed meeting Nathan and Dom and could not help but be inspired by Nathan's stories.
Nathan continued to train hard, but wanted to step it up and start competing in Open dressage with Dom. Because Nathan had sponsors, he could not ride in Amateur Owner classes, meaning he was thrown in the deep end with the 'pros'. In need of a professional trainer, Nathan found Nicole Magoffin, a high achiever in every sense of the word.
Nicole worked wonders with Nathan and Dom until she left for Germany in 2016. Her message to Nathan before leaving, was to "take the pressure off, travel to new places and enter EA events in lower grades". Nathan followed this advice and got the job done. The combination began to hit 60% marks in Open competition. At the end of a test, his smile would give way the score on his sheet, no words required. After each event, Nathan would work on improving the comments on his last sheet.
Nathan riding dressage
Soon he forgot about his nerves and simply beamed when he and Dom cracked 65% at Maryborough 2 Star in 2016. Dom felt Nathan's confidence that day, they both hit that arena with determination and together they rode every stride as if they owned it. The test was amazing! Every stride was mighty – together they were one coming up the last centre line, finishing with a perfect square halt. There was a cheer from the crowd as Nathan and Dom walked out, but Nathan could only hear Dom talking to him as he cried with happiness.
2017 proved to be a challenge for Nathan. The controversy of Nathan riding Dom was still there, many were jealous and not happy for their success, some were trying to make it hard for Nathan to compete. A wise person said, "it is better to rise above and be pro-active during the transition to professionalism". With the support of his sponsors and over 16,300 followers on Facebook, Nathan and Dom rose above. They continued forward in preparation for the national qualifier for the 2018 Special Olympics, to be held in Adelaide.
Last year, Nathan made a career choice to become an EA coach and trainer in the competitive world of dressage and show jumping. Nathan has almost completed his EA Introductory level coach manual, and he now trains horses for clients.
For almost six months Nathan has chosen to train, rather than compete, under the guidance of coached Ricky MacMillan for Dressage and Russel Davidson for show jumping. Dom is becoming stronger and Nathan is becoming an athlete. His plan is to begin training Dom and another of his horses, 'Flip' in Elementary-Medium dressage. In summer he also plans to compete in show jumping.
Nathan show jumping
In a wonderful turn of events, Dom's owners gave full ownership to Nathan, to allow him to take care of their beloved Dom forever. This gave Nathan direction, he named his business "Dominic Park', in honour of Dom and his breeders James and Vanessa Hart.
Recently, Nathan received the news he was chosen to represent Australia at the World Games Special Olympics held in Abu Dhabi 6th March 2019. He has also been training Dom to perform a Freestyle for the Open Day Sunshine Coast RDA on return from the World Games. Nathan and Dom have been performing some moves at home that will be perfected before taking him out to compete. Flip will begin training to join Nathan and Dom on their tours across Australia, and summer opens the door to a new world of competition in show jumping.
Nathan wants others to know his door is always open to anyone who wants to learn. He encourages people with Special needs to come forward and learn how to feel whole with a horse, specifically with Dom himself, at Dominic Park.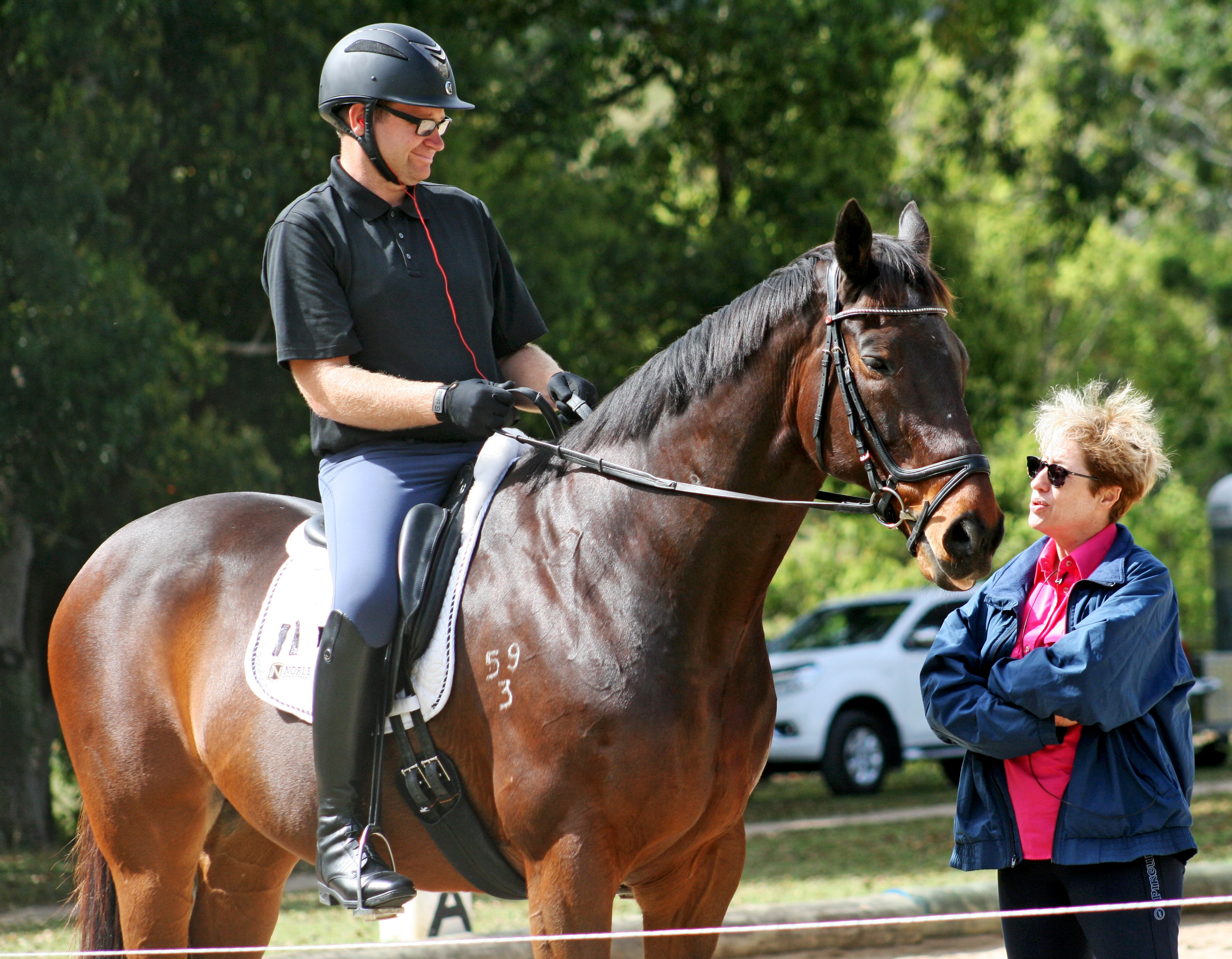 Nathan on Flip with coach Ricky MacMillan
More than a competition horse, Dom also loves running on the sand at the beach and galloping through the waves, just like The Black Stallion. Like the Black Stallion, he was befriended by his person and they have become inseparable ever since. Yes, Dom is the perfect partner for training and competing, but for his human best friend, Dom is much more than a that. He is Nathan's eyes, ability to dance and his freedom. Nathan wouldn't be without him.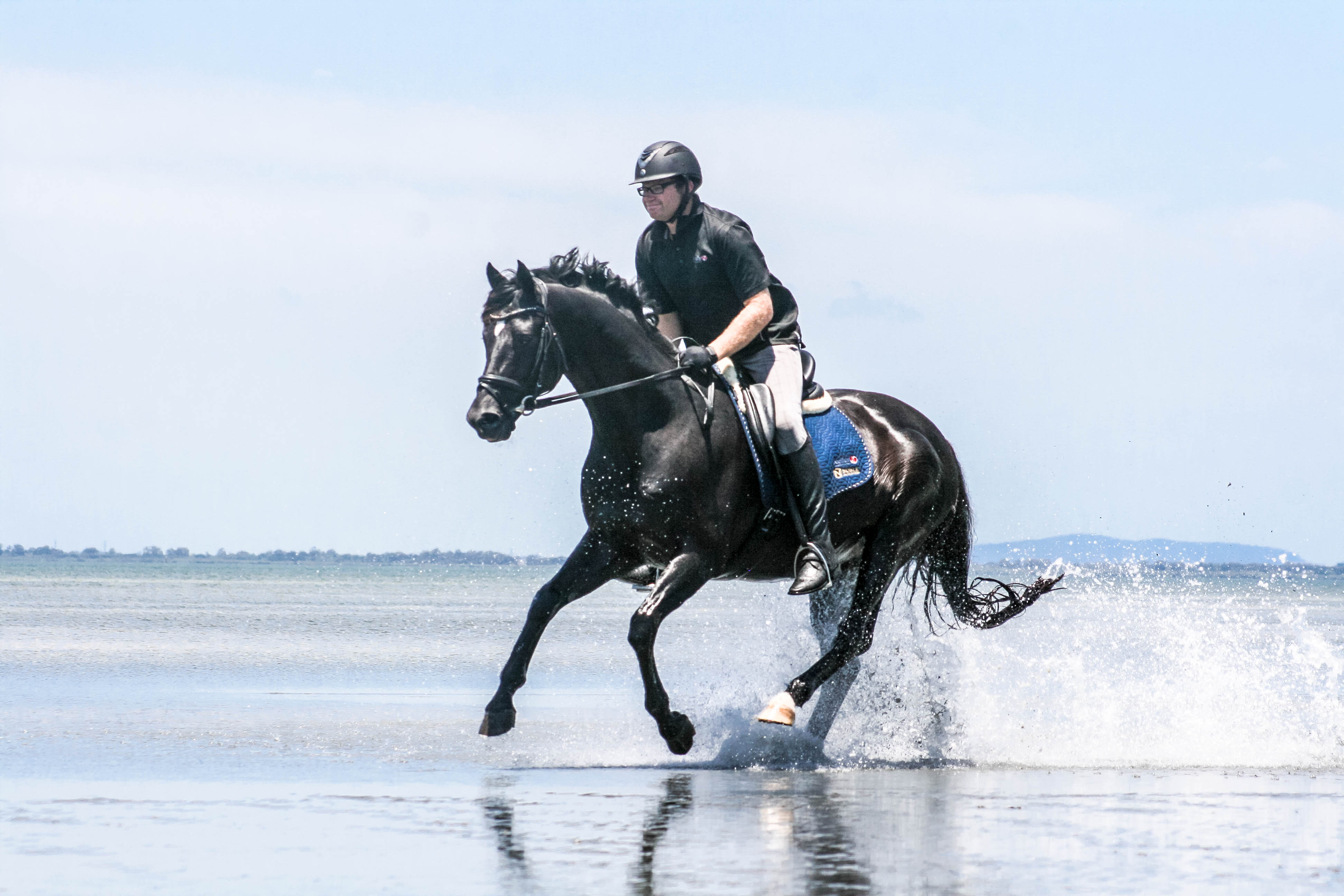 Nathan and Dom enjoying riding on the beach together