I was approached by a charity, The Welsh Pony Rescue and Rehoming Charitable Trust and was asked if I would treat one of the pony foals that had recently come in to the rescue. The charity itself cares for illegally dumped and semi feral ponies that graze Gelligaer common in Wales. They have been doing this for over 25 years, and rely on volunteers and donations to keep their mission going.
Although the population of ponies is gradually declining due to the removal and castration of stallions on the common. The ponies are malnourished and have high worm burdens which can lead to death, especially of the young foals. The ponies that are dumped are usually colts, and can be as young as 2 months old, the backgrounds of the ponies is usually unknown, but some have very poor conformation usually due to inbreeding, whilst others sustain injuries caused by abuse and neglect.
One of the most important roles of an Equine Therapist is to collect as much information as you can from the client about the pony or horse you will be treating. This information paints a picture of the overall health of the animal and highlights any specific problems the horse/pony is suffering from. This can be caused by a specific incident such as a trip or a fall, or sometimes a simple management problem, for example tying a haynet up too high for a pony can cause tension in the neck and withers, as horses were not designed to eat with their heads up.
General health questions are asked as well, to include worming routine, dental checks, veterinary treatments, and when the horse last saw a vet. Veterinary permission needs to be obtained from the owners vet before seeing and treating the horse.
How often the horse is ridden and by how many riders also gives valuable information about the level of work, duration, and intensity. The level of the rider is also important as it is a factor to be considered when providing the client with an aftercare plan of exercises, both from the ground and mounted, as the client needs to be capable enough to achieve the exercises.
Other management factors such as number of hours turnout and routine is also important, as is the undulation of the paddocks? In severe cases the horse may benefit from a flat paddock for a couple of weeks, this again needs to be a factor when giving aftercare advice.
It is also important to establish if the horse has its own tack, if that fits correctly, and when it was last checked. An ill-fitting saddle will not help any horse recover from having a bad back.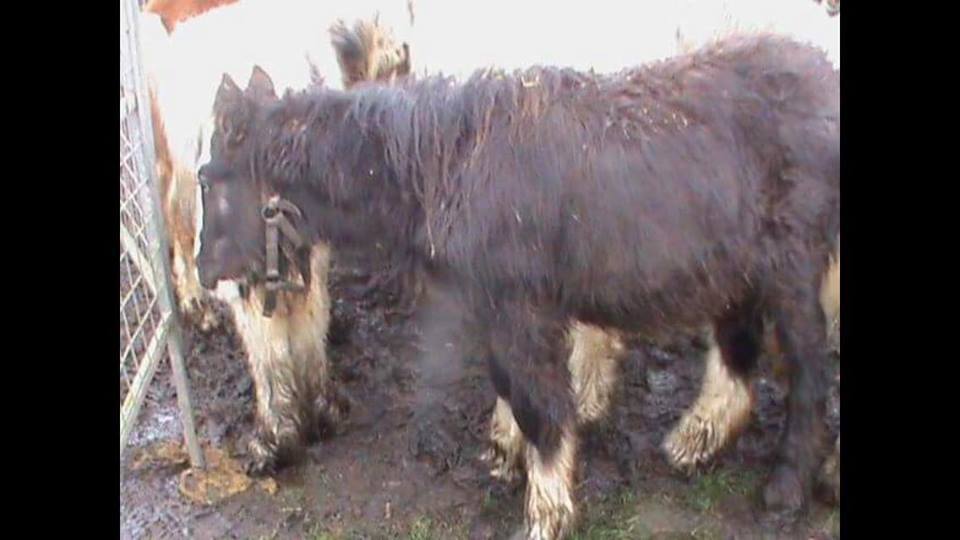 The information I received about Storm was as follows;
Horse Details: Storm
Age: 1 yr              Sex: Colt              Height: 9hh         Colour: Bay         Breed: Welsh Pony
Condition score: Moderate but improving
Wormed: Yes     Shod: No (barefoot)
Management:
Lives out 24/7 on hilly pasture. When arrived at rescue centre was fed Calm and condition, chaff, seaweed, apple cider vinegar. Now eats hay and grass, no additional feed given, due to it being summertime. Handling is getting better, can now have a headcollar on and be led. Feet have been seen by a Podiatrist and begun to be rebalanced.
Presenting History:
Seen by vet on arrival to charity. His foster home had noticed that he had moderate head tilt and was walking with his head to one side. It has been known that cob foals are often tethered from a young age, and whether or not this was the case will remain unclear.
Treatment: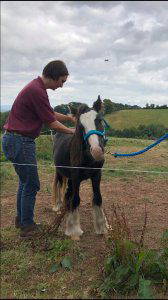 On palpation there was obvious tension of the left side at his Atlas. His pelvis was rotated and tilted to the left. When assessing the rest of his body there were obvious areas of tension also to the left in one cervical and several thoracic vertebrae.
Follow up:
After Storms initial treatment, I didn't not know how much improvement I would get post treatment. I had also recommended that he was handled and led from both the left and right side, to encourage him to become more equal.  Within a few days his foster carer said he looked much straighter and that the head tilt was markedly improved. I visited Storm a few weeks later, and was very pleased with the progress he had made. I re treated his atlas, a cervical vertebra, and his pelvis.
The second treatment aims to continue to facilitate normal function of the musculoskeletal system, this is ideally done after 10-14 days.
For further information on the McTimoney Technique please visit www.mctimoneyanimal.co.uk
If you would like to donate or find out more about The Welsh Pony Rescue and Rehoming Charitable Trust they have a Facebook page and more information is found on their website welshponyrescue.org