Necessity is the mother of invention as they say… The Wide Boot Company was started by Bex Hayward after receiving one too many pairs of riding boots ordered online that just would not quite zip up that last bit. As someone of a muscular and curvy build Bex has always struggled to find decent quality boots to fit at a sensible price. Even at her slimmest when training for a half Ironman triathlon and working as a Personal Trainer, finding riding boots was always a hit and miss situation – more miss than hit due to cycling so many miles causing a build up of even more lower leg muscle!
The ethos of The Wide Boot Company is to provide beautifully made, flattering boots at a sensible price point in off-the-shelf wide fit calf sizes. Those customers who have been ignored by the big brands for so long will now have a one stop shop to go to for stylish riding and country style boots rather than having to make do with something they don't really like or having to pay a fortune for made to measure. Instead of the depressing experience of poring over size charts online only to find nothing available or visiting your local tack shop and being made to feel awful, The Wide Boot Company is now here to make it a refreshingly pleasant experience with a focus on top notch customer service.
When Bex was frustrated into deciding to launch the company she started by researching what was already on the market; there were a few companies offering boots in wider calf fits but they were either so expensive that you would only want to save them for absolute best or the styling was not terribly flattering and not quite what she was after. And going boot shopping at a local tack shop or country show can be a depressing experience when every pair you look at lovingly will never zip up in a month of Sundays! One customer of the Wide Boot Company commented that she had previously ended up in tears after a shopping trip to a tack store that had ended up in her going home with no boots and being made to feel irregular and outsized despite being of an average size; nobody should be made to feel like that!
So Bex decided to do a questionnaire targeting riders and country folk who were in the same position as herself and who were equally as frustrated with the lack of choice available to them. She gained an idea of what people really wanted to have available to them and then used the sizing information to design the Atia Field Boot. One comment that cropped up a lot on the survey was that any boots that catered for a wider calf width tended to also have a very wide ankle area which then means the boot tends to fold and bag in this area. So the Atia boots were designed to have a close fitting ankle but also to accommodate a muscular upper leg. Elasticated panels were subtly placed at the back of the boot for an elegant and slimming line up the calf and sturdy YKK zips used with an inset placement and binding edge to help cover the zip length and reduce wear and tear from grit and mud.
She set about finding a wonderful supplier who was willing to work with her to produce these boots and the first samples arrived in late August after a swift couple of months liaising over design issues and ironing out the details of how the boots should fit and look. The manufacturer's pattern making team were slightly confused by the measurements initially (which rather proves the issue of riding boots traditionally being targeted at those who are slender of leg) but soon rose to the task, sourced some top quality leather and fittings and Bex was delighted with the results when the sample boots arrived. There were a few minor adjustments to the measurements following another more specific sizing survey and feedback from trials and the main batch of boots are now in production with an estimated November delivery. These are available for pre order in traditional Black and also a beautiful Walnut Brown; trying to find off-the-peg wider calf fit boots in brown has always been like looking for a needle in a haystack! And with a background in polo and dressage Bex has always loved the look of a brown boot so they were a must have colour to add to the range.
Feedback on the sample boots was amazingly positive; various people tried them on for feedback purposes and photoshoots and the main comments were 'Wow they are so comfortable!' and 'No way! They actually zip up easily!' Not to mention that they just look so flattering and slimming.
A renowned local saddler tried on the boots and liked them so much that she wants to order some which speaks for itself on the quality of the leather and stitching. Each pair of Atia Field boots sold in the U.K. comes with a free sample tin of natural leather balm with a lovely cedarwood and sandalwood scent to keep your boots in tip top condition.
Next in the pipeline for launch are Spanish style suede fashion boots with tassels, traditional waxed leather Spanish boots and also a brown leather Country Boot; again all tailored with a calf shape to enable a comfortable fit for those who find other brands too restrictive and with added stretch panels to aid zipping up and general ease of movement.
In 2020 The Wide Boot Company will be looking into designing dress style boots, a full front lace up boot and also a side zipping sturdier riding boot for those who prefer a more casual riding boot.
A small range of stylish matching over the shoulder cartridge style bags and belts will also be available to match the Spanish style fashion boots; again all made in luxurious top quality leather and suede so a trip to the races or polo should no longer be a wardrobe malfunction nightmare! And doggy accessories will also be joining the range so that your best friend can join in the fun too.
Bex is always happy to listen to feedback and work with potential customers to give them what they would like; she will also be launching ranges in wider/shorter and taller fits for those who fall outside the existing size chart as it stands. So please get in contact if there is something that you would like that you can't currently buy in your sizing elsewhere. She is also always happy to help with any queries on fit and extra measurements if you are concerned about specific areas; just pop her a message through the Facebook page with any accompanying photos that may help showing your measurements or send them via email to info@thewidebootcompany.com and she will gladly assist.
The Wide Boot Company will be at the BETA trade fair in January and will be attending a few select larger equestrian and country shows throughout 2020; details will be published on the website and Facebook page closer to the time.
The Wide Boot Company; because everyone deserves to have lovely boots that fit!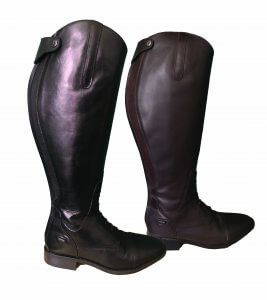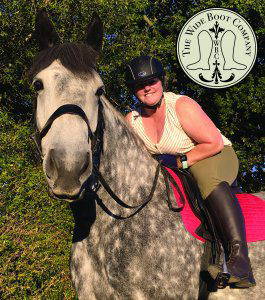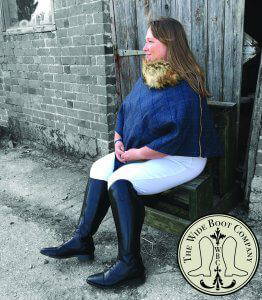 Search
Recent Articles
Article Archives