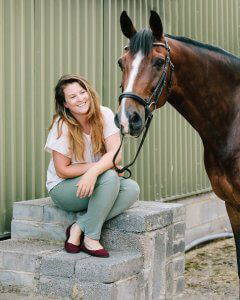 Teddy broke his leg when he was 6 years old, 6 months after Clare purchased him. Clare was away on holiday and it is believed he had been zooming about the field so had become hot and then rolled in his stable and become cast but only Teddy will know the moment when it happened.  He had broken his long pastern and shattered his sesamoid bone in his near hind. The worst news you could expect to hear.  But Claire wasn't ready to give up on Teddy, "he was supposed to be my horse of a lifetime, so after searching for what felt like forever we found a vet at Newmarket that would operate on him but with no guarantee that he would ever be sound", Clare told us. "I didn't cope with it well at all mentally, I was completely devastated as I knew he was such a talented horse and we were in the worst of situations"
Clare took a heavily sedated Teddy to the vets in Newmarket and the life-saving operation consisted of clearing up the site and removing any chips, but luckily no plating and pins were needed.  Teddy recovered well from the surgery and remained in Newmarket for 2 weeks, he was in the best of hands but it must have been an anxious time for everyone involved to say the least.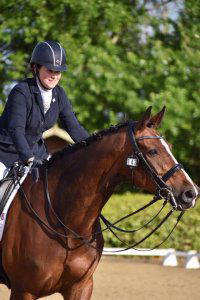 Incredibly 2 weeks after Teddy came home Clare was allowed to start hand walking him for 2 mins twice a day. This was increased by a minute each day moving up to 50min twice a day.  "The rehab was really, really hard as it was through the winter when it was dark and gross and it just felt like it would never end. But we somehow got through it.  Eventually having been given the all clear we proceeded to walk work under saddle starting at 30min per day and increasing to 1hr 30 mins a day. He was wild to say the least and staying on was classed as an achievement. We then started trotting again for a couple of mins each day increasing that to 20 mins and then introducing the canter. The whole process to get him back into full work took around a year and a half. Getting back on board completely changed my outlook and positivity as we didn't know if it would ever be possible and we were doing it".
"Once we managed to get back into full work it was like he had never been away. We started at novice and quickly qualified for the regionals placing in the top ten. Then he has progressed up the level ever since finding it all very, very easy. It's taken him about 3 and a half years to get to Inter 1".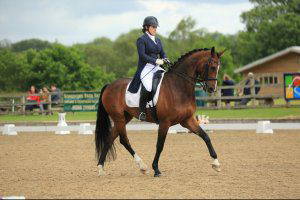 "Teddy is now training Grand Prix at home and is hoping to go out at Inter 2 by the end of the year. He has done premier leagues, regionals, midway championships and competed for Central region at the Home Internationals. He really is the most incredible horse and my best friend"
This remarkable horse now leads a completely normal life, he is turned out every day, goes hacking, loves to go jumping, does pole work, lunges the lot.  We can't wait to see him go Inter 2 – go Teddy!
Instagram @clh_equestrian and Facebook is @CLHEquestrian.