Hiya Everyone, let me introduce myself. I'm Amy, aspiring dressage (and possible event) rider based in Surrey.
I may run around enjoying a some-what normal life, riding and competing two horses, whilst working at my local deli, but I hide a secret. I suffer from a hidden illness known as Cystic Fibrosis, a lung condition that produces thick, sticky mucus in my lungs and in my tubes, and affects my digestion of foods. On top of all that I was recently diagnosed with CF related diabetes too!
I was diagnosed when I was 4 weeks old, and have since been taking a range of drugs and have had multiple hospital stays. It sounds like a huge amount of my life is taken up with hospitals, drugs and tests, but strangely enough I have been able to lead a normal life.  Although, whilst at University at the end of 2017/2018, my health took a bit of a nosedive where I become quite ill, probably due to the colds and coughs going round and I had to miss the majority of my 2nd year at home or in hospital. I was studying Equine Business Management at Hartpury and had made lots of friends, so was very sad to not be able to see them or study my course. Unfortunately, with the stress of not only my health scare, but also having to teach myself equine therapy, nutrition and event management, I decided to finish my course early and move back to home. Luckily I managed to pass my exams and finished with enough credits to graduate with a higher education certificate.
My morning routine consists of waking up around 8 am, taking a particular nebuliser that needs to be taken an hour before treatments. Then breakfast, followed by a plethora of tablets and nebulisers, and checking blood sugars. Then I go on our indoor bike for 10-15 mins before physio to help loosen all the gross mucus (sorry!), and then onto the intense physio treatment which consists of a special machine which makes me inhale extra air whilst vibrating followed by vigorous coughing to clear my lungs. I have to do this twice a day, before I ride or go to work, and then before I go to bed. Although horse riding is an amazing form of cardio physio for my, allowing me to keep fit and help clear my lungs, I also try to factor in exercise such as going to the gym when I can fit it in to my busy day.
But I wouldn't be where I am today if it wasn't for my doctors at Frimley Park Hospital, who take such good care of me even  when I'm at my lowest. Having CF does mean that I'm susceptible to virus's and infections meaning that I may need a course of intravenous antibiotics to help, which can leave me feeling down as I can't ride for 2-3 weeks. But the doctors and nurses try hard to cheer me up when I'm down in the hospital, and of course my team at home and yard, wouldn't be able to ride or compete without my trainer caring for Flora, and my family supporting me.
So quite a lot on my plate to deal with already, and I haven't even got on to my horses.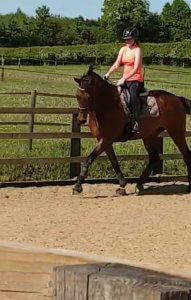 I have my dressage mare Frouwke (Flora), a 17hh 9yr Mare by United x Negro, who we found in Holland in February 2016. She was extremely green and under-muscled when she came over to England as a 5 year old, so my trainer Melissa Smith and I took everything very slowly to allow Flora to develop correctly. She is such a special horse to me and I wanted to give her the best start in her career. We had a couple of setbacks due to her physical weakness during the first 6 months together but it allowed us to grow as a partnership together, and in 2016 we attempted our first BD novice together and …..Won! We spent most of 2016/2017competing at Novice BD to give Flora confidence and she won , or came in the top 10 each time with very encouraging scores of 75% +. We also qualified for the Area Festivals at Novice at the end of 2017. In 2018, Flora and I started at Elementary, and she come out with a bang winning her first couple of Elementary's, and we even got our PB of 77%, allowing us to qualify for the summer regionals in 2018. After a little break due to me being ill due a virus I caught earlier this year, in which I was in hospital for 4 weeks, we aim to make our comeback and move up to Medium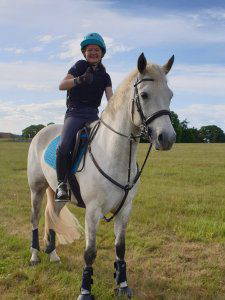 I also own a 7 year old 15hh grey Connemara gelding called Goulane Freeboy (Benji). In the beginning of 2018, when I was better, I made what I call the 'YOLO purchase' and bought Benji from Martin's Irish Horses in March 2018. When he came to me, like Flora he was extremely green, spooky and under-muscled and was quite head-shy, but drop dead gorgeous. I worked with him slowly to build up his confidence and muscle, and even though he was learning quickly his true passion was showjumping. We have done so much in our first year together, including doing our first showjumping (and my first SJ in 6 years), first showing competitions and we even completed our first One day event (which I will talk about in my next blog)! He's such a sweetie and we such fun together doing all sorts of disciplines together, and I can't wait to see what the future has in store next for us.
Well, that covers my introduction of my horses and I and hope you all enjoy reading about my crazy life and horses
Amy