As I write, the winds outside my cozy cottage have picked up even more. It's funny but time is different at shows like this. There's so much going on all day, yet you do a lot of standing around, waiting or deciding. With check-in, bathing, vet inspections, pictures for credentials, grazing, meals, beginning tack cleaning, and a quick trip to the grocery store for gallons and gallons of spring water (we think he hates the taste at the facility), I don't know how we even fit in riding! But, we did.
Honestly, after Snickers' prior evening, I wasn't sure we'd get on him at all. My trainer, Melanie Mitchell, left early morning (about 5 hours after she came home) to check on my big boy, hand walk and feed him. I stayed at the AirBnB to care for our dogs and get updates on my mother. My mom spends most of her day crying in pain. Nothing helps. I've always taken care of her so my helplessness is difficult to handle.
My mind is ablaze with family issues and worries and I'm having difficulty sleeping nights. Yet every time I drape my legs over Snickers, my mind calms. You must use every part of yourself when you ride. That's as it should be. Riding feeds every part of you – your soul, your body, your mind – all at the same time. Therapeutic riding isn't about abilities, or not. All riding is therapeutic, and we all need it.
Happily, Snickers was bright and hungry this morning. We decided on a light workout, just enough for the Observation period. Today was the last time that my trainer was allowed to work him for the rest of the week. Well, she's still allowed to lunge him. We had hoped that she'd be able to push him a little more in preparation for the show, but we remained strong in our commitment to doing what's best for him, as always.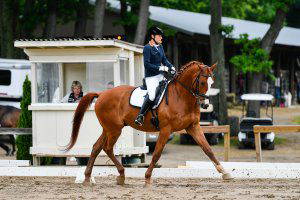 It was in the 80s here today, so we gave him a bath (Tryon has warm water in the wash racks!), then let him graze. Turns out that small meals served more often isn't only good for people but is the way to get back to full strength for 17 hand geldings, too! He seems back to his old self. Melanie and I can breathe easier once more.
Tonight, we'll do more of the same. Melanie and I will eat on the facility. Lots of good choices, maybe Italian tonight! Then, we'll check on him once more before turning him over to the caring eyes of our Nightwatch friends, Amy and Daniel.