You may be wondering why a Unicorn like me has been given the opportunity to write this new monthly series for Genius Equestrian.  Well, here is the intro to my story – My name is Winnie AKA Gunstone's Pride and I have a secret! I am actually a Unicorn and I was sent to help a very special lady to recover from a horrific head injury caused by another naughty horse over 20 years ago. That head injury caused her to have Multiple Sclerosis, which I have now learnt means there isn't much of her body that still works, so I have to look after her at all times. She isn't able to use her legs when she rides and is rather wobbly so I have to carry her with the utmost care at all times.  Now, mostly this works well and on the odd occasion where I have nearly lost her I have magically managed to catch her.  Its a job I take very seriously.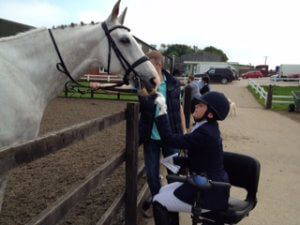 Another smaller Unicorn Beans once told me that he called her the Princess when she started riding him at Watershed RDA 5 years ago, as she had ridden Grand Prix horses in her former life, but as he wasn't sure what they were he decided they must be posh horses so she must be a Princess. I just call her my soul mate and I am so glad to have been sent to help her. Mainly because she always has bananas and carrots to hand each time we have finished a training session or a competition.  We have had quite an adventure already and have traveled the UK winning many National Championship titles and even been Reserve Champions at International events.
This year 2019 we were selected onto the World Class Podium Potential Programme and are on route to the Paralympics Tokyo 2020 and beyond. Together we have really blossomed and although it isn't usual for Unicorns to be doing Dressage I have to say I am loving every minute of it.  It is real honor to be part of the British Team and to be supported by some amazing people.  Rumour has it we are going to be competing in Europe very soon, its a very long way to walk so I am hoping for a nice comfy lorry to take me.  I'm really looking forward to sharing my adventures with you all – until next time, keep riding, Winnie xx

Follow my social media pages to keep up to date on my adventures.
Facebook @winnietheunicorn
Instagram @winnietheunicorngbr