As my fellow bloggers and I collectively agree, we cannot believe it's the end of June already! June may be the month for riders to have finished BD summer qualifications, half-way through the event season, etc. But for me it was the start of my season and new experiences. First up Benji and I completed our first One day event! Well, Benji's first event, I last evented on my previous pony back in 2014 at the same venue.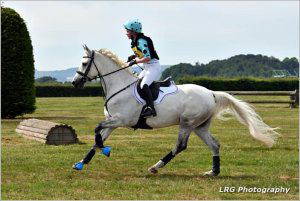 What can I say, words don't even begin to describe the day we have had. I was up very early in the morning doing intense physio beforehand, to make sure my lungs were clear of as much mucus as possible. Then mum and I set off to Coombelands with both excitement and nerves flying around our tummies. Got to the show and mum sped off to get my number and hats checked, only to come back and say my skull cap wasn't the right safety standard! After a brief panic, I called my wonderful sister Elloise who very kindly came and not only lent me her hat, but came to help out all day whilst trying to revise for her exam the next day. What a sister, am I right? In the dressage, Benji was fabulous producing a brilliant test, to get 34.8 even though we got an error of course (sack the pilot). Showjumping, he produced a good round with a few green moments, and at times no brakes, and finally the big one… XC. Holey Moley what a thrill it was galloping round, leaping over the jumps and through the water. Unfortunately didn't set him up properly for the 2nd last to home and went right past it. Thankfully we both had enough puff our lungs to get around, even though I was quite breathless at the end.  Overall, I am so absolutely over the moon with Benji, he behaved impeccably and took everything in his stride and now he's a proper little event horse! Today was to me a day to enjoy our sport and be grateful that, even though I have less lung capacity than my fellow competitors, to be able to have fun with my gorgeous boy.
I want to thank my sister and my mum to the ends of the earth for helping me on that day, I will always appreciate all they do for me.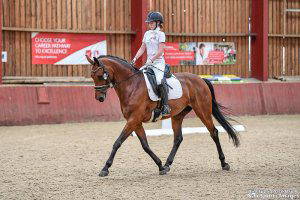 Next up was Flora. Having not been out for 8 months due to my health at the beginning of the year, seemingly has done her the world of good as she's so much stronger and happier in her work. After our first attempt got rained off, I waited and took her to Merrist Wood to do the Elementary 49, for a confidence giving outing and I couldn't believe how well she coped with being back in the competition world again. She warmed up brilliantly, which helped as I don't particularly like busy warm ups, then we went into the test. She was a bit spooky and tense but she did produce some lovely work, although we had a bit of a moment where she thought the camera man was a pokemon! The indoor was like a sauna, which I really struggle with. When it's very hot, due to my CF I (sorry) sweat more than everyone else, meaning that I lose more water and can become dehydrated quickly. In indoor arena's like Merrist wood, when I breathe in the hot air, it makes me become much more breathless, so I have to be mindful on hot days if I compete. The judge gave us a rather stingy mark, but we still came 6th in a strong class, but to be honest I'm so proud of Flora and how she coped. Also proud that we both made it around the oven that is the indoor at Merrist Wood.
So overall, June has been a busy, yet mind-blowing month filled with new experiences and good results. I recently had a doctor's appointment at Frimley Hospital, I generally have one every month or so just to check up on how my lungs are doing and if I'm not quite so well give me some IV anti-biotics. I have to admit I do get very nervous for these appointments as in recent years, sometimes I've been admitted during my outpatient appointments, but also doing the lung function test (basically blowing really hard into a machine for as long as possible). But thankfully my results were very positive and the doctors were ecstatic, and couldn't believe that I completed the ODE. And now I don't have to go back till September.  It.'s wonderful to have a great support team, who might not be horsey but are very supportive of what I love to do.